If you hadn't heard, my husband and son took this selfie about 9 months ago.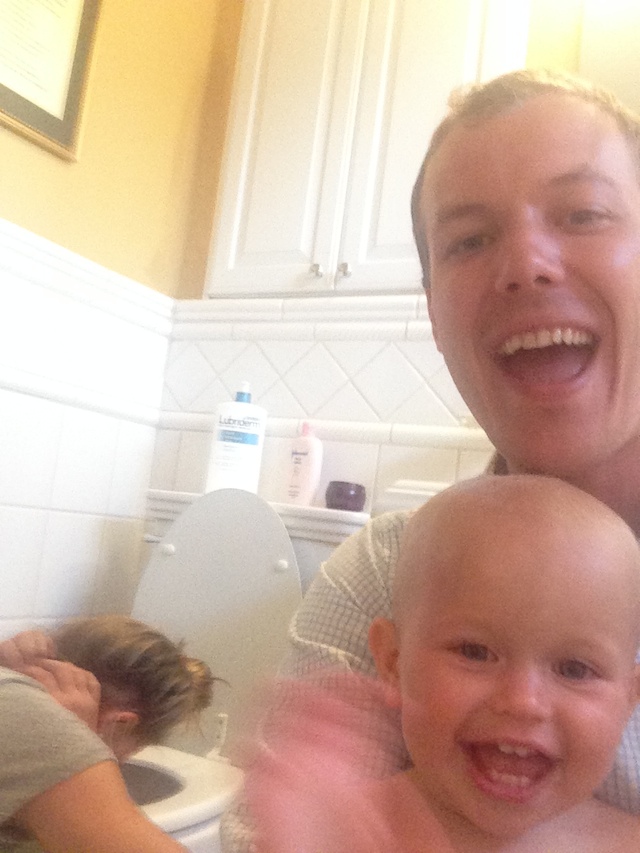 We used it as a pregnancy announcement. It also should explain why there have been no blogs. The thought of food made me want to hurl. So, I took a small sabbatical and created a human (ETA April 1). Since I can now stomach something besides Saltines, future blogs shall be forthcoming (theoretically).
I thought I would also give you a brief update on Joe, Marston and I's life in the last 9 months – it's been full of adventure.
We moved to California in July with great hopes of sharing all of my West Coast culinary adventures with you. Joe left for the Middle East for a book project he was working on July 9. August 1 we found out we were pregnant (you can do the math there). August 20 was my last post on this blog on account of the small human growing inside of me.
My side of the family traipsed out to Santa Barbara for Christmas and since Joe's work project had wrapped up for the time being, we traipsed back to Atlanta with them. We're now holed up in my parent's basement house hunting in Atlanta (IF YOU KNOW OF ANYTHING WONDERFUL PLEASE LET US KNOW!).
Okay, so when I said it was full of adventure I really meant the boring kind of adventure – we went to the zoo a lot, the beach a lot, Joe drank lots of yummy wine, I had depressingly small sips (seriously who moves to California for 6 months and gets pregnant).
I'm glad we went, Joe's parents got to spend more time with Marston and as it turned out, Joe's grandpa passed away days after we left. I feel grateful we were able to be there and see him before he passed.
I'm also grateful that we're back in Georgia and starting the next, slightly more permanent, stage of our life.
I've got a handful of blogs geared up from the last few months, but I'd love to know – what food/events do you want to read about?