Feliz Cinco de Mayo. Today is the day for Margaritas, Salsa, Guac and Queso. I want to tell you that I have a great queso recipe for you, but the truth is I made seven different versions last month and didn't like any of them. So my quest continues. I did manage to make these delicious lamb tacos with fenugreek aioli and preserved lemons though. Even though I don't have a proper queso recipe for you, I hope you'll accept my humble lamb taco instead.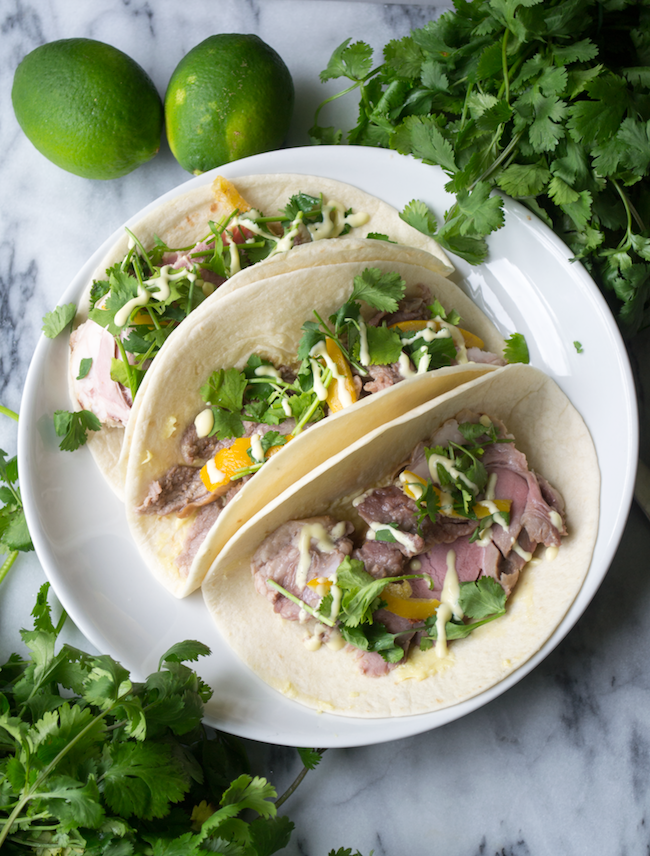 My Notes on Lamb Tacos with Preserved Lemons and Fenugreek Aioli
There are really a gazillion different ways you could cook the lamb for these tacos. I like to roast it because it's easy and I don't have to watch it, just wait for the thermometer to alert me that it's at temp. Grilling would be nice. If you're short on time, you could also slice the lamb and sear in a cast iron skillet, but that takes more prep work.
I wanted to play around with using fenugreek as a seasoning for the lamb as well. I haven't done it yet, but it's worth trying. I would start with two tablespoons of whole fenugreek, grind it yourself in a spice grinder (so it isn't a powder) and then spread over top before seasoning with kosher salt. Maybe throw in some cumin too.
You can cut the preserved lemons however you want. I made these about four times trying to figure out what I was looking for. You can cut them really small and make more of a relish, or keep them chunky. Or throw in some diced tomatoes and make it more of a salsa.
How Much Salt Do I Use?
I normally don't share specifics on kosher salt amounts. Ingredients are different and you have to go by taste. When you season meat you should always cover it in an even layer of kosher salt. Don't just sprinkle on a little like it's pixie dust. Cover it. Not only does this help develop the flavor, but it also helps bring out the juices in the meat creating a more tender cut. Professionals have many different trains of thought on when salting meat should be done. Ranging from 72 hours prior to right before cooking. The important thing is that you salt your meat. One hundred percent of professionals say this is one of the most important things.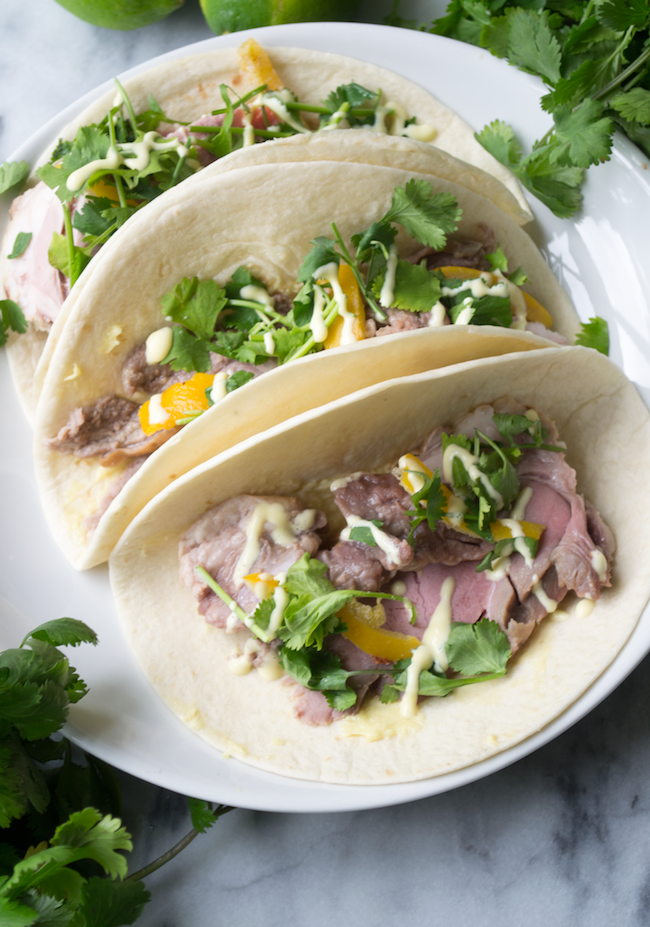 Cost of Lamb Tacos with Preserved Lemons and Fenugreek Aioli
Lamb: I get my lamb at Costco and it is $4.99 a pound. Two pounds would be $10.
Garlic: Costs $3.69 a pound, one bulb weighs about 3 ounces which is roughly $.70. Ten cloves to a bulb give or take, so cost for this recipe would be $.28.
Kosher Salt: As previously stated, I measure my cost for this on a per day basis because depending on your ingredients the amount of salt needed could change for any given dish. Kosher salt cost: $.02.
Cilantro: Because I buy my cilantro at a local market it can vary depending on week. Generally it's about $.69 a bunch.
Preserved Lemon: I make my own, so it works out to be $.53 per lemon.
Egg Yolks: I buy organic eggs at Costco for $3.50 a dozen. So two eggs (I did not save the white) would be $.60.
Oil: I buy it by the gallon for about $6.5. So 3/4 cup would be $.30.
Dijon Mustard: There are 68 teaspoons in a 12 ounce bottle. I pay less than $2, but we'll just round up because I haven't bought any recently to know the exact number. Sixty-eight teaspoons for $2 works out to about $.02 for this recipe.
Lemon Juice: Half of a lemon probably gives you all that you need. You don't need precision on this ingredient anyway. If a lemon costs $.50, figure about $.25 for this recipe.
Fenugreek: Two teaspoons weigh about a quarter of an ounce. I pay $4.00 a pound for my ground fenugreek, so this costs about $.06.
Tortillas: One 20 count package costs about $2.50 at Publix.
Total cost for eight people is $15.25 or $1.9 per person.

Lamb Tacos with Fenugreek Aioli and Preserved Lemons
Ingredients
2lbs of boneless butterflied leg of lamb
4 cloves of garlic, sliced into largish slivers
kosher salt
1 bunch of chopped cilantro
1 preserved lemon
2 egg yolks
¾ cup of sunflower oil
1 teaspoon of dijon mustard
2 teaspoons of lemon juice
2 teaspoons of ground fenugreek
16 flour tortillas
Instructions
Lamb
Lay out butterflied lamb on large cutting board fat side down. Make slits all over the top of the meat and insert garlic slivers
Season liberally with kosher salt. Jelly roll and tie up with butcher's twine. Season the outside liberally with kosher salt as well. Place seam side down on v rack in roasting pan. Roast at 200 degrees until thickest part of meat registers 125 degrees, about two hours. Remove from oven and let rest for 30 minutes. Increase oven temperature to 500 degrees and roast for an additional 5-7 minutes to create nice crust on meat.
Fenugreek Aioli
In blender place egg yolks, mustard and lemon juice. Blend for ten seconds to combine. Continuing to blend very slowly drizzle in oil. Once aioli is created, add in fenugreek and stir to combine.
Lamb Taco
In flour tortilla combine two ounces of meat, preserved lemons, cilantro and a generous drizzle of fenugreek aioli.
Have you tried these lamb tacos with preserved lemons and fenugreek aioli? Did you like it? I'd love to hear your thoughts. Comment and rate it below!