My eldest baby turned three on Monday. He went back and forth for a few days on wether he wanted a cake with salami or brownies. Ultimately he decided on brownies, so I did at least three test runs to come up with these double chocolate fudgy brownies. You know, for science. Also I wanted him to see the wisdom in not selecting a salami cake.
I really wanted to do some kind of interesting lavender chocolate flavored brownies, but the nostalgia of a good old fashioned brownie and a big glass of milk always woos me away from interesting. And also, who wants to eat lavender brownies, not me. So at the end of the day, thats what we had three batches (in the name of science) of double chocolate fudgy brownies.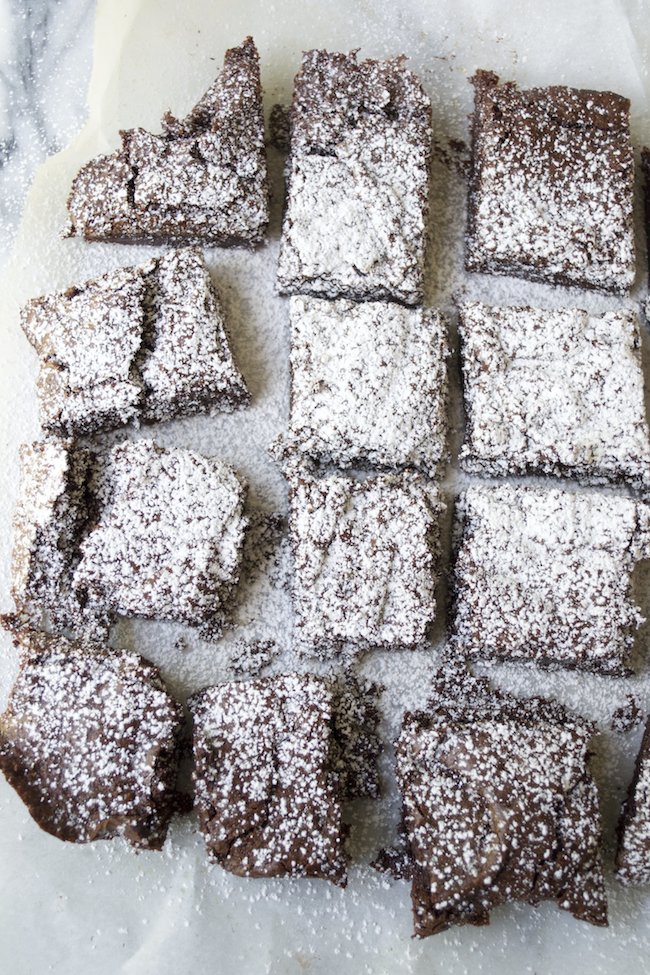 My Notes on Double Chocolate Fudgy Brownies
Make sure you add the chocolate and butter mixture while it's still warm. In my second batch I let it cool entirely and I think the sugar didn't blend quite as well, or something. The brownies came out incredibly crumbly, don't know how cooled butter and chocolate could do that, but that's what I did different.
Make sure to beat the batter well after each egg addition, this makes a difference too, although I don't know why.
When testing baked goods for doneness always use a knife and not a toothpick. It's too easy to get an air pocket or something with a toothpick. It won't an accurate measurement of whether the brownies are done or not.
When baking with chocolate you're not supposed to use chocolate chips (except as chocolate chips) because they have stabilizers in them that will mess with the consistency. This is why most recipes call for bar chocolate that you chop. I however am too cheap to buy 5 ounces of good quality bar chocolate for my three year old's brownies. And also, I think the chocolate chips work fine.
DO NOT CUT THE BROWNIES WHILE THEY ARE HOT. You may be tempted to, but don't. Brownies continue to set while they cool and the flavor continues to meld and develop. If you can't live without a warm brownie that's what microwaves are for.
I used this recipe as my point of inspiration.
Cost of Double Chocolate Fudgy Brownies
Butter: I buy my butter at Costco for about $2.5 a pound. So 1 stick total would be $.62.
Bittersweet Chocolate: I buy these on Amazon for $3.00 a bag. Five ounces is half a bag. Cost: $1.5.
Sugar: There are about eight cups to a four pound sack of sugar, so that's about  $.38.
Cocoa Powder: I buy a wholesale type kind at Dekalb Farmers Market for $5 a pound. Three quarters of a cup would be: $.75
Salt: It costs a half a cent per teaspoon, we'll be crazy and round up to a whole penny: $.01.
Coffee: This is really hard to measure out the cost of because it depends on if you drink coffee already and have some leftover, what kind of coffee you drink, if you have a Kurig, etc. So, I'll go on the expensive end and say you have to buy a cup of coffee from Starbucks. I imagine you'll buy a tall, 24 tablespoons to a twelve ounce tall cup of coffee. A tall is $2 with tax in Atlanta, so that works out to be $.08.
Vanilla: I have an 8 ounce bottle that I paid $9 for. Six teaspoons to an ounce, so about $.19 rounding up.
Eggs: I buy organic eggs at Costco for $3.50 a dozen. So two eggs would be $.58
Flour: I use King Arthurs exclusively. It costs about $3.5 for a five pound bag. They have a higher protein content. You get about 18 cups to a five pound bag. So that means flour for this cost $.06.
Total cost for 16 brownies is: $4.16, or $.26 per brownie.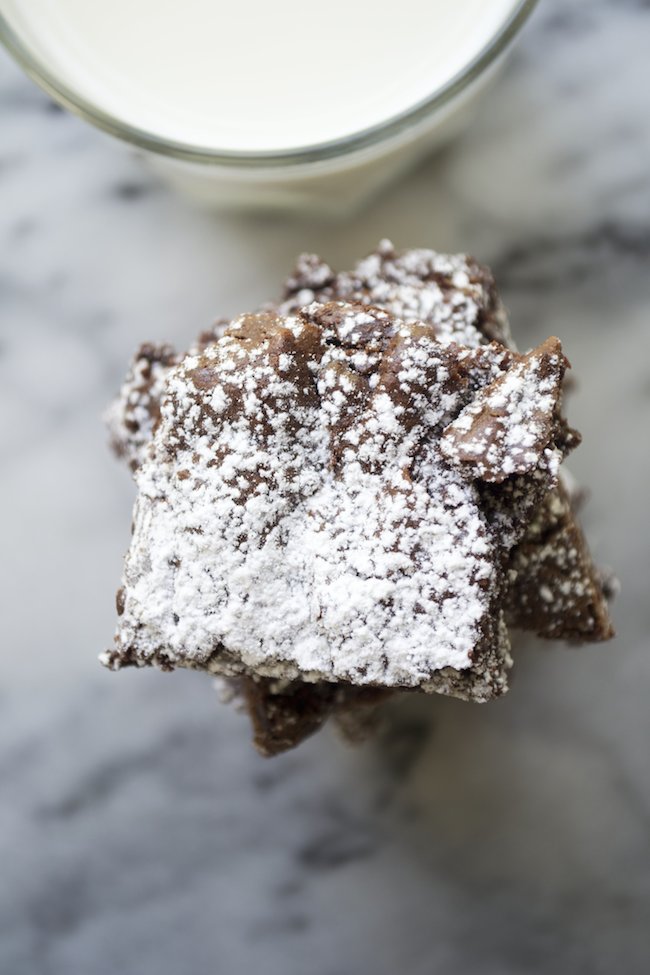 Double Chocolate Fudgy Brownies
Total cost for 16 brownies is $4.16
Ingredients
1 stick of butter
5 ounces of bittersweet chocolate
1¼ cup of sugar
¾ cup of cocoa powder
½ teaspoon of salt
1 tablespoon of lukewarm coffee
1 teaspoon of vanilla
two eggs
⅓ cup of flour
powdered sugar (optional)
Instructions
Preheat oven to 325 degrees. Grease 8x8 glass pan.
In small saucepan on the stove melt together butter and bittersweet chocolate. Remove from heat and let cool slightly
Whisk together sugar, cocoa powder and salt in mixing bowl. While stirring, drizzle in chocolate and butter mixture. Mix in coffee and vanilla.
Add in one egg and beat. Add in second egg and beat vigorously.
Stir in flour until just combined.
Pour in to baking pan.
Bake for 30-40 minutes, until knife inserted comes out clean.
Let cool entirely before cutting.
Dust with powdered sugar.
Have you tried these double chocolate fudgy brownies? Did you like them? I'd love to hear your thoughts. Comment and rate them below!