Joe took me to the city of love and lights this year (in case you haven't heard). We had so many romantic moments – walks along the Seine, picnicking under the Eiffel Tower and sitting in local cafes. It was a dream and I wouldn't trade our time in Paris for anything in the world. While we were there, trying macarons from different patisseries was a favorite pastime. Pierre Herme was the clear winner.
Because it's our anniversary today, I'm reprising the macarons we had in Paris. My chocolate bourbon macaron recipe won't hold a candle to Pierre's magnificent creations, but I'm hoping they'll be reminiscent of sweet moments for you as they are for me.
Celebrating Three Years Today
Four years ago I was alone crying in my dad's office because all I wanted was to share my life with someone. Six months later Joe asked me to coffee and three years ago today we said yes to life forever. It has been the best three years of my life. As cliche as it sounds, I don't know how I got such an amazing man to love me forever. I am blessed.
To celebrate tonight we're having  few friends over that were at our wedding celebration three years ago. We'll play corn hole, eat pulled pork with pickled onions, drink some kind of  whiskey lemonade I have yet to come up with and for dessert I'm doing a take on a chocolate macron recipe – Chocolate Bourbon Macarons.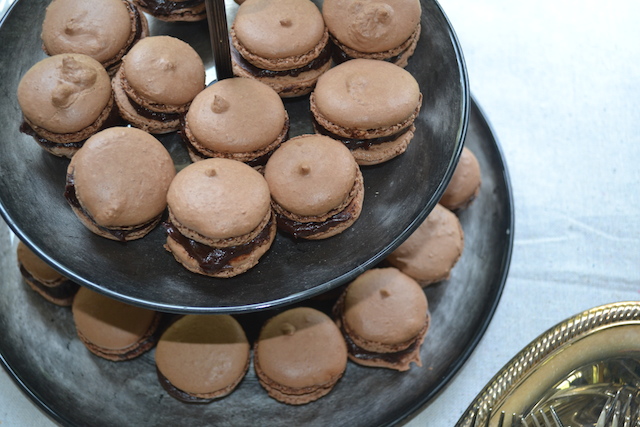 *You can tell from this picture that I didn't rap the macarons properly on all of the cookie sheets, so some of them are lumpy, have pointed tips and a little curvy around the edges. I'll upload better pictures later after the second batch of cookies.
I adapted the recipe from The Sweet Life in Paris – David Lebovitz is the king of all Parisian pastries. He also has one of three blogs I read religiously, and if you like chocolate and haven't signed up for his blog yet, I recommend you do so immediately.
My Notes on Chocolate Bourbon Macarons
Macarons should not be confused with macaroons. One is made with coconut (macaroon) and one is delicious and not made with coconut. Also, another fabulous thing about macarons is they are gluten free because they are made with almond flour!
Ingredients
Macaron Cookie
1 cup of powdered sugar
1/2 cup of Almond Flour
3 tablespoons of unsweetened cocoa powder
2 large egg whites
5 tablespoons of granulated sugar
Bourbon Ganache
1/2 cup heavy cream
2 teaspoons of light corn syrup
4 ounces of bittersweet chocolate chips
1 tablespoon of cold butter (cut into pieces)
2 tablespoons of bourbon
1/2 teaspoon of espresso powder
Pre-heat oven to 350 degrees. In standing mixer with whisk attachment, beat egg whites into a frenzy until they start to stiffen and hold peaks. Continue to beat and add in granulated sugar. Beat a couple minutes longer.
Mix almond flour, powdered sugar and cocoa powder in separate bowl and working in batches, fold into egg whites. If your almond flour was a little lumpy, the batter may appear gritty. It shouldn't affect the outcome of the cookie though.
When all trace of white is gone, put into pastry bag with a 1/2 inch tip.
Pipe the batter onto parchment lined cookie sheets into one inch circles. Rap pan firmly against counter to help smooth and flatten out cookie.
Bake cookies for 15-18 minutes in oven. Be careful to remove them before they dry out. If they start cracking they are past done, still useable, but past done.  Cool and remove from baking sheet.
Meanwhile…
Heat the cream on medium high heat in a small sauce pan with the corn syrup. When cream begins to boil (make sure to catch it before it gets to a full on boil) remove from heat.
Add in chocolate chips and espresso powder. Let sit for a minute or so and then stir together. While stirring, pour in bourbon. Once smooth, add in butter and stir until melted. Let cool completely before assembling macarons.
Finally…
Take a small amount of the ganache and smear onto cookie, top with another cookie.
For best results let stand one day before eating.
What brings back memories for? How do you like to celebrate?