Mostly when I drink I like beer. It's refreshing and I can have more than one. But towards the end of both of my pregnancies I have craved Cosmopolitans. Perhaps its a throwback to my early twenties. Cosmos were the first drink I learned to make as a bartender. My friends and I used to get in the hot tub and drink cosmos after a long shift. Maybe my swollen ankles and weepy self remember late evenings spent relaxing after a hard days work, because I promise you, post-baby, it is one of the first things I will be doing!
To Note about a Cosmo
The key to a good martini (aside from good ingredients) is shaking it (hard) with lots of ice. The ice sticks to the alcohol molecules (or something interesting like that) and makes everything feel good in your mouth. Also taste good. So yum.
How much cranberry juice you add really depends on how sweet you like your drink. I go for a light pink martini because I don't like a super sweet cosmo and I like to taste the flavor of the vodka. My mom adds more cran cause she's not crazy about drinking a cup of vodka (weirdo).
Additionally, you can make this with plain triple sec, Cointreau is just a nicer liqueur.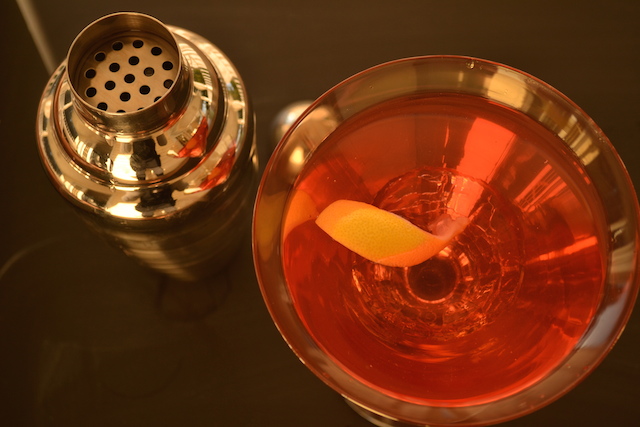 Ingredients
2 oz. Citron Vodka
1 oz. Cointreau
Splash of cranberry juice cocktail (NOT 100% juice – cause if you need to be all heathy go eat a carrot, don't ruin a perfectly good martini)
1 lemon twist
1. Fill your cocktail shaker full of ice. Pour in vodka, cointreau and juice.
2. Shake like your life depends upon it (at least 30-45 seconds)
3. Rub rim of martini glass with lemon twist (this releases oils) and drop twist in glass
4. Strain cocktail into martini glass.
5. Enjoy.
What's your favorite thing to drink after a day of hard work?