I can't tell you how many half loaves of bread have made it into the trash after a few days of getting stale on the counter.  I always feel guilty throwing it away. With grandparents who went through the Great Depression and having spent time with the poorest of the poor around the world, I understand how valuable even a loaf of bread is. This panzanella salad (basically a bread salad) is the perfect solution for using up stale bread. You may be thinking, oh that sounds disgusting, but you would be wrong. This salad is all kinds of right.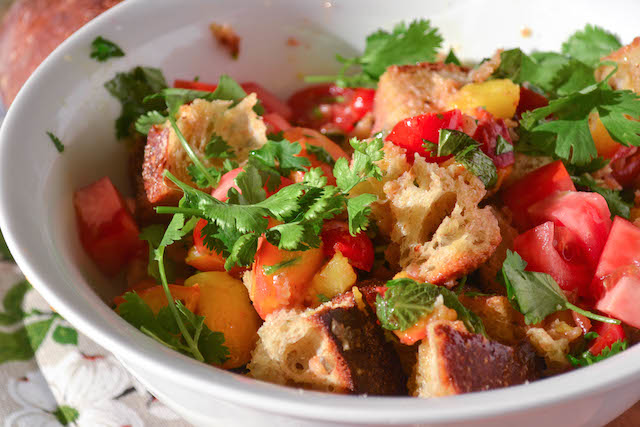 California, Here We Come (cue the OC theme song)
Joe and Marston and I landed in California on Tuesday. We immediately went to In 'n Out for burgers (it was 3:00pm our body time, we needed them) and then drove home and promptly played Settlers of Catan. I love coming to California, the pace of life is entirely different and I like who I am here.
The two weeks before we left have been filled with visits to try and see everyone we love before moving to California.  The 4th of July weekend some of our best friends came down from North Carolina to spend time with us. Joe and Brett and Janelle all went to college together in Santa Barbara years ago. It had been 8 months since we'd seen them, so it was fun to reconnect. Brett brought along a loaf of sourdough bread he had made in celebration of returning to California.  By the time we got to the bread though it had gotten a little stale, so I decided we'd make a bread salad out of it. It.was.delicious.
To Note About a Panzanella Salad
One of the things I love about the French is that nothing ever goes to waste, they use everything. So when something starts to get old, they just make up a new recipe. This recipe of course has Italian roots, but many cultures have similar recipes. On top of saving perfectly good ingredients, this salad is delicious.
From what I can tell typically the bread is soaked in vinegar or water before being tossed and dressed. But I think this makes for soggy bread, so I recommend just using the dressing as your moisture for this panzanella salad.
Salad Ingredients
2 peaches diced
1 cup of cherry tomatoes halved
6 cups of stale (it should be pretty hard) sourdough bread cut into 1 inch cubes
3 tablespoons chopped cilantro
2 tablespoons chopped mint
Dressing Ingredients
1/2 cup of good olive oil
3 tablespoons of balsamic vinegar
1 clove of garlic minced
1 teaspoon of minced shallot
1/2 teaspoon of salt
1/2 teaspoon of dijon mustard
In a mason jar, combine all dressing ingredients and shake until emulsified.
Combine salad ingredients in largish bowl. Drizzle half of dressing over and toss. Taste and add more dressing as desired. Serve immediately.
Serve with: Grilled Chicken Thighs, Grilled Asparagus and Potato Salad
Drink with: Son of a Peach