I love Glennon Melton's family rule that all Christmas shopping be completed by December 1 allowing them to truly enjoy the holiday festivies. Even if they go to the mall they can enjoy the experience rather than a frazzled stressed errand.
The tricky part of that, is that you miss some of the wonderful deals (and savings!) in all the stores. Fortunately with the onset of the internet, so much more productive shopping can be done from your couch. In your underwear. And the experiential enjoyable aspect of shopping can be had at a leisurely pace throughout the season.
I've compiled a list of deals for cooks that you love. (I'll be updating this list over the weekend, so check back as new deals get added and old deals get removed.)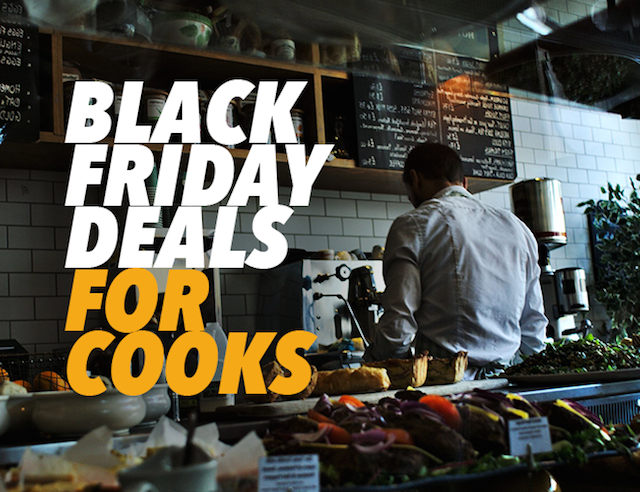 Deals for Cooks
Foods
Bourbon of the month club. If you like my bourbon posts then probably you need this. Or at least your spouse does.  Every month they'll send you a bottle of bourbon from an indie maker from somewhere in the U.S. Use the code BIGMOUTH20 for 20% off!
Peppermint Marshmallow Cookies. $8.49 plus 20% when you use the code BIGMOUTH20 (expires November 30). Also bonus for all you Georgian readers they're made in Atlanta!
One of my besties sells Young Living Essential Oils in Colorado. Have you started using Essential Oils in your cooking yet? I haven't, but I keep hearing wonderful things about cooking with them. Expect to see some recipes in the new year with them!
Jenny is running a special just this weekend. If you purchase a Premium Starter Kit at $160 (value over $300) using her number: 1637098 she'll give you a $10 rebate AND a free 5ml bottle of ginger essential oil worth $17.43.
YOU MUST USE HER NUMBER WHEN ORDERING. IF YOU DON'T USE HER NUMBER YOU WON'T GET THE FREE TEN DOLLARS OR BOTTLE OF GINGER ESSENTIAL OIL.
Small Appliances
If you're in the market for a pressure cooker, this Programmable Pressure Cooker is a steal at 67% off. Normally $234.95, on sale for $78.50. It has over 4000 reviews and has over a 4.5 star rating. (Deal ends Friday).
Cuisinart Toaster Oven Broiler. Normally $145, on sale for $63.99. 
VonShef Sous Vide. Sous Vide is one of my favorite forms of cooking. It's low stress and cooks your food the perfect temperature. This particular machine runs about $300, it's on sale for $150.
FoodSaver Vacuum Sealing System. To go with your brand new sous vide. Typically $100, on sale for $79.95.
KitchenAid Mixer (Bowl Lift). Normally $449, on sale for $225.
Breville Classic Round Waffle Maker. Normally $200, on sale for $99.95.
Cookware and Bakeware
Le Creuset Enameled Cast Iron 2-Quart Tagine (Cherry). Normally $290.00, it's on sale for $199. This is a great deal. Le Creuset is one of the best on the market. Tagine style cooking from North Africa is delicious and flavorful. Here's a cookbook to go with it.
Le Creuset Enameled Cast Iron Signature Round Dutch Oven. Normally $430, on sale for $269. This is a steal. I highly recommend. Everything I make in this turns out delicious, it's like magic. It's my magic pot.
Vollrath Sheet Pan. Normally $28.80, on sale for $20.85.
All-Clad 10 piece Cookware set Normally $1100, on sale for $687.95. These are the only stainless steel pots I like to cook on. If you don't have nice pots, and you're food burns easily or it cooks unevenly, it could be because of your pots. Give All-clad a try, it will ruin you for anything less.
All-Clad 3-quart Saute Pan with Lid. Normally $225, on sale for $124.95.
All-Clad Copper Clad Saute Pan. Normally $470, on sale for $380.
Coffee
Chemex. Pour over style coffee and it's so pretty. If you're a hipster you probably already own this. If you're a hipster wannabe, let me help you out, it's only $57.95 for the 8 cup version. The coffee is delicious.
If you're looking to make more of an investment the Jura Impressa C65 is my dream espresso machine. My uncle has one and it's fabulous. It is so easy to use and great when you have guests. It can make a cup of coffee or a cappuccino at the press of a button. Normally $1200, on sale for $1000.
When we lived in Paris, Joe and I had an Nespresso machine. We LOVED it. The Nespresso cups in North America are about 80 cents a piece, if that's in your budget do it. In Europe local grocery stores sell cheaper versions that fit the Nespresso machine, so if you live there, get on that. Normally $150, on sale for $89.
Utensils, Accessories and other Doodads
Vinturi Essential Wine Aerator. Normally $42, on sale for $16.99. (I've never seen this for cheaper than $30).
Proteak Teak Cutting Board. Regularly $90, on sale for $63.00. 
Kershaw Taskmaster Kitchen Shears. Normally $49.99, on sale for $28.48.
French Olive-Wood Handcrafted Wooden Spoon. Normally $13.95, on sale for $12.95. You can save a whole dollar!
Microplane Classic Zester/Grater. Normally $25, on sale for $12.99.
Cookbooks
Amazon and Barnes and Noble are both running additional sales on all print books through Monday for 30% off! Just enter the code Holiday30 (for Amazon) 30BFriday (for Barnes and Noble). Take an additional 30% off of the prices below. *Just discovered the discount can only be applied to one book, so choose wisely!

The Food Lab. The Chicago Tribune called this the "Must-own cookbook of the year." The tagline is "better home cooking through science." This was also on my Christmas wish list! Normally $50, on sale for $27.47.
My Paris Kitchen. From the city I love so much, experience a little of David Lebovitz's Paris and the food that makes it so remarkable. Normally $35, on sale for $19.77.
The Flavor Bible. This is another book that's on my wish list. Normally $38, on sale for $22.80.
Heritage. This is by Southern Chef Sean Brock of Husk (Charleston and Nashville) so if you live in Charleston or Nashville, go eat his food and then buy this and make his food.
Pure Pork Awesomeness. Top Chef Contestant Kevin Gillespie started my favorite Atlanta restaurant concept Gunshow and then wrote this book. Normally $30, on sale for $20.39.
Under Pressure: Cooking Sous Vide. Thomas Keller's guide to sous vide cooking, to go with the sous vide machine! Normally $75, on sale for $45.00.
*Also I just saw, apparently if you use your Mastercard when you check out, and select gift wrap, they'll gift wrap your item for free. It will probably still be that stupid blue wrapping paper from Amazon, but hey it's still a step up from a cardboard box!
Do you have Black Friday or Cyber Monday deals for cooks you know about? Let me know in the comments, and I'll add it to the list.