What was your favorite Christmas cookie as a child? Mine were chocolate crinkles. My grandma would make them every December. Sometimes she would let me roll them in the powdered sugar. Probably I liked them because they were the only chocolate christmas cookie in a sea of jam thumbprint cookies and cornflake shaped wreaths.
One time I tried to make the chocolate crinkles but instead of adding 1/2 of a cup of shortening, I added two cups. They were not delicious that time.
I'm always on the lookout for chocolatey christmas cookies. I made these spiced chocolate shortbread cookies a few weeks ago and loved them. I hope you do too. Especially if you're like me and thought that Christmas cookies were sorely lacking in the chocolate arena.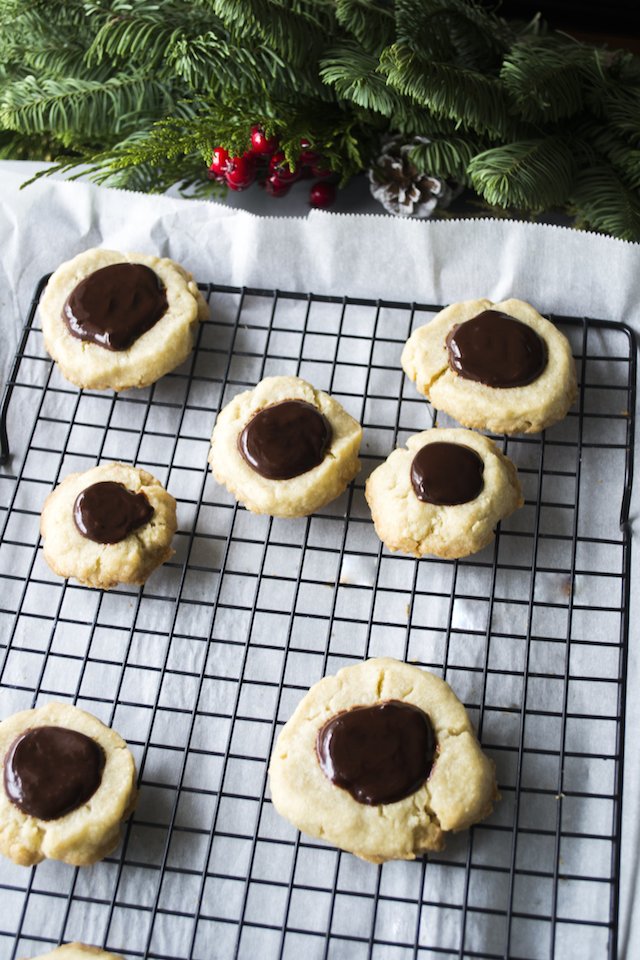 My Notes on Spiced Chocolate Shortbread Cookies
The chocolate is rich, a little goes a long way. Apply accordingly. You also won't use it all. You may find yourself eating it by the spoonful. Do what you gotta do.
Hold the dough together when you're cutting the cookies. When you cut, it may fall into pieces, just smoosh it together with your hands.
Be sure to eat pieces of the dough as you go. It's SO yummy.

Cardamom Chocolate Shortbread Cookies
Ingredients
¼ teaspoon of ground cardamom
½ teaspoon of vanilla
1¼ cup of flour
¼ cup of salted butter
¼ cup of sugar
4 ounces of bittersweet chocolate
⅓ cup of heavy whipping cream
Instructions
In mixing bowl cream sugar and butter together.
Add cardamom and vanilla
Mix in flour with hands. Form into ball and place in middle of sheet of saran wrap. Form into log and wrap. Refrigerate about 30 minutes, until firm.
Meanwhile, place chocolate in bowl and bring cream to low boil.
Pour cream over chocolate and allow to sit until chocolate melts. Stir till smooth.
Preheat oven to 350 degrees. Once cookies are firm, remove from fridge and slice into ½ inch disks.
Bake in oven for 15-18 minutes, until golden brown on the bottom.
Remove from oven and allow to cool. Spoon small dollops of chocolate onto the middle of each cookie. Refrigerate until firm.