I made more food with citrus, because a)  the oranges in California are SO amazing right now b)I believe food tastes better when you cook with the seasons c) my wallet likes it when I cook with the seasons. (Have you noticed how expensive raspberries are in January? Also how gross?).
I also included jerusalem artichoke because a)I read it in a recipe that I share below b)they are also in season c)It's exhausting cooking rice, potatoes, quinoa or couscous for every meal. And apparently if I don't cook a carb "I wish death upon my husband and my offspring."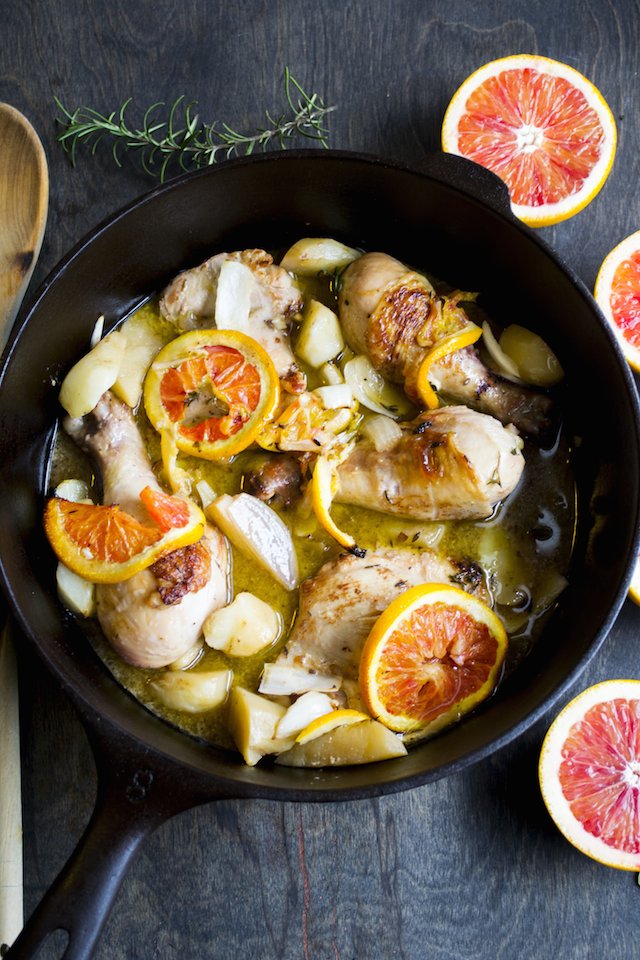 My Notes on White Wine Braised Chicken with Jerusalem Artichoke and Blood Oranges
You can use a different kind of orange if you can't easily find blood oranges at your grocery store. Satsumas would make a tasty version also. However, if you use satsumas, I would segment them, not slice.
This recipe is a mashup of my brain and two recipes from Jerusalem.
The great thing about chicken thighs is they're hard to overcook. If you are worried they aren't done, just keep cooking them.
If you don't have time to marinate the chicken, don't worry about it. It's great if you can't, but if you only have 20 minutes, make do with what you got.
Jerusalem artichoke, also known as sunchokes are in season from November to March, but I believe they peak in January.

White Wine Braised Chicken Thighs, Jerusalem Artichoke and Blood Orange
Ingredients
1 large blood orange thinly sliced
8 chicken thighs, bone in, skin on
6 sprigs of thyme
2 lbs of Jerusalem artichokes, peeled and cut into quarters
8 shallots, cut into wedges, about four per shallot
5 cloves of garlic
1 cup of white wine
kosher salt
¼ cup of olive oil
Instructions
In large mixing bowl combine olive oil, wine, garlic, shallots, thyme and blood orange. Cover and marinate overnight.
Place Jerusalen artichokes in sauce pan and cover with water. Bring to a boil and cook till just tender, about 5 minutes or so. Drain and let cool.
Heat sauté pan. Once hot, sear chicken thighs on each side, about 2 minutes per, or until there is a good brown crust. Don't overcrowd the pan or they will steam, you will need to work in batches.
Place seared chicken in 13x9 pan or cast iron skillet if you have one large enough. Nestle sunchokes around the chicken pour marinade over top. Bake at 350 for about 20 minutes.
Have you tried the recipe? Did you like it? I'd love to hear your thoughts. Rate it below!