I have been on an ice cream kick lately which is great for soul, bad for my bottom. I try to make it only when we're having company so I don't sit around and eat it all. Problem for my bottom is that we've had a lot of company over the past few weeks. OH WELL. There are worse things in the world than eating delicious chocolate bourbon caramel ice cream.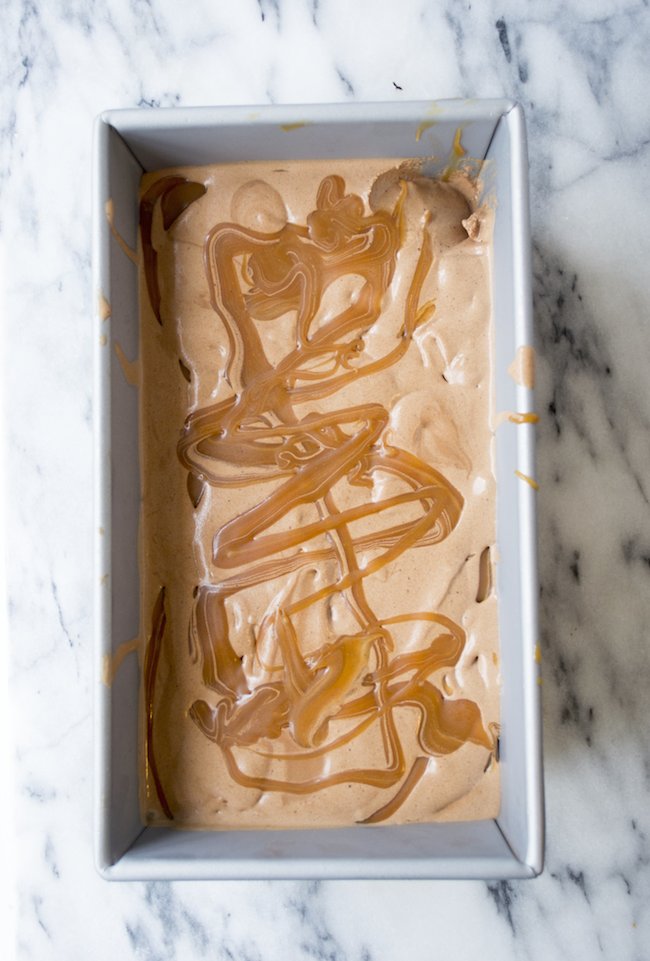 My Notes on Chocolate Bourbon Caramel Ice Cream
I originally tried drizzling the caramel sauce in to the ice cream maker after it had formed. However it just ended up mixing into the ice cream custard, which was delicious but not as pretty.
This is a very rich and decadent dessert. You don't need a lot, unless you do. Then you do you.
I tried four times to develop a caramel sauce recipe that would work well for this. The first one was too burnt tasting, the second was just candy, the third turned into carmel butter. Finally I just took David Lebovtiz's recipe and used that. You should too. Unless you are a caramel master, then you should teach me your ways.
Is there anything better than a drippy mess of chocolate ice cream on a sunny day? I submit that there is not! Which is why this ice cream cone is in a bowl and about 10 seconds away from being devoured by my dad.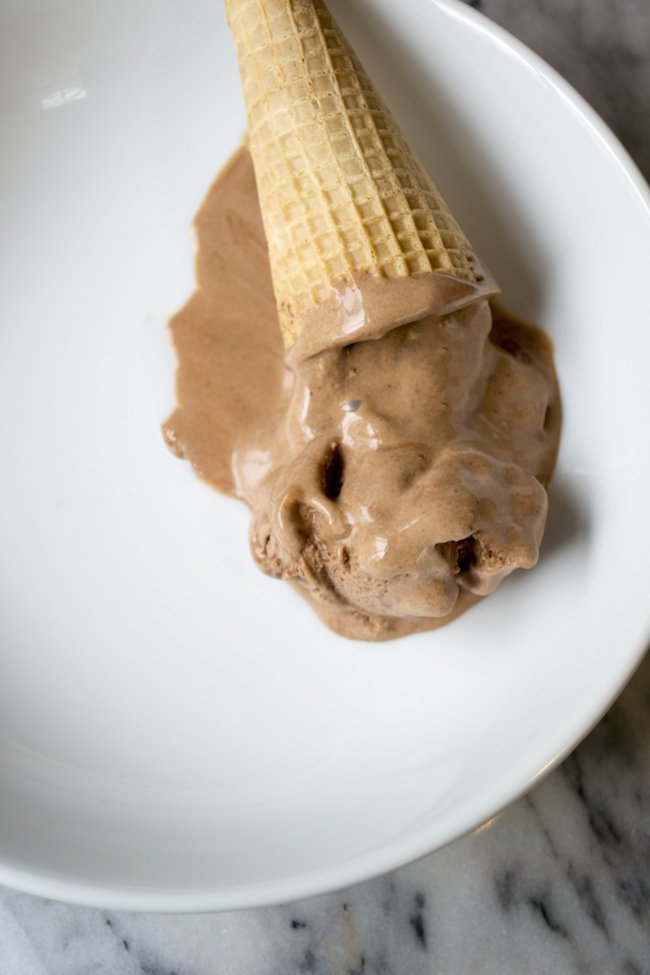 Chocolate Bourbon Caramel Ice Cream
Ingredients
2 cups of heavy whipping cream
1 cup of whole milk
6 egg yolks
½ cup of sugar
⅓ cup of cocoa powder
3 ounces of bittersweet chocolate, finely chopped
1 teaspoon of vanilla
¼ cup of bourbon
Instructions
Warm the milk and sugar on the stove.
Whisk in the cocoa and vanilla. Steep for one hour.
Whisk together egg yolks in separate bowl. Rewarm milk mixture and while whisking egg yolks add ½ cup of warmed milk, continuing to whisk. Scrap egg and milk mixture back into sauce pan. Continue to stir and heat egg and milk mixture until it is well thickened, and can coat the back of a spoon.
Place chopped chocolate in bowl. and pass custard through a strainer into the chocolate.
Let sit for a minute so the chocolate melts. Stir until smooth. Refrigerate overnight.
The next day, stir in the bourbon. Churn according to manufacturers instructions. Once ice cream is formed, working in batches transfer ¼ of the mixture to a loaf pan (or whatever you plan on storing it in). Drizzle caramel sauce over top. Transfer in ¼ more, drizzle caramel sauce. Continue to do this until all ice cream is in storage container. Finish with a large drizzle of caramel. Freeze and eat!
Have you tried this chocolate bourbon caramel ice cream recipe? Did you like it? I'd love to hear your thoughts. Comment and rate it below!