Okay, listen, don't get all judgey-judgey on me. Don't hate it till you ate it. Don't knock it till you've tried it. Seriously, not only is it so delicious, you even get some good vitamins, on account of you know, the sprouts.These maple bacon blueberry brussels sprout hot cakes are a game changer for your Saturday morning brunch.
While I am anti making something special so my kid will eat a vegetable or two. I am not anti good food that happens to have a vegetable included. And look how pretty they turn out too.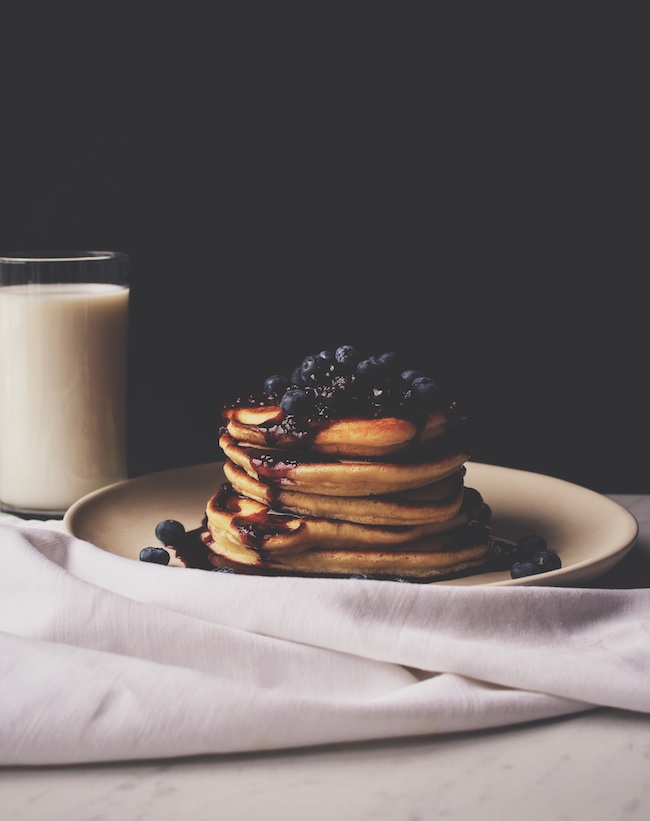 My Notes on Maple Bacon Blueberry Brussels Sprout Hot Cakes
Be sure to pulverize the brussels sprouts well in the food processor. If you don't you'll get chunks of sprouts. And unless you like coleslaw-esque pancakes, I'd stay away from that.
You may be tempted to think, brussels sprouts, blueberries, yuck. But you would be wrong. Brussels sprouts, particularly those picked in the later season after a frost, have an enzyme in them that when bruised (through pulverization) gives them a tinge of sweetness that pairs perfectly with the sweetness of the maple syrup.
You can just as easily use a blender if you don't have a food processor. You just might want to chop the sprouts into chunks first.

Maple Bacon Brussels Sprout Hot Cakes
Ingredients
2 cups of all purpose flour
2 tablespoons of brown sugar
¼ cup of maple syrup
½ teaspoon baking soda
2 eggs
2 tablespoons of oil
1 teaspoon of vanilla
2 cups of buttermilk
¼ cup of milk
4 ounces of bacon crumbled
4 ounces of brussels sprouts
butter
blueberries
maple syrup
Instructions
In large bowl combine flour, sugar, and baking soda.
In food processor pulverize brussel sprouts. Add in maple syrup, eggs, oil, vanilla, buttermilk, and milk. Process until combined. Working in batches, add in dry ingredients.
On hot pan/griddle add a pat of butter, swirl to cover pan as it melts. Once the pan is hot enough using a measuring cup add pancake batter. Sprinkle bacon crumbles over. When pancake bubbles flip it over and cook until cooked through.
Top with fresh blueberries and maple syrup.
Have you tried these maple bacon blueberry hot cakes? Did you like it? Were they disgusting because who actually falls for such an obvious April Fool's prank? I'd love to hear your thoughts. Comment and rate it below!