When I was a little girl I used to sit at the bottom of the fridge, raise my arms and in a long soulful voice cry, "Butter….butter…butter." Another time, my mother walked into the breakfast room to see me sitting on the table eating a stick of butter. My love affair with butter has not waned and my children now carry the butter banner. So, because I love my son and he loves butter, I came up with this homemade sage compound butter recipe. I'm a really good mom.
Also, I'm working on a hanger steak recipe (stay tuned), so I wanted to have a sage butter to serve with it.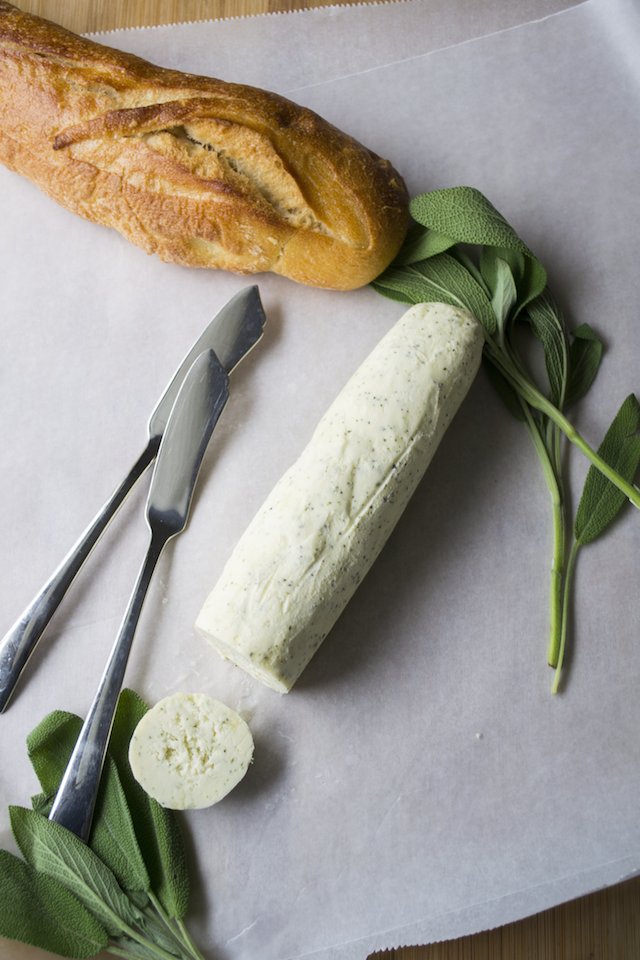 My Notes on Homemade Compound Butter Recipe
The mixing part shouldn't take longer than 5 minutes. If you don't have a food processor you can use a stand-mixer with a whisk.
Ingredients matter. When selecting cream for this recipe look for fresh cream from local grass-fed cows. The fresher the better.
You can save the buttermilk if you'd like, although it will be flavored with sage. When I make regular cultured butter I use the leftover buttermilk in lots of yummy things.
Fleur de sel is a finishing salt, it's delicious. If you can't find that, you can use kosher. You can add more salt if you like. Taste it as you go. Salt, aside from giving it flavor, helps preserve the butter for longer.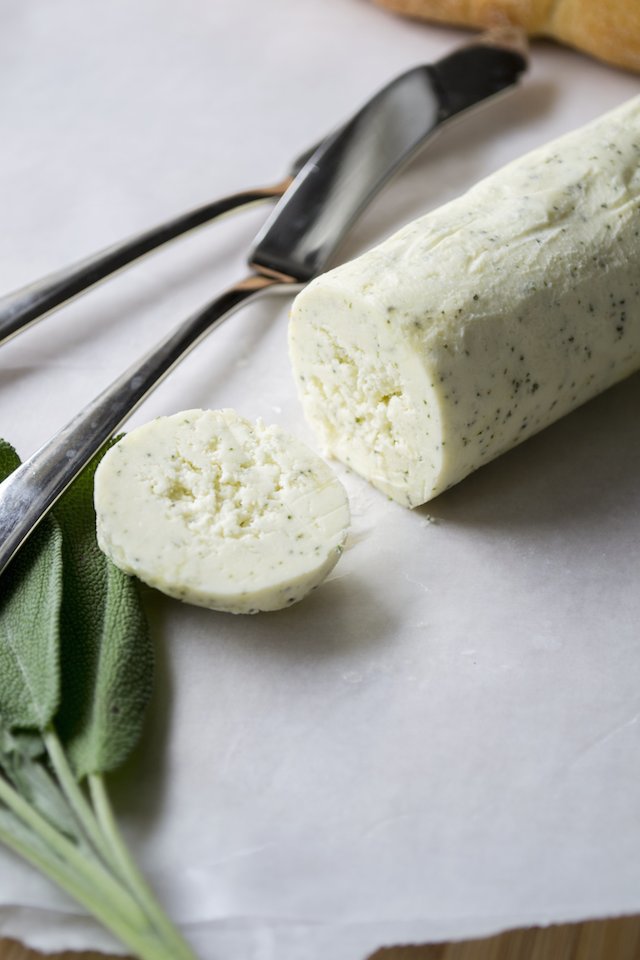 Homemade Compound Butter Recipe
Serves:
6 ounces of butter
Ingredients
1½ cups of heavy whipping cream
½ teaspoon of fleur de del
1 tablespoon of sage, chopped
Instructions
Place whipping cream in food processor. Turn on and whip. It will turn to whipped cream and then become thicker before breaking and turning into butter and buttermilk.
Once it turns to butter add in sage and and turn on food processor again until mixed.
Place sieve over large bowl and dump contents of food processor bowl into sieve straining out buttermilk.
Run butter in sieve under cold water, turning and pressing a few time until water runs clear, ensuring all the buttermilk has been washed out.
Set sieve over bowl and allow any remaining liquid to drain out.
Mix in fleur de sel.
Shape into log or ball using plastic wrap.
Wrap in wax paper and place in fridge.
Have you tried the Homemade Sage Compound Butter? Did you like it? I'd love to hear your thoughts. Comment and rate it below!