What is your go-to cut of steak to cook for dinner? Filet Mignons while high in tenderness have very little flavor. I love flank steak but the thinness and structure doesn't give the same mouthfeel as the meaty flavorful prime rib. Rib-eyes are highly flavorful and fairly tender, but the price tag makes them more of a special treat than a standard Wednesday supper. Same goes for New York Strips. The answer to your Wednesday supper steak problem is the hanger steak.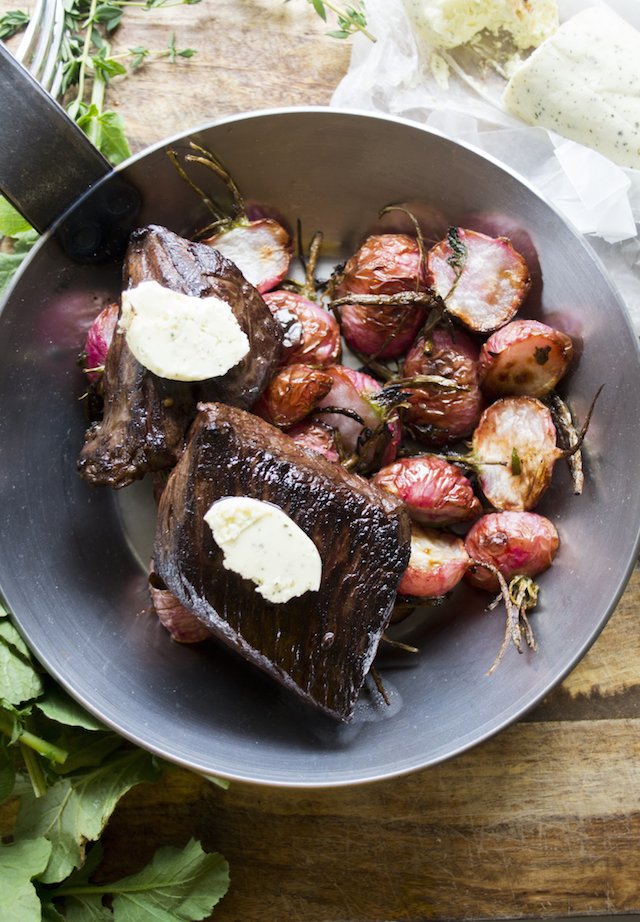 My Notes on Pan Seared Hanger Steak with Roasted Radishes
Hanger steak used to be referred to as the butcher's cut because butchers would often reserve it for their own families. There is only one hanger steak per cow (it hangs from the diaphragm) and it can be cut into two steaks. You would think that the rarity of this cut would make it more expensive, but for the flavor and tenderness that it offers it is an incredible deal. My market sells them for $5.99/lb, and I would imagine that would be comparable at most markets and butchers.
The method for pan searing I took from The Food Lab. I cannot drive home this cookbook enough. It will be a classic for years and most certainly will be a bookshelf mainstay for my generation. Follow The Piglet (March Madness for cookbooks) to see how it performs against last years cookbook releases (although the rumor mill is that it doesn't win first place).
If radishes aren't in season (or if you don't like radishes) you can substitute a different vegetable. Any root vegetable would be fine.
Because of the shape of the steak it should be flipped frequently during cooking. This will ensure an even crust.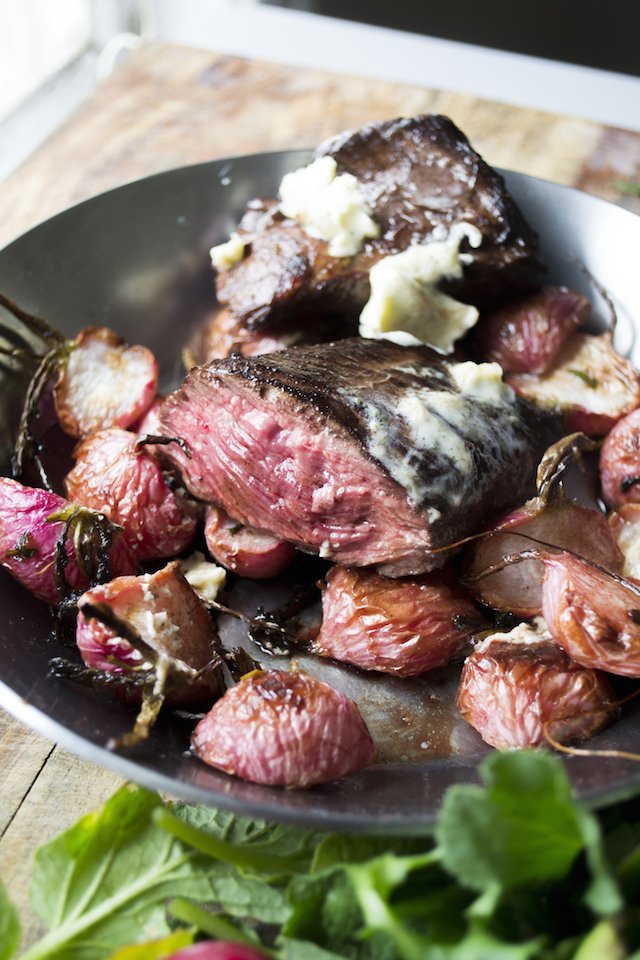 Pan Seared Hanger Steak with Roasted Radishes and Homemade Sage Butter
This hanger steak recipe with roasted radishes is tender, delicious and easy. Hanger steak, also known as the butchers cut, is a lesser known cut of meat but also highly desirable. Butchers used to reserve this cut for themselves. One pound can feed two people and is about 5.99/lb (depending on your market).
Ingredients
1 lb of hanger steak
1 bunch of radishes
1 Cara Cara Orange, cut wedges
¼ cup of oil + more for radishes
¼ cup of cilantro
1 teaspoon of pink peppercorns
½ teaspoon of mustard seeds
4 sprigs of thyme, chopped
2 garlic cloves, sliced
1 tablespoon of butter
vegetable oil
Kosher Salt
Instructions
Hanger Steak
Combine oil, cilantro, peppercorns, mustard seeds, thyme and garlic in bowl and squeeze in orange. Salt to taste and reserve orange wedges.
Place hanger steak in gallon size ziplock bag and pour in marinade, throw in orange wedges. Refrigerate for 24 hours.
Heat cast iron skillet on high heat till smoking. Add oil and allow to heat.
Add steak and sear, flipping every 20 seconds or so for 4 minutes, until a nice crust forms.
Add butter and continue searing for another 4 minutes till steak reaches an internal temperature of about 130.
Remove from heat and let rust for 5 minutes.
Roasted Radishes
Preheat oven to 375
Wash radishes and slice in half, leaving at least an inch of the greens
Toss in olive oil and salt
Roast at 375 for 15 minutes or so until golden brown and very tender.
Serve with Sage Butter
Have you tried this Pan-Seared Hanger Steak with Roasted Radishes? Did you like it? I'd love to hear your thoughts. Rate it below!