One of my favorite things about Paris is the ubiquity of crème fraîche. I can never find it anywhere in the states (although this might have something to do with the fact that I live in the backwoods of Georgia). So invariably I always substitute sour cream for it. How excited was I when I learned to make my own creme fraiche at home and it was SO easy (I was very excited, in case you're wondering). I'm sharing it here so you can too!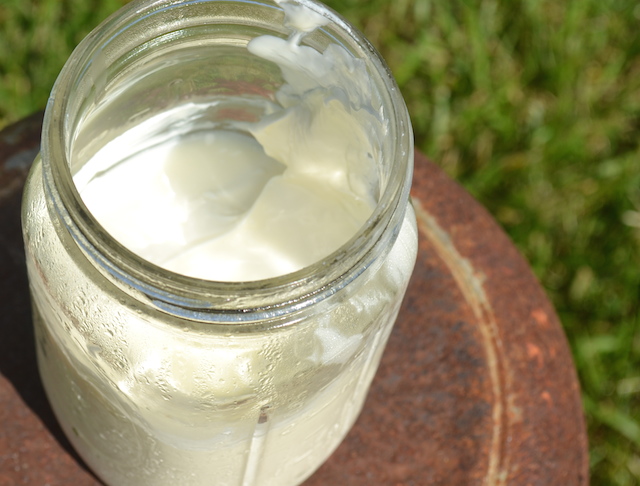 The Difference Between Crème Fraîche and Sour Cream
Crème fraîche and sour cream are very similar, one has a slightly more soured taste to it (bet you can't guess which one). I like creme fraiche personally because it has a clean feel to it as well as being processed less.
It is typically made with fewer ingredients. If you read the ingredients on your typical sour cream package, it often contains milk, cream and gumming agents. Sometimes it has other chemicals as well, depending on how cheaply it is made. Crème fraîche can also stand up to higher heats than can sour cream, sour cream will fall apart and separate when too hot.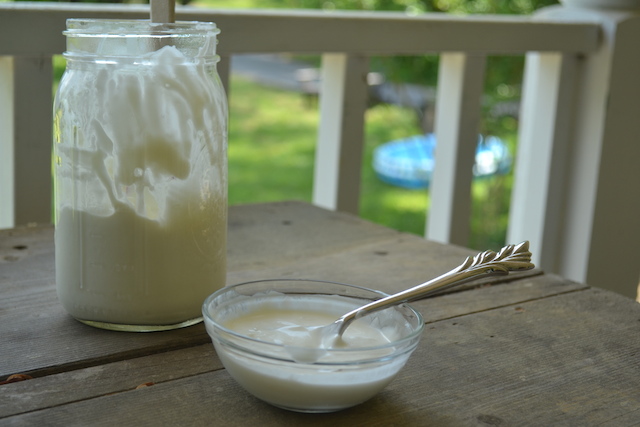 (like M's swimming pool in the background?:)
Why You Should Buy Local
You can make this with any kind of heavy cream, but the beauty of crème fraîche really shines when you make it with a good quality cream. I get my cream from Mountain Fresh Creamery, right up the road if you're based in North Georgia. There are a ton of reasons and opinions for why you should buy locally. Aside from supporting my local economy, since local ingredients are typically not prepared to travel long distances, they often use less pesticides and hormones. In addition it's fresher and processed less because you're cutting out some of the distributors and processors.
Uses for Crème Fraîche
Crème fraîche is great for using, as a base for dips, a thickener in sauces, topping berries, soup garnish, hamburger condiment, a moistener for cakes, etc. The uses are endless.
I typically double this recipe every time I make it. I recommend trying it for a week in place of sour cream to get a feel for it. Make what you would typically consume of sour cream in a week.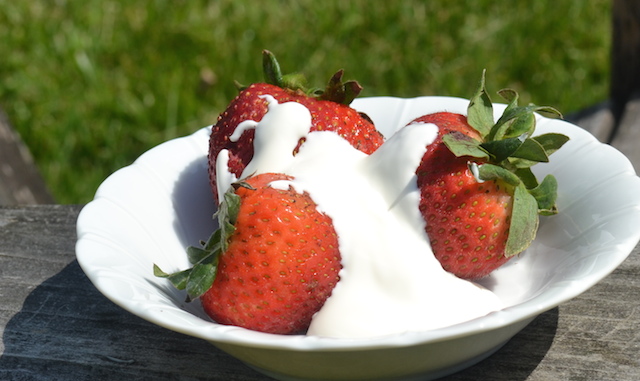 Ingredients
1 cup of good quality cream
1 tablespoon of buttermilk
Combine cream and buttermilk in sealable jar (I use a mason jar). Let sit out for 20-24 hours (ish). Cream is done when thickened. Put in fridge and enjoy!
Cream typically lasts about two weeks.
What's your favorite uses for sour cream? What's your experience been with Crème fraîche?