Grilling out is one of the best parts of summer (right alongside beer and the beach). Discovering new takes on traditional grill recipes is equally fun. On Monday, I shared a recipe for Pulled Pork Sandwiches on the grill. Today I share a recipe to go with them. It's one of my new favorite discoveries, a topping for any kind of grilled sandwich, pickled red onions.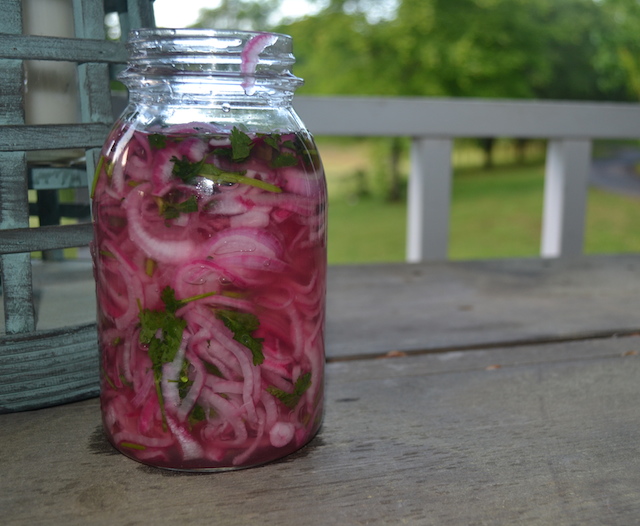 My Notes on Pickled Red Onions
I tasted these when they first cooled and they were too briny, but after a few hours, all the flavors meld together to make a unique condiment. The cilantro deepens the flavor of the onion and adds an extra layer of complexity to a sandwich that can otherwise be somewhat one dimensional.
When you pour the liquid over the onions it won't cover them entirely. For this reason, after they come to room temp refrigerate them in a mason jar or cylinder shaped container. This will make sure the onions are completely covered in liquid and that they pickle properly.
I adapted this pickled red onion recipe from one I found on the Daily Meal.

Pickled Red Onions
Ingredients
2 red onions thinly sliced
⅔ cup of distilled vinegar
⅓ cup of water
⅔ cup of sugar
⅓ cup of kosher salt
⅓ bunch of cilantro chopped
Instructions
Bring sugar, salt, vinegar and water to a boil on stove top.
Pour vinegar mixture over onions in medium size bowl. Add in chopped cilantro and bring to room temp.
Pour into mason jar or closed container and refrigerate for at least two hours (but they're really best after 24 hours).
Voila! Pickled red onions! 
You now have the perfect topping for any grilled sandwich.
Serve with: Pulled Pork Sandwich or any kind of grilled sandwich
Drink with: Hoplanta by Red Brick Brewing Company