I made this roasted asparagus soup with lemon thyme crème fraîche a couple of weeks ago.
My three year old refused to eat it. He refused to touch it or even taste it. Conventional wisdom would say just introduce it again in a few days and continue doing this until he does eat it.
But because I'm stubborn and occasionally rash (Joe says, "Occasionally?") and apparently can't follow my own advice I told him that was fine, but he wasn't eating anything until he ate that soup. I thought oh for sure he'll eat it for breakfast, he'll be so hungry, but no, he asserted his independence and refused.
This went on for four meals! By this time I was so far in I had to soldier on. You will eat the soup or you will never eat again! Finally on the fifth meal he conceded, tasted two spoonfuls, laughed, and said, "It's yummy!"
And this mama breathed a massive sigh of relief.
"Do you want more?" his daddy asked.
"No…"
"Well, okay then." Know when to fight and know when to quit, right?
Despite my son's imprudent belief that the asparagus soup would kill him, it did not. And it's delicious to boot. I don't know what more you want in life than soup that doesn't kill AND tastes good.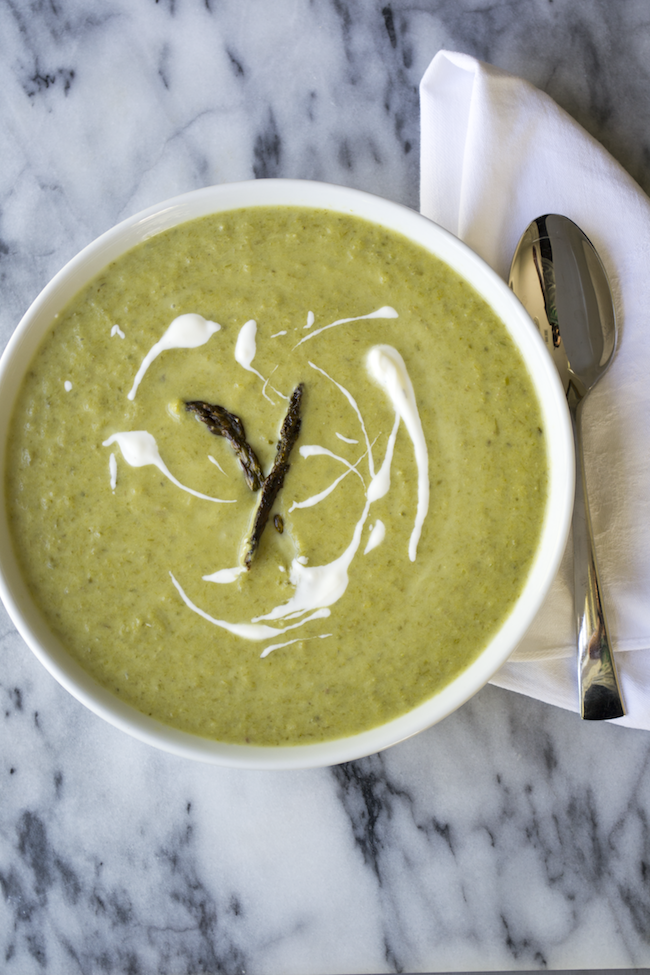 My notes on Roasted Asparagus Soup with Lemon Thyme Crème Fraîche
Make sure you puree the soup well otherwise you can end up with stringy asparagus that gets stuck in between your teeth.
You can heat the crème fraîche if you want, like I did in this recipe.
If you're feeling brave, improvise with the flavorings, there's so much you can do with this recipe, it's hard to mess up.
Those are all my notes. Truly this is such an easy soup.
Cost of Roasted Asparagus Soup with Lemon Thyme Crème Fraîche
Asparagus: Depends on how much it costs at your market. When I made this soup it was $1.99 a pound. Generally it's about $2.99 during the season, so we'll go with that. So three pounds of asparagus would be $9
Leeks: My market sells these for $1.99 a bunch, I get three leeks to a bunch typically, so that's $1.32
Chicken Stock: I swear by this brand. You can purchase the organic one for $6 for a 16 ounce jar at Costco. Seventy-six teaspoons to a jar, this cost $.47.
Wine: I try to keep a cheap $5 bottle of white wine for cooking in the fridge. Cost $.40.
Garlic: Costs $3.69 a pound, one bulb weighs about 3 ounces which is roughly $.70. Ten cloves to a bulb give or take, so cost for this recipe would be $.28.
Shallots: These are $1.99 a pound at Dekalb Farmers Market. I used one which was about 2 ounces, so that's $.24.
Heavy whipping cream: I buy my cream at Costco for $4.5 a quart, so for this dish it cost $.56
Crème Fraîche: I make my own. Heavy whipping cream is $4.5 a quart at Costco. One cup to make the crème fraîche would be $1.12 plus $.03 for the buttermilk. But I only use half of that, so total crème fraîche cost: $.57
Fresh Thyme: This is an herb I keep in the fridge at all thymes (haha). It stays good for so long. It's $1.29 for a bunch. According to the Google there are about 43 sprigs to a bunch. Cost is then $.06.
Lemon Juice: One lemon costs $.50, three tablespoons of juice to a lemon so one teaspoon would be about $.05.
Olive oil and Kosher Salt: These are ingredients that you should always have in your kitchen. It's too hard to estimate how much you'll need because it depends on your other ingredients. Good cooking involves tasting as you go and knowing how to make adjustments. I go through a box of salt every three months or so. I go through one to two bottles of olive oil a month. It's easier to calculate it out by day this way. My olive oil is about $10 a bottle (I usually find it on sale though) and salt is $2.5. So on the high end olive oil costs about $.65 a day and salt is $.02 a day.
Total cost for eight people is $13.62 or $1.70 a person, with most of the cost being the asparagus.

Roasted Asparagus Soup with Lemon Thyme Creme Fraiche
Cost for 8 people is $13.62.
Ingredients
3 lbs of asparagus
2 leeks
6 cups of chicken stock
¼ cup of dry white wine
four cloves of garlic
1 shallot, finely chopped
½ cup of whipping cream
½ cup of creme fraiche
2 sprigs of fresh thyme, leaves removed and chopped
1 teaspoon of fresh lemon juice
olive oil
kosher salt
Instructions
Clean asparagus and leeks and break off wooded ends.
Slice leeks in half and cut off superfluous greens. Toss both asparagus and leeks in oil and salt. Roast on parchment paper lined jelly roll pan at 375 degrees until cooked through and browned, about 45 minutes or so. At the last 10 minutes or so throw garlic cloves in oven as well.
Once vegetables are finished roasting, remove from oven and when cool enough to handle chop roughly.
In large stock pot sweat shallot about 15-20 minutes, until soft and mushy.
Turn up heat and deglaze pan with wine. Reduce until almost completely gone.
Add chopped roasted vegetables. Add chicken stock. Bring to a boil and then reduce to a simmer. Simmer for a minute or so. Then using a hand blender, puree soup.
If soup is thinner than you like reduce until thicker.
Stir in whipping cream.
In a separate bowl whisk together thyme, lemon juice and creme fraiche.
Serve soup in bowls with a drizzle of creme fraiche.
Have you tried this roasted asparagus soup with lemon thyme crème fraîche? Did you like it? I'd love to hear your thoughts. Comment and rate it below!