On Saturday afternoon my family will descend on our small urban cottage. We'll spend the weekend celebrating new life and enjoying one another. Sunday morning we'll join our church before returning for brunch and an afternoon Easter dinner of a Roasted Leg of Lamb with Mustard, Shallot and Wine and a Sunchoke Puree. At some point there will be an easter egg hunt and probably a nap. Hip hip hooray for naps!
When I made this the first time Joe informed me that his favorite meat is lamb. We've been married for five years and I had no idea! Apparently there will be a lot more lamb in our future. I've been eating leftover lamb avocado toast, it's amazing for breakfast and lunch all week. That's what you should do with your leftovers. Maybe I'll take a picture and share it next week. Maybe not, we might eat all the lamb.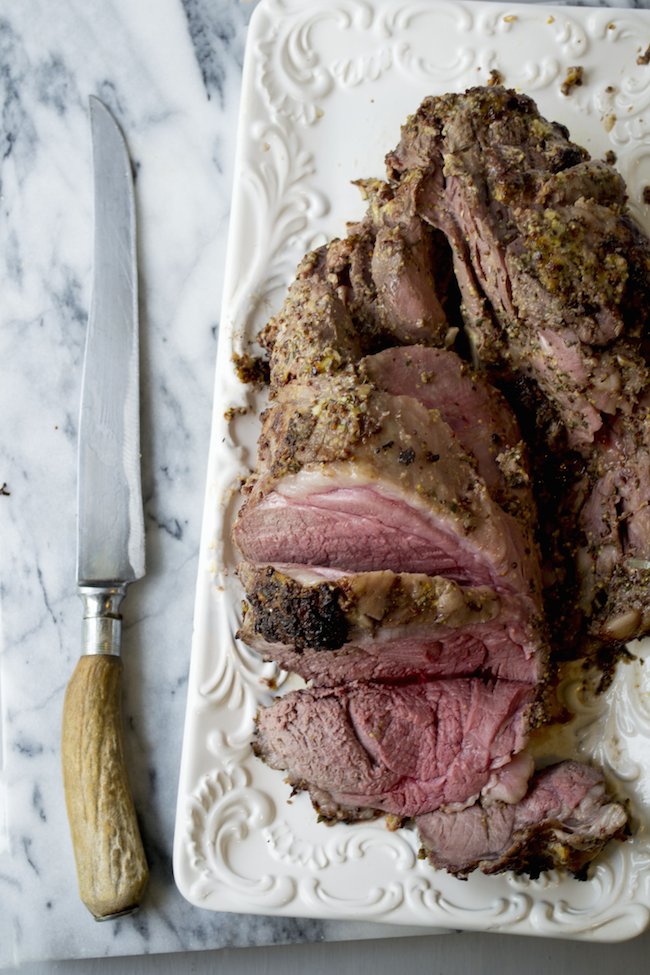 My Notes on Roasted Leg of Lamb with Mustard, Shallot, Wine and Sunchoke Puree
There are two types of lamb you can purchase—American lamb and Australian lamb. American lamb is less gamey as it has been fed grains. It's also larger because it's been fed grains. Australian lamb is more gamey because it's largely grass-fed. Australian lamb is also smaller because it's largely grass-fed. I would assume there's more omega fats because of this too? Love those fats.
You would think that Australian lamb would be more expensive because it's imported from Australia, but from the stores I went to, American lamb is more expensive.
I ended up cooking Australian lamb ($5 a pound at Costco). It smelled very gamey and I was afraid it was going to taste that way as well. It ended up being very mild and almost delicate in flavor. Not overpowering at all.
If you are unable to find a boneless leg of lamb, I imagine you could do a bone-in leg, however the cooking method and time may vary.
In creating the lamb I was inspired by a mash up of recipes from the Food Lab and this recipe from Bon Appetit.
Sunchokes (or Jerusalem Artichokes) are actually a tuber and a member of the sunflower family. The puree is light (despite being cooked in heavy cream) and has a nutty flavor. My siblings liked it, I was ambivalent. I think I would have preferred a celery root puree (which is a nice alternative if you aren't able to find sunchokes).
I usually have too much liquid left after the sunchokes are tender. If that happens, just pour some off. It's easier to add back in than to boil down after it's pureed.
I used a hand blender to puree my sunchokes, but you could also just do it in a blender or food processor.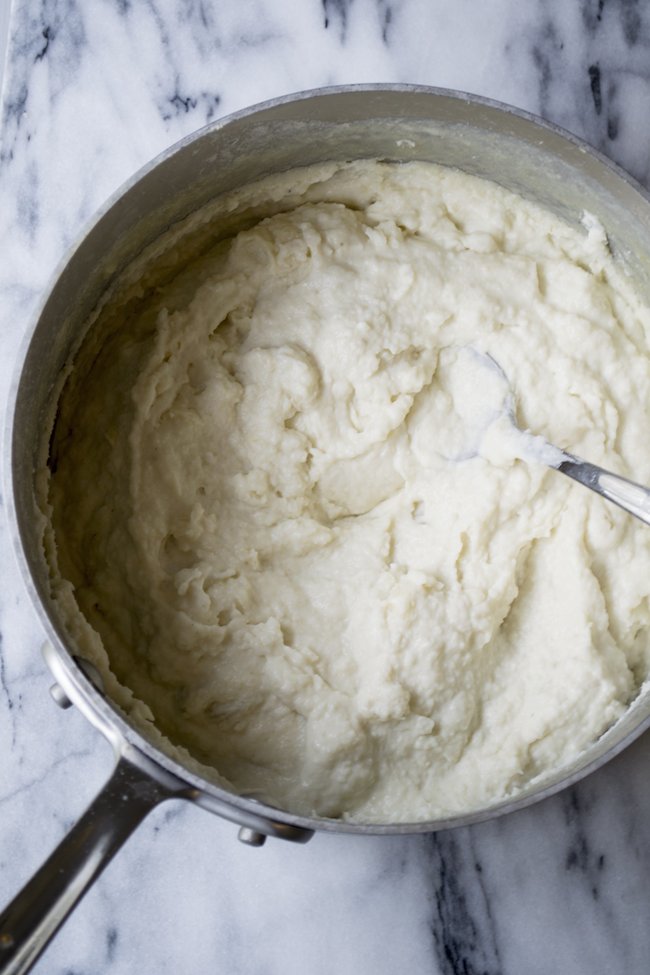 Roasted Leg of Lamb and Pureed Jerusalem Artichoke for Easter Dinner
Ingredients
5lb boneless leg of lamb, butterflied
½ cup of whole grain dijon mustard
1 small shallot, roughly chopped
¼ cup of white wine
1 tablespoon of lemon juice
1 tablespoon of chopped fresh rosemary
1 tablespoon of chopped fresh thyme
8 garlic cloves, divided
½ cup of olive oil
kosher salt
butcher twine
Sunchoke Puree
2 pounds of jerusalem artichokes
2 cups of heavy cream
kosher salt
Instructions
Preheat oven to 200 degrees.
In a food processor combine 4 whole cloves of garlic, oil, herbs, mustard, shallot, wine, and lemon juice. Puree until smooth.
Slice up the remaining four cloves of garlic.
Open lamb leg, butterflied portion facing up, on cutting board. Using a knife make slits all over the inside of the lamb and insert garlic slivers.
Take wet rub and and massage all over the inside of lamb. Season with kosher salt. Roll lamb up and using butcher twine, tie lamb up. Wet rub will ooze everywhere, take the leftovers and rub it all over the outside of the lamb. Then, season with kosher salt.
Place in v-rack in a roasting pan and roast for a couple hours in the oven, until meat thermometer reads 125 degrees.
Remove from oven, tent with foil and let rest for 30 minutes.
Raise oven temperature to 500 degrees. Roast for 10 minutes in 500 degree oven. Serve immediately.
Sunchoke puree
Peel sunchokes and cut into quarters. Place in saucepan with heavy cream.
Bring to a boil and reduce to a simmer for about 20 minutes or until sunchokes are tender.
If a lot of liquid remains in the pan, pour some off into a bowl. Puree until smooth. Adding in leftover liquid to reach desired consistency. Season with salt.
Have you tried this roasted leg of lamb and sunchoke puree? Did you like it? I'd love to hear your thoughts. Comment and rate it below!