If you like mushrooms then you'll like Paris. There is a plethora. But finding new ways to prepare them can sometimes tricky and sautéed mushrooms are yummy, but boring after three days (or so my husband tells me). Below is a recipe for cream of mushroom soup.
My First Bowl of Parisian Mushroom Soup
But first let me tell you about the first time I had mushroom soup in France. 
I first came to Paris in 2005 with two of my college girlfriends, Megan and Carrie. I had travelled a lot before but mostly on missions trips, and so I packed all long skirts and long shorts. Needless to say I did not walk away with any French lovers.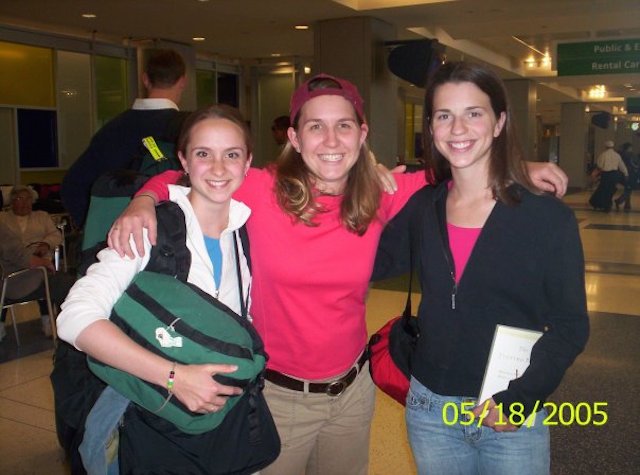 It was the trip of a lifetime. We landed in Paris by way of Iceland and visited Nice, Eze, Monte Carlo, Monaco, Monterosso, Rome, Florence, Verona, Venice, Zurich (for an hour), Munich, and then came back to Paris. We had so much good food, and so many funny adventures. When we were in Paris, being the culinary capital that it is, we opted to have one really nice meal. We read about all the wonderful meals we could eat in Paris and finally made a reservation at a well recommended restaurant in the 7th arrondissement.
Before our reservation, we spent several hours getting ready so we could look the part of the fancy meal we were about to partake. Heaven forbid someone mistake us for college students romping through Europe. We showed up on time and sat down to begin our six course meal. It was everything I had been dreaming of.
The Mushroom Soup That Never Came
Before every course, our server would come out with a chalk board to show us our options (usually we could choose between two or three things). The second course was the soup course. Out came the chalk board, Carrie ordered cold melon soup and Megan and I ordered mushroom.
Soon, out came beautiful large white bowls brimming with soupy goodness. Only when they sat the bowls down in front of us, the only thing they were brimming with was… nothing.
At the bottom of my bowl were a few crisped mushrooms and a couple of croutons. Carrie had two small melon balls and a few pieces of dill.
So this is how the French did soup, huh?
Two Large Soup Tureens
Not wanting to be innapropriate, and especially not wanting to admit that we didn't realize we had somehow ordered some strange kind of salad, not soup at all, we picked up our spoons and ever so delicately began to eat our French "soup."
Carrie was down to one piece of dill and a melon ball and all my mushrooms were gone when two servers came out with large soup tureens, gave us a very confused look and began ladling liquid in to our bowls.
After that, there's not much you can do besides laugh at yourself. So we did, and then we finished our soup that was still oh so tasty.
My Parisian Recipe for Mushroom Soup
It's cold and rainy this week, so I thought mushroom soup would be the perfect dish. It warms and fills you up, and a little french bread from our favorite boulangerie improves it even more. This recipe was adapted from the original at Food and Wine.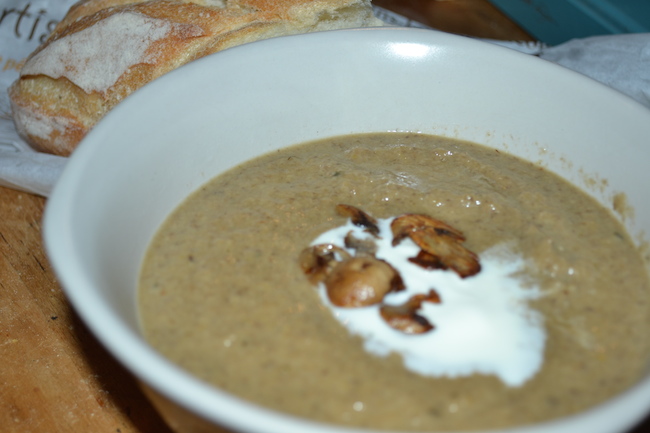 Ingredients
2 pounds of mushrooms sliced (I used brown button mushrooms)
1 shallot diced
1 small onion diced
6 cups of chicken stock
1 cup of white wine
1/4-1/2 cup of heavy cream
1 tablespoon of lemon juice
2 garlic cloves
1 teaspoon of thyme
4 tablespoons of butter
crème fraîche
Instructions
Over medium high heat, melt butter 2 tablespoons of butter in large sauté pan. Add mushrooms ad garlic cloves (may need to do in batches depending on size of pan) and let cook until they release they begin to release liquid (about 7-10 minutes). Set aside a few for garnish.
In dutch oven or soup pot melt the remaining butter. Add onions, shallots and thyme and sauté on medium heat. Once onions are soft, increase heat to medium high and add white wine, boil and reduce to about 1/3-1/2 of a cup. Add chicken stock, mushrooms and garlic cloves and simmer until mushrooms are tender and flavors are blended.
Using an immersion blender puree the soup until smooth and no chunks. Return to low heat and stir in lemon juice and cream.
Ladle into bowls, top with crème fraîche and garnish with a few sautéed mushrooms.
Bon appétit!
What's your favorite dish for a cold, rainy day?