Mars and I have spent a lot more time outside lately. We have a nice backyard to play in here and fruit trees he gets to pick from (which he loves). The peach tree is full of peaches and they are gloriously delicious peaches. I've been frantically trying to squeeze them into different recipes to use them up before they go bad. Last week I was going to make a caprese salad and thought including peaches might be a fun idea. It was. Here's my southern twist on the famous salad from Capri — Peach Caprese Salad.
Joe Comes Home in Three Days
My husband has been gone for almost two weeks on business, I'm starting to lose my mind. Spouses should not be allowed to leave for more than 24 hours. At least mine shouldn't. I've been trying to stay busy so I don't think about how much I miss him. Mostly this means I walk a lot, read a lot (while walking), eat a lot and go to bed early.
Creating this salad helped distract me, at least for an hour.
My Notes on the Peach Caprese Salad
Be sure to use a good quality balsamic vinegar. It makes a difference.
The Cherokee Purple Tomato is a sweet heirloom tomato that I think pairs perfectly with the peach. That being said, you could use a different variety of tomato if you prefer.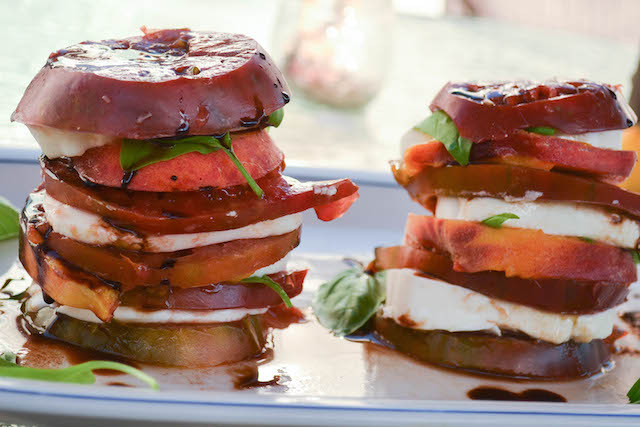 Peach Caprese Salad — a Fresh Twist on the Traditional Italian Dish
Cuisine:
American Italian
Ingredients
1 peach, halved and then sliced horizontally
2 Cherokee Purple Heirloom tomatoes
8 ounces of fresh mozzarella cheese
¼ cup of good quality balsamic vinegar
5-10 large basil leaves
Instructions
Bring balsamic vinegar to a simmer in a small sauce pan. Reduce until a syrupy consistency (will continue to thicken as it cools) to create a balsamic glaze.
Slice tomatoes, peaches and mozzerella to thickness of your preference (mine are roughly ¼ inch thick).
Layer tomatoes, mozzerella, peaches and basil leaves. Drizzle with cooled glaze. Serve immediately.
Serve with: an arugula salad and a flatbread
Drink with: Saucelito Canyon's Sauvignon Blanc