When we were in California last week, we made sure to go to one of our favorite restaurants – the Lark. One day I'l get my act together and write a proper review of the place (but if you're in Santa Barbara you should go!). For now, let me tell you that before the Lark I couldn't understand the pimento cheese trend.
My sister-in-law (Kathy), Joe and I decided to grab drinks and a bite to eat the night before we left. Kathy ordered the pimento cheese and it was so delicious we both went home and tried our own variations. Once we were back in Georgia, and since we live in the South and since it's a traditional dish for July 4th, I decided to make it for the 4th of July party we attended.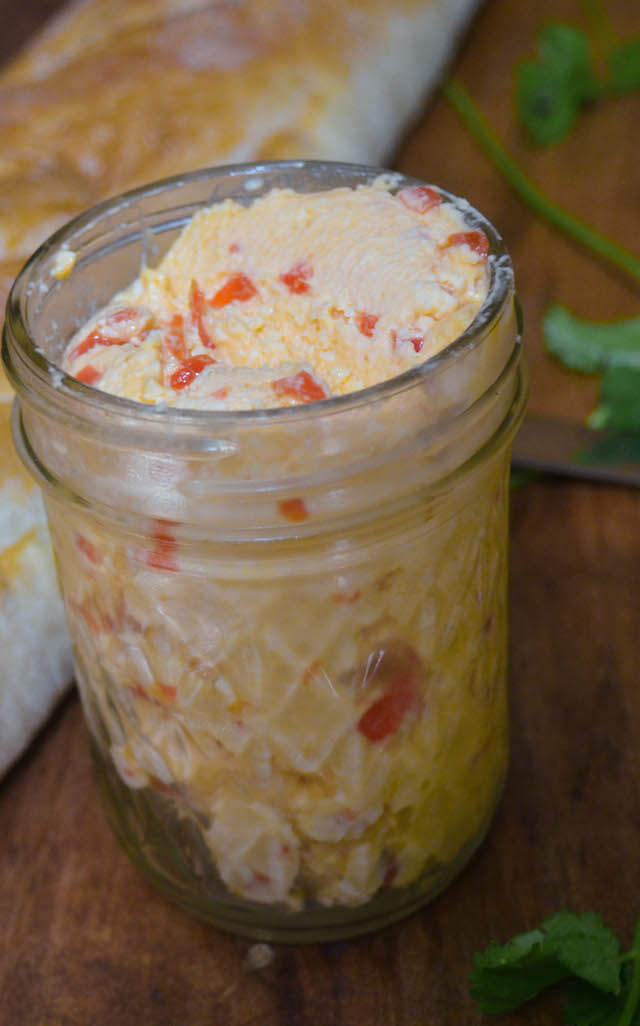 To Note about Pimento Cheese
Make sure you shred the cheese yourself instead of using pre-shredded cheese. The pre-shredded stuff has something on it that makes it not so good.
I want to say pimento cheese purists use just mayo and maybe a little onion, and typically I would lean towards that – but I like the flavor in here. Otherwise I feel like I'm eating mayonnaise and cheese and who wants to eat mayonnaise and cheese.
When choosing cheddar cheese try and purchase a white cheddar as this is generally more natural. In the spring and summer there is more beta carotene in the grass resulting in a slightly tinted cheese color. Consumers associated orange cheese with better cheese so dairy farmers began adding an orange color to keep cheese sales up.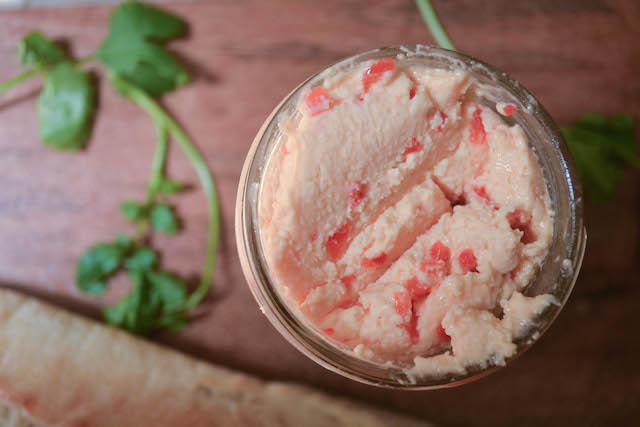 Ingredients
1 tablespoon of chipotle sauce (plus more if you like it spicy)
3/4 lb of extra sharp cheddar finely shredded
1/4lb of provolone finely shredded
1/2 cup of mayonnaise
1/4 cup of shallots chopped
1/2 teaspoon of tabasco
2 shakes of worchestire sauce
7 ounces diced pimentos
salt + pepper
loaf of french bread
1. Put mayo, shallots, chipotle sauce, worchestire and tabasco sauce into food processor and pulse until blended. Adjust seasoning to taste.
2. Combine cheese, diced pimentos and mayo mixture in bowl (you can pulse together in food processor if you prefer a creamier cheese, I personally like chunks in mine, which I discovered when I accidentally creamed mine too much).
3. Slice french bread down the middle and place on hot grill for about 5-7 minutes until toasted and grill marks appear (turning when needed). (Also sorry there aren't any grilled bread pictures – I took the pics before we grilled it on account of we couldn't stop eating it and I was afraid I wouldn't get a picture!)
4. Using butter knife or small spoon, spread on cheese on grilled bread and enjoy. If you're gluten free you can serve it with pepper slices, cucumbers or celery!
What 4th of July side dish can you not do without?