I'm continuing my online food education each week. I'm telling you people, I love it. The course I'm currently taking is called: Mastering Your Fry Pan. I'm learning pan frying (obvi), searing, sweating, sautéing and pan tossing. The best part about learning about food is yum, you get to eat it all.
Last week my mom stayed with us (she's in her last year of her Masters — let's hear it for women who start new careers in their 50s! She's my hero. So she commutes to Atlanta and stays with us occasionally to avoid driving 50 hours a week), and since I was supposed to practice pan frying I made pork tenderloin medallions with a black trumpet mushrooms and a sherry cream sauce (that's a large description). *I should also mention that I didn't want to deal with roasting green beans and I detest plain boiled green beans, so I threw them in after par-boiling them.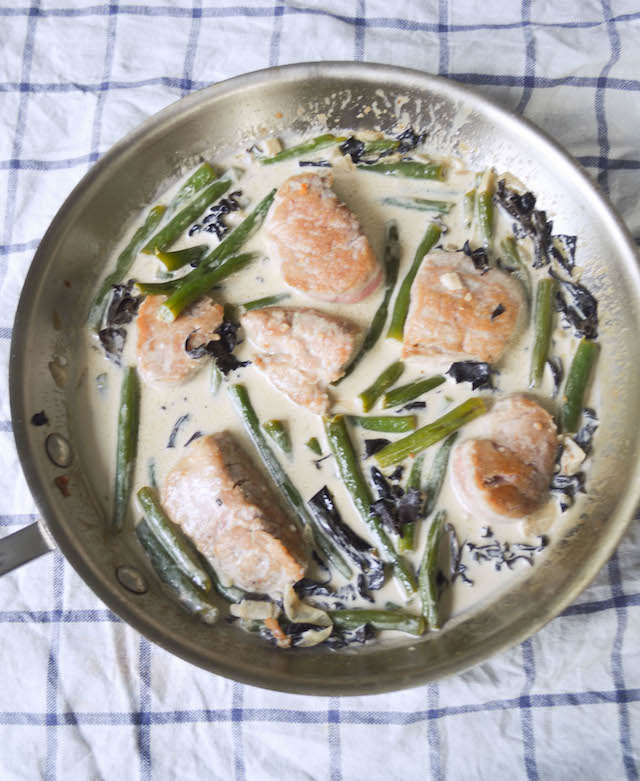 To Note About Pan Frying and Pork Tenderloin
Heating your pan to the proper temperature is key in cooking your food. I learned a nifty little test to find out if it's cooked well — it's called the mercury ball test. It only works on a stainless steel pan (I recommend this one).
Turn your stove to medium high heat. Every 15 seconds or so drop a 1/4 teaspoon of water in. At first the water will sizzle and eventually evaporate. But as the pan heats up, the pores on the pan close up. When that happens the water will glide over the surface of the pan and when it's the appropriate temperature, will form a small ball (a mercury ball is what they call it on my cooking course).
Then you want to turn down the heat (it will quickly overheat), add the oil and let it heat until it has legs like wine (this will happen quickly), and then immediately add the food. I will have an Instagram video of the mercury ball stage up today if you want a visual. And I will Periscope the entire process happening, @taliabunting.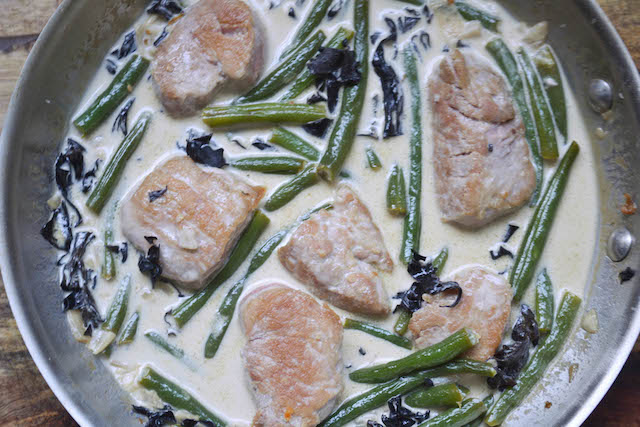 Two other things to note, it's a common misconception that pork must be cooked to well done temperatures (which is probably why I don't often cook pork – who wants to eat dried out meat?). It really depends on the cut of meat. A butt or even a loin you'll cook all day, a tenderloin you'll want to cook much shorter.
These medallions should be cooked to just under medium with a pink rim around the side. They will continue to cook after you remove them from the heat.
And lastly, be sure to not overcrowd the pan – this will result in steamed meat rather than a nice brown crust.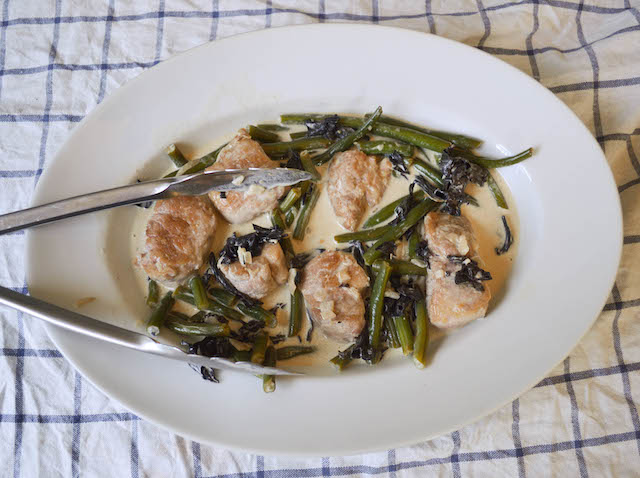 Pork Tenderloin Medallions (with Mushroom Cream Sauce)
Ingredients
Couple of handfuls of dried black trumpet mushrooms (maybe 10 grams, depending on the size of your hands I guess)
½ cup of heavy cream
⅓ cup of sherry
1 medium sized shallot (1/4 cup minced)
olive oil
1 cup of chicken stock
1 pork tenderloin (the sauce makes enough for about 8-10 medallions)
Instructions
If using dried mushrooms, re-hydrate mushrooms by covering with hot water for about 15 minutes. Drain and chop (or leave whole, whichever your preference).
While mushrooms are re-hydrating, heat pan to mercury ball stage, add oil and then food. Cook medallions about 5-7 minutes, flipping every couple of minutes, remove from heat and tent with foil. Don't forget to leave the pink rim around the edge!
Add a little more oil and sautee the shallots till softened and golden. The sucs (bits from pan frying the medallions) should be left in the pan and will add great flavor.
Deglaze the pan with the sherry and reduce by half. Add the mushrooms and stock and reduce by half, add the cream and reduce some more.
Return medallions to pan and coat with sauce. Serve immediately.
Serve with
: 
Oven roasted potatoes
, oven roasted broccoli (or par boil some green beans and throw them in) and 
this salad
 (the figs are almost done!:( So sad.)
Drink with: Joel Gott Chardonnay (it's a $15-$20 of wine that Kroger recently had on sale for $10 something)