This post could also be called, "Not Your Grandma's Brussel Sprouts."
When Joe and I lived in California last year we found a funky restaurant that we loved called The Lark. It was our go to date night spot. Sometimes we just went for drinks, sometimes we went for dinner, but regardless, we always ordered the brussel sprouts. They deep fry them and then toss them in an Asian vinaigrette. Get into my belly right now.
I knew they were a take on Momfuku's who did the original version of roasted brussel sprouts with a fish sauce vinaigrette. Since trying them in Santa Barbara, and then seeing them pop up all over the country — my brussel sprout habit was starting to get expensive. I knew I needed to find a way to make them for myself asap.
I found a recipe from Food52 and adapted it (I also cut it in half because I don't feed an entire restaurant, just my small herd).
To Note about Roasted Brussel Sprouts
The most important thing to remember (aside from using olive oil and kosher salt) is to not overcrowd the pan. You will need to use at least two pans, maybe three. Otherwise they will just steam and then we're back in Grandma's kitchen.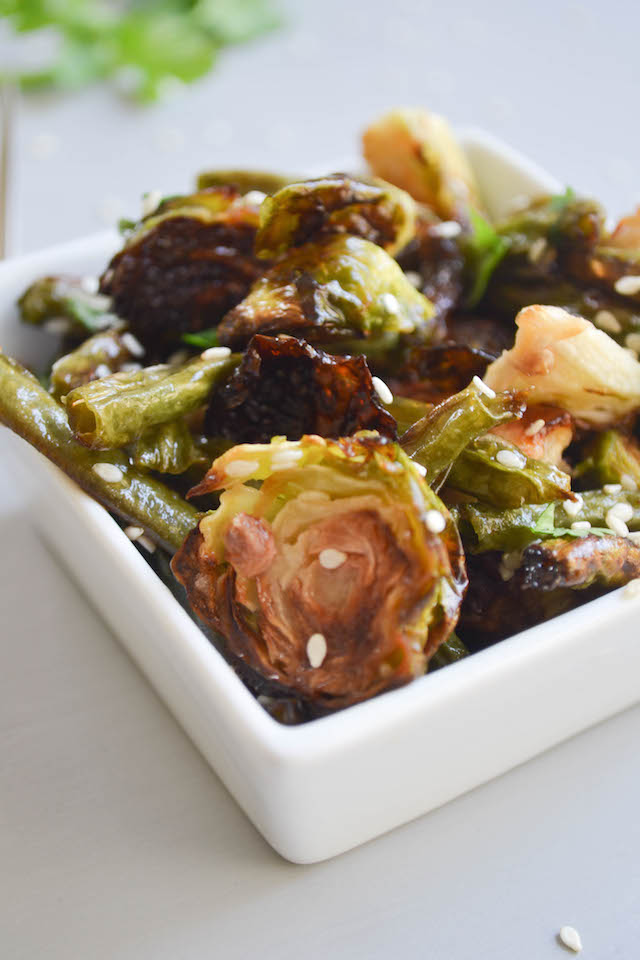 I also recommend a jelly roll pan instead of a cookie sheet, that way if you toss them while cooking they don't fall off.
With brussel sprout season quickly approaching, we all need a go-to crowd pleaser. This recipe is just that.
Roasted Brussel Sprouts with Asian Vinaigrette
Ingredients
2 lbs of brussel sprouts cut in halves (quarters if they're particularly large)
1 lb of green beans.
1 tablespoons of kosher salt
2 tablespoons of olive oil
¼ cup of chopped cilantro
¼ cup of fish sauce
1 tablespoon of rice wine vinegar
1½ tablespoons of water
1½ tablespoons of lime juice (about a half of a lime)
1½ tablespoons of sugar
1 garlic clove chopped
1 teaspoon of sesame oil
1 teaspoon of sesame seeds
Instructions
Preheat oven to 375 degrees. Toss brussel sprouts and green beans in olive oil and kosher salt and roast in oven for about 20-30 minutes (depending on real oven temps and if you have a convection oven). You may need to toss them around a bit if they look like they are cooking unevenly. All ovens are different. They are finished when they are browned.
In skillet on stove, toast sesame seeds on medium heat, tossing occasionally, for 30 seconds or until they are fragrant and slightly brown.
In mason jar combine fish sauce, rice wine vinegar, water, lime juice, sesame oil, sugar, garlic clove, and toasted sesame seeds, shake to combine.
In large bowl, combine roasted brussel sprouts, cilantro and about ½ of the vinaigrette (more or less depending on what you like).
Remaining vinaigrette will keep for about a week.