Memorial Day is next week and grills across the nation are getting the rub down, being prepared to cook yummy yummy barbecue goodness all day long. If you're looking for a good cut of meat to prepare for all your friends and family that will taste fantastic, feed a passel and not break the bank, then you're in luck. Slow roasted pork shoulder is your new best friend. Here I share the recipe we love for pulled pork sandwiches topped with my husband's favorite barbecue sauce.
Growing up in the South
I've had my fair share of pork, but none compares to the pork cooked on a Big Green Egg. We got my dad a Big Green Egg for Father's Day this year. (Also for his birthday, Mother's Day, Christmas and Father's Day next year.) We gave it to him early because my uncle came to town and he could teach us how to use it.
My goodness was it a good decision. We did a pork shoulder on it yesterday with a rub and I'm pretty sure I'll only be cooking on it for the rest of the summer (see, we're saving on electricity this way, so actually the grill pays for itself). You can go ahead and expect lots of grilling recipes over the next three months, and also, let's be honest, probably through the winter too.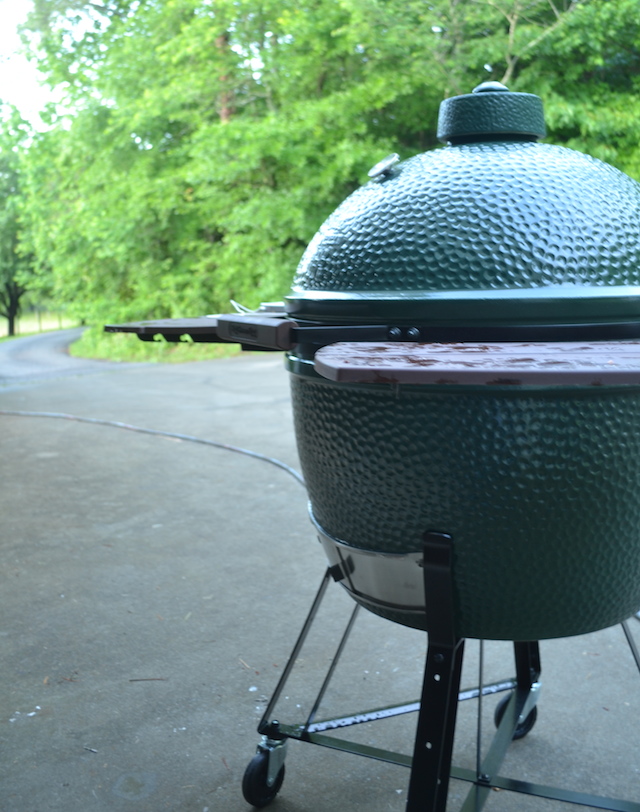 We topped the pork sandwiches with pickled onions, coleslaw and a side of chips with home made ranch crème fraîche dip. The pickled onions were delicious and so pretty.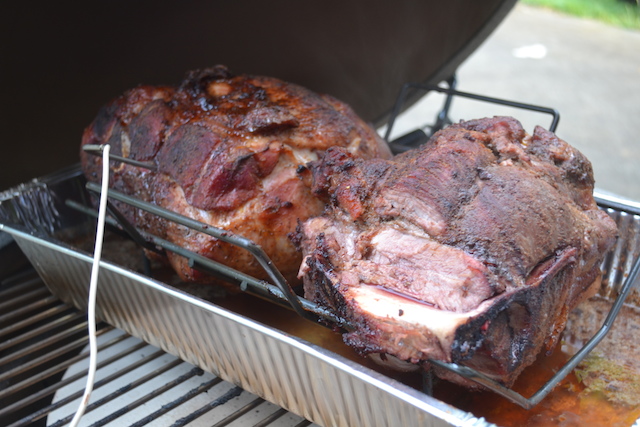 If you don't have a Big Green Egg (or as my uncle likes to call it — a BGE) or a grill that does slow roasting well, you can do this in the oven or slow cooker easily.
Ingredients
1 pork shoulder (about 6 lbs.)
1 tablespoon of chili powder
1 tablespoon of garlic powder
1 tablespoon of onion powder
1 tablespoon of black pepper
1 tablespoon of paprika
2 teaspoons of cumin
1 teaspoon of cayenne pepper
2 teaspoons of thyme
1 teaspoon of coriander
1 teaspoon of rosemary
2 tablespoons of brown sugar
1/4 cup of salt
1/4 cup of sugar in the raw
agave necter
apple juice
Sweet Baby Ray's BBQ Sauce
Pre-heat BGE to about 220 degrees.
Mix together chili powder through sugar in the raw in small bowl. Drizzle agave all over the pig and then rub in the spices.
Place pork on rib rack and set in shallow pan and place on grill. Pour about one inch of apple juice into the bottom of pan and close grill.
Check every hour or so to make sure temperature is staying even and meat is staying moist. Slow roast 4-6 hours. Meat can be sliced at about 4 hours for sandwiches or shredded at about 6 hours. You can tell by tugging at a small area in separate directions with two forks (like you're shredding it). If it begins to shred easily it's done, if not, keep roasting it.
Top with Sweet Baby Ray's BBQ Sauce and serve on sandwich bun.
Serve with: Pickled onions, Coleslaw and Ranch Crème Fraîche and chips
Drink with: Goose Island Pepe Nero. The peppery flavors bring out the spice from the rub and match well with the sweetness of the barbecue sauce.