Day 4 of Stupendous Summer Salad Week! I don't know if there's anything so wonderful as watermelon in the summer (unless it's a nice drippy ice cream cone). I start picking out juicy melons as soon as they show up in the markets, and by June our fridge is permanently stocked. What I really love is figuring out new ways to serve that delight and surprise. Grilled watermelon is one of my favorites and I've made it into a salad here. Enjoy!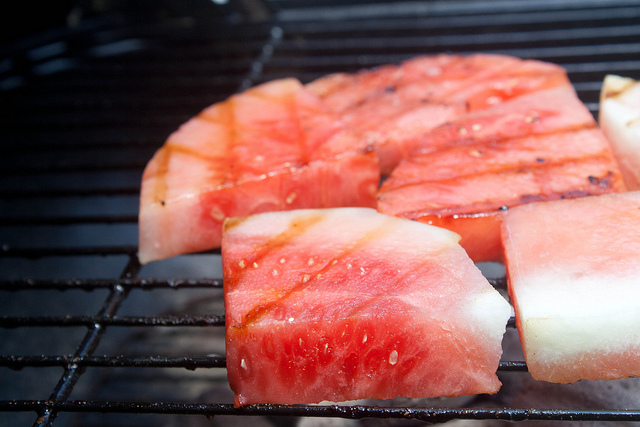 Photo Credit: be▲-t (Creative Commons)
Ingredients
1 2.5-3lb watermelon.
3 heirloom tomatoes of varying colors chopped
1 cup of goat cheese
2 cups of arugula
1/2 bunch of cilantro chopped
1/4 cup of good quality balsamic vinegar
olive oil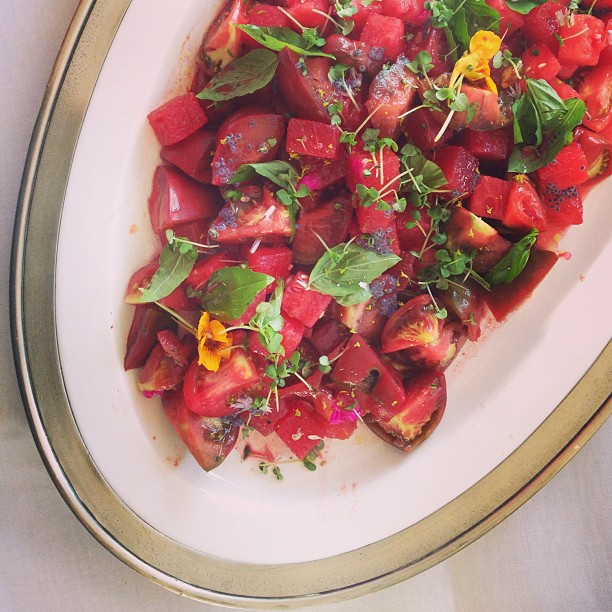 Photo Credit: Stephanie (Creative Commons)
On medium high heat bring vinegar to a simmer and cook until reduced think enough to coat a spoon (it may still look thin, but will thicken as it cools). Remove from heat.
Combine arugula, cilantro, heriloom tomatoes and goat cheese in large bowl and toss.
Cut watermelon into slices about 1 inch thick and brush lightly with olive oil. Place on medium hot grill and cook until grill marks appear (about 2 minutes). Remove from heat, slice into 1 inch chunks and combine with other ingredients.
Plate and drizzle with balsamic reduction. Serve immediately
Serve with: Hamburgers
Drink with: Gin Mojitos
What's your favorite ways to serve watermelon in the summer?