When Joe and I were in California in January I mentioned all the citrus everywhere. My in-laws trees were almost bent in half with all the fruit hanging from their limbs. Before we came home, I grabbed two grocery bags, filled them with Meyer Lemons, and stuffed them into my already overpacked suitcase. This made Joe mad but I insisted, claiming the virtues of the fruit of the land that he is from. He insisted I was crazy. We're probably both right. When I got home, we used a few, but most of them I turned into preserved lemons.
They've been sitting for months now, waiting to be eaten. I tried one yesterday in a  recipe I'll be sharing in a few weeks. In the meantime, I wanted to give you the chance to go ahead and start making your own preserved lemons.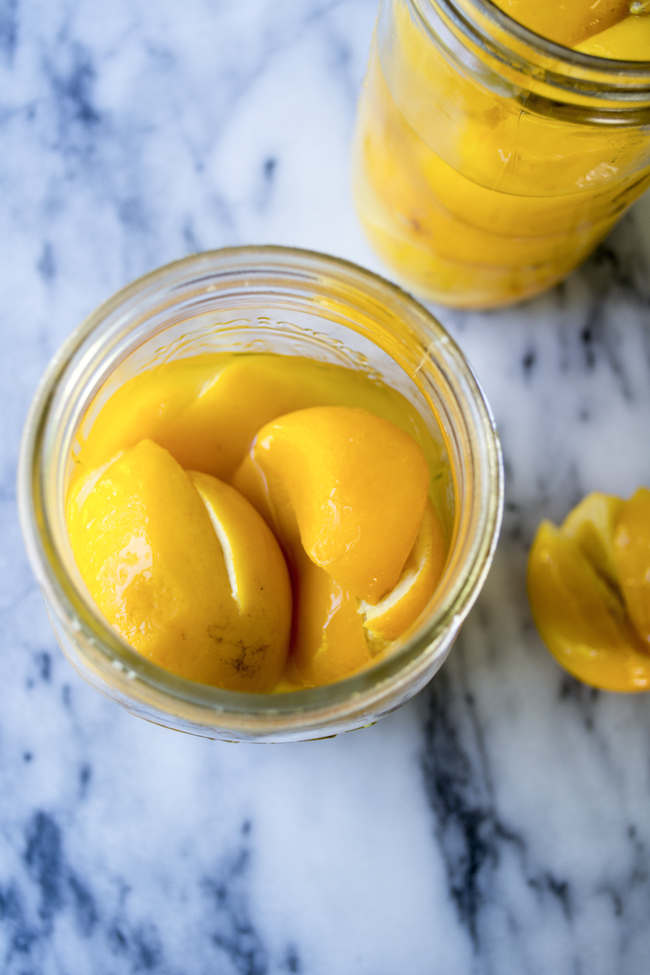 My Notes on How to Make Preserved Lemons
I've read a lot of different thoughts on making preserved lemons, how long they keep, flavor additions. I will do my best to educate you on what I've learned.
How long do they keep? I have not taken a food safety class and don't entirely understand the properties of salt as a preservative. That being said some sites say use them within a couple weeks, some a couple months, I read in a book that the longer they age the better they become. One restaurant in New York buys them eight months in advance just so they can age them for that long. I have had mine for two months now and have not died. I'll probably use them until they're gone.
Should you add additional flavors? Sure. I've read about people adding flavor, others don't. My next batch I'm going to try adding some thyme or rosemary. Some flavors I read about adding: dried chile, rosemary, saffron, cloves, cinnamon. Use a little creativity. Let me know how they turn out!
Make sure not to slice all the way through the lemon, it should kind of fall open in quarters, but still be attached at the end.
If you use lemons that have wax on them, you might want to scrub off the wax before.
Juice will squeeze out when you're stuffing them in the jar, this is good. You want the juice to ooze out. Combined with the salt, this is what "preserves" the rind which is just so yummy months later.
You can use any kind of lemon, I just used what I had.
I'll be sharing recipes with preserved lemons in the near future. In the meantime, here's some more reading on ways to incorporate them right away. And if you can't wait to make them yourself there are some for sale on Amazon (of course that would defeat the whole purpose of this blog post, but whatever).
Cost For Making Preserved Lemons
Lemons: I get them for around $.50 a piece, so $3.00 for this recipe.
Kosher Salt: I buy a three pound box for about $2.5. That's one and a half cent per tablespoon. I'm overestimating how much salt I used, but we'll budget for 12 tablespoons. So that's about $.18.
Total Cost for Making Preserved Lemons: $3.18. Of course the price would go up marginally if you included other herbs and spices, but not by much (unless you used a pinch of saffron). Factor in an additional $.50 for whatever herb you use. It works out to about $.53 per preserved lemon.

How to Make Preserved Lemons
Six lemons for $3.18.
Ingredients
6 large lemons
kosher salt
herbs and spices (optional)
Instructions
Cut lemons down the middle, stopping ½ an inch before the end of the lemon so that the lemon remains joined together. Repeat with a perpendicular cut.
Stuff with kosher salt and pack into a large mason jar.
Leave on a shelf (with a mild climate) for a week.
Add in any herbs or spices you want. Return to shelf and leave for at least three more weeks.
Place in refrigerator and use as needed in recipes.
Have you tried making preserved lemons? What did you think? I'd love to hear your thoughts. Comment and rate it below!