The problem with not sitting on the couch eating bonbons all day, is that sometimes by the end of the day, the last thing I want to do is spend another two hours cooking dinner. I'd much rather pour myself a glass of vino and watch a show (I really love my shows). But since my family keeps wanting to eat dinner (seriously, what's with that?)—and I try to limit the frozen pizzas—when I'm tired, I like to whip up this meal. It takes 20 minutes of prep time and I feel good about what I serve.
I'm Getting a New Sister
My baby brother got engaged yesterday to a girl he met in kindergarten in Wellington, Florida. Of course, they lost touch after Mrs. Munsey's class and randomly re-met each other 20 years later in Gainesville, GA. What are the odds? Apparently good enough.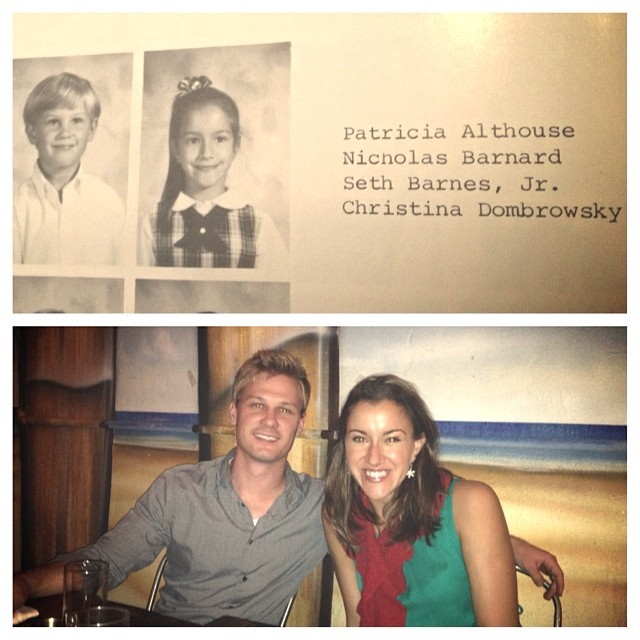 In honor of my brother finding the love of his life, I'm sharing one of his favorite recipes today. Not only is it incredibly easy, but it tastes like you actually spent more than 20 minutes preparing this. I also share one of my supersonic cooking secrets.
Spaghetti with Italian Sausage
Not all tomatoes are created equal. With this sauce, especially because your using canned tomatoes, it's important to use good quality tomatoes. I recommend Muir Organic. They are organic which means they taste better already, plus Muir does a good job of choosing tomatoes that retain their bright tomatoey flavor without taking on the flavor of the aluminum can.
Once we're home and I have a proper kitchen to work in, I'll give homemade pasta a go and share that with you. Until then, make sure you choose good pasta as well. Choosing better quality ingredients can immediately elevate a dish. We don't leave for Italy for another two weeks, but the French all seem to eat De Cecco, and I've read good things about it as well, so I'd start there.
One other thing to note: I don't care for the thickness of spaghetti noodles, so I always use angel hair, but you can really do any kind of noodles you'd like with this dish. Although long noodles will adhere to the sauce a little better.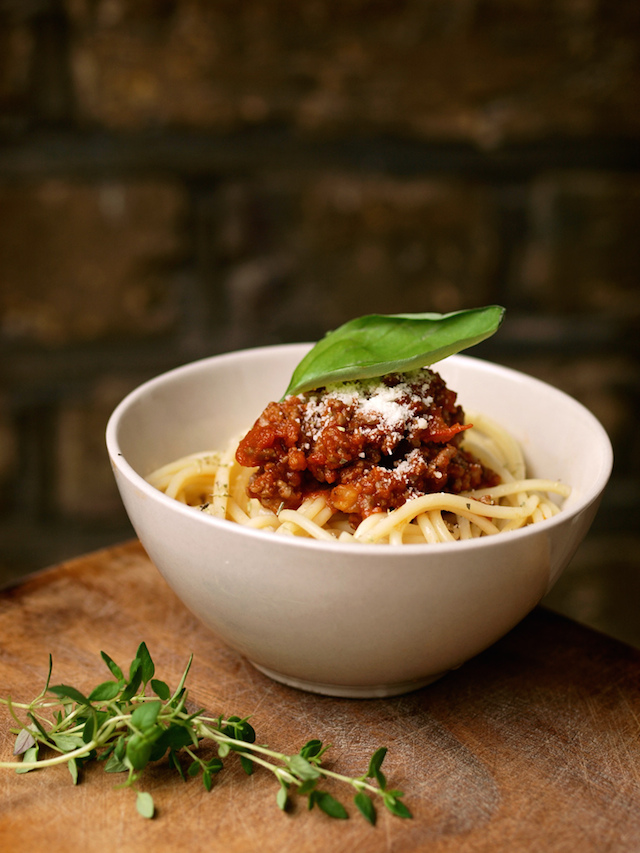 Photo Credit Eric Hossinger (Creative Commons)
Ingredients
1 pound of angel hair
2 28 ounce cans of crushed tomatoes
1.5 pounds of italian sausage
1 onion chopped
3 garlic cloves minced
1 tablespoon of fresh chopped basil
1 tablespoon of fresh chopped oregano
2 tablespoons of olive oil
1 tablespoon of salt.
pinch of baking soda if necessary
Grated parmesean for garnish
Heat a chef's pan on medium high heat. Add in italian sausage and break up as it browns. Once brown, add chopped onion and garlic, sauté until soft and aromatic. It is very important to not burn the garlic, burned garlic can ruin an entire dish. Once onions and garlic are soft, pour in crushed tomatoes. Simmer tomatoes mixture for 15-30 minutes or so, tasting as you go. Stir in basil and oregano and cook for an additional 5 minutes.
If when you taste the sauce it tastes too acidic, (this is my secret sauce technique), add tiny pinches of baking soda and stir, tasting after each pinch. The baking soda is an alkali and will reduce the acidity of the sauce. However, it is crucial that you don't add too much, adding too much soda will alter the flavor dramatically. Side note: the experts seem to disagree but I've never gotten sugar (an alternative) to work well for me. So baking soda it is.
Meanwhile, bring pot of water to rolling boil in large pot. Once water is boiling add salt and pasta. Cook al dente, about 4 minutes for angel hair. Drain and return to pot. Toss pasta with a couple of spoonfuls of pasta, just to coat.
Serve pasta in bowls and spoon desired amount of sauce over the angel hair. Garnish with parmesean.
Serve with: Garlic bread and salad
Drink with: Chianti
I am always interested in what other people do to balance their tomato sauce. What's your secret? And what do you cook when you just don't want to?