The South is PASSIONATE about their barbecue. Just ask someone from Texas who's is better, Atlanta BBQ or Texas BBQ (even though technically Texas isn't really the south)? People become territorial and contemptuous in their opinions.
I, however, am an equal opportunity barbecue enthusiast. I like barbecue, it's yummy. It has a lot of fat. I really like fat (on my brisket, not my butt). I'm probably not going to be the person who travels the nation to decide who makes the best barbecue, but I'll happily try all that Atlanta has to offer and share some of my favorites with you.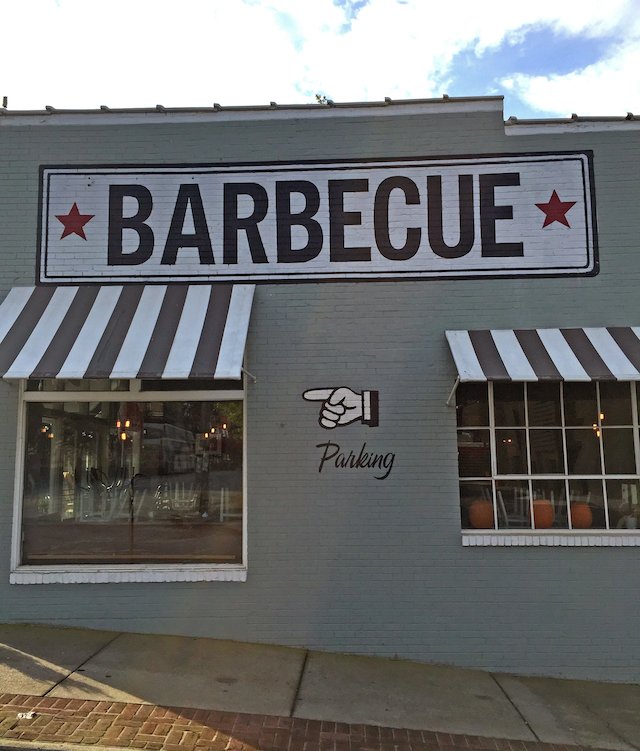 First up, Sweet Auburn Barbecue, named for the neighborhood in which they reside. They started out as a little spot in the Sweet Auburn Market, and within a few years had a food truck and two restaurants in Hotlanta. The owner, Howard Hsu conceptualized Sweet Auburn after winning the Chomp and Stomp Chili Cook Off. And with his Asian roots, he gave his barbecue some flair.
My sister is friends with Howard and has been raving about his place for years, but I didn't get to try it until after we moved to Atlanta. Ya'll, his barbecue is GOOD. We've eaten there a few times since then, and every time I end up with barbecue all over my face, which is really a sign of good barbecue. The meat is traditional styled barbecue—slow cooked meats, delicious southern sides—but most of the dishes have some asian infusion—Coconut Lemongrass ribs, fried pimento cheese wontons, maple bacon brussel sprouts (okay these are all southern, but just so yum).
Joe and I went on a date to a seafood place last week, but after a mishap with some oysters, the date got cut short (puking in the bathroom of a restaurant is always a fun thing). We decided to follow up a couple days later with lunch at Sweet Auburn.
Joe ordered the brisket with skillet green beans and stone ground cheddar grits. I know it's cliche to say, but the brisket melts in your mouth. It's tender, has a good smoky flavor, and topped with the thai flavored barbecue sauce, it's just so yummy. I want to eat it every day of my life.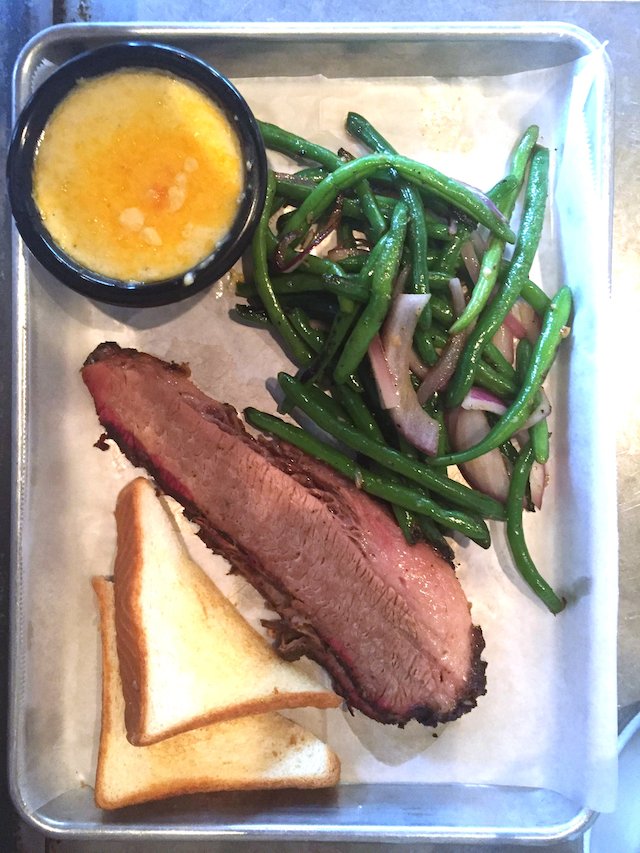 The skillet green beans are sautéed in the same cast iron skillet as the steaks. Mostly I feel about green beans the way I feel about gin. Never do I want to sit around and sip gin (unless maybe Hendricks), but dress it up and pair it with a little St. Germain and tonic, get into my mouth immediately. These beans have flavor, they have crunch, they're interesting. And when was the last time you called a green bean interesting. Never, you never called a green bean interesting because they aren't. Until of course you try these green beans.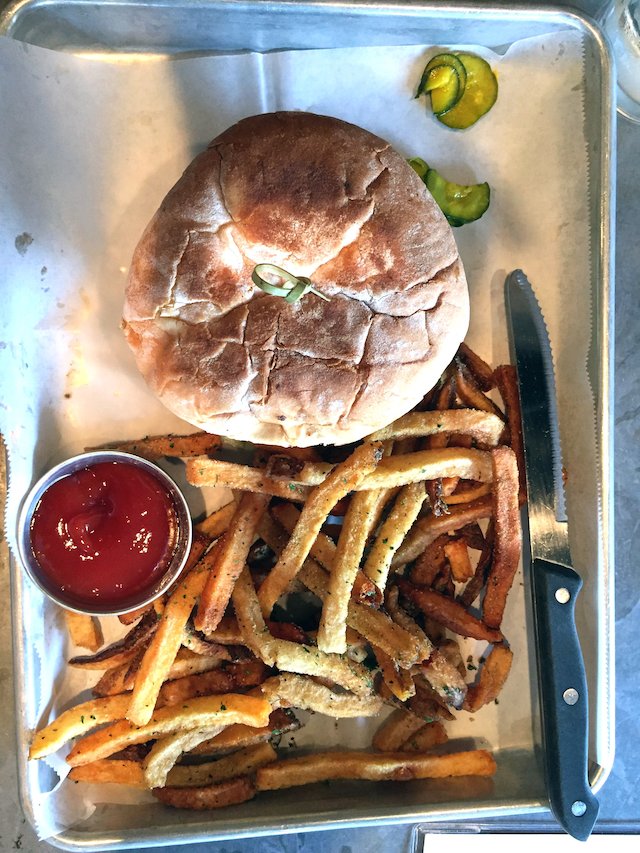 I ordered the hamburger. Now before you get all judgey judgey on me for ordering a hamburger at an Atlanta BBQ joint, let me tell you about this burger. It has a fried egg. It has pimento cheese. It has pork belly. It is a respectable burger for a barbecue place. It comes with two patties, and I thought for sure I would have half a burger to take home and enjoy for lunch the next day. It wasn't so huge that I needed to do that. Or maybe I was just a little bit of a glutton.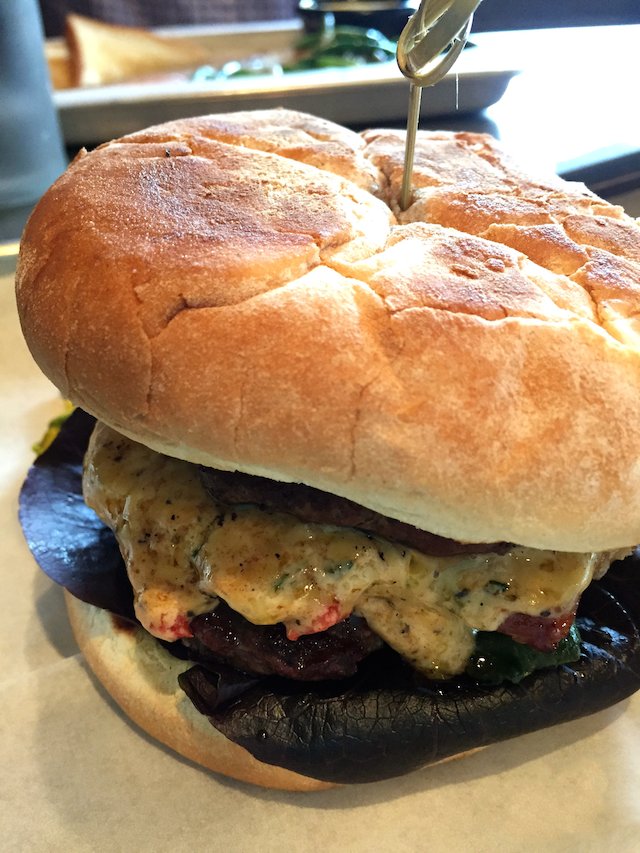 My burger came with fries, I wish it came with the brussels sprouts. Now let me tell you about the brussels sprouts. They weren't on the menu this week because they took them off for the summer (not in season) and haven't added them back yet.
I don't hate the brussels sprout craze at all. I love brussels sprouts and the more interesting ways you can come up to serve brussels sprouts the better in my world. They do their sprouts in maple and bacon and they are just so yummy. I don't have a picture of the sprouts (on account of they weren't on the menu) but if you go in the fall or winter, for the love of Grandma, order the sprouts.
I also ordered a local Atlanta beer, it was yummy. It had ginger undertones, was smooth and a nice compliment to the rich greasy barbecue flavors. The cocktails are supposed to be delicious also, but it just wasn't a martini lunch kind of a day.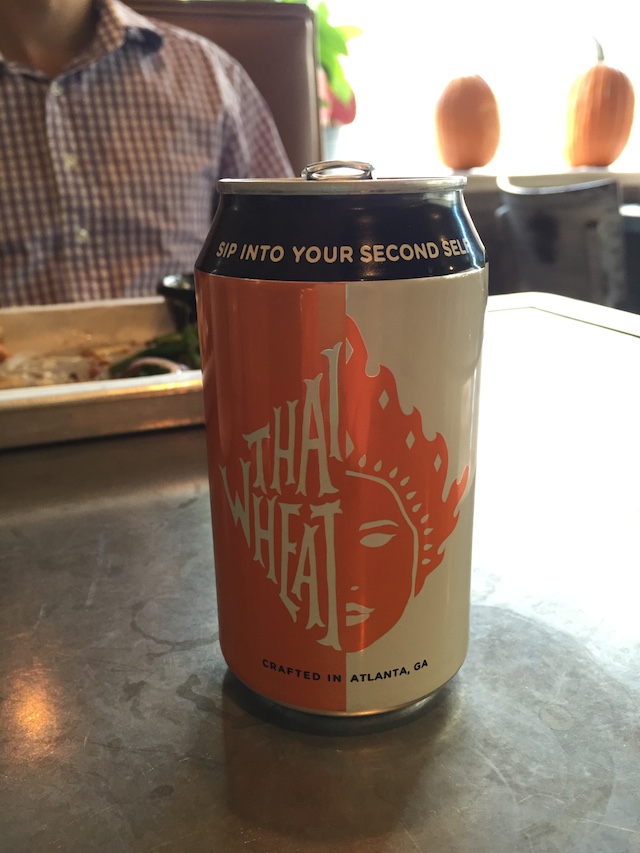 My Notes for Eating at Sweet Auburn BBQ
It's a relaxed place, you don't need a reservation. In fact, I don't even think they accept reservations. It's great for lunch or a chill Friday night.
I have no other notes. Just go here and enjoy the casual laid back vibe, good food and good drink.
What's your favorite Atlanta BBQ?