Have you started planning your Thanksgiving Menu yet? Who cooks the Thanksgiving dinner in your family? When I was growing up, my mom or Grandma would typically cook our turkey and my dad would hover to make sure it didn't overcook.  This month I'll be sharing some of my Thanksgiving menu and some of my Grandma's favorite recipes. Ya'll know how good Grandma recipes are. This turkey isn't Grandma's recipe (the stuffing I'm sharing later this week is, though), but it's simple and delicious.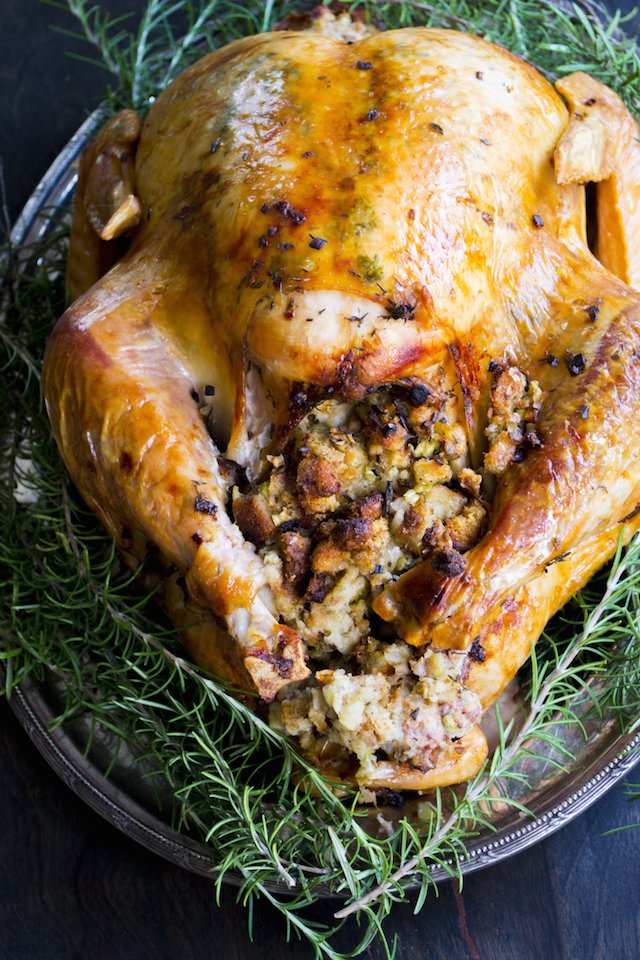 There is always great tension in catching the turkey before it dried out, but isn't raw. In addition, if you don't cook your turkey long enough, you won't get good gravy (at least this is what my mom always taught me) as the juices brown towards the end. The struggle is real.
My dad, the biggest proponent of a moist turkey used to sneak into the kitchen and test bits of the bird while my mom was in another room. She would return to find dad had taken matters into his own hands and pulled the bird from the oven. She would put the turkey back in the oven, only to have the same thing happen again 15 minutes later. My family has a lot of opinions on a properly cooked turkey.
My Notes on the Thanksgiving Turkey
The typical rule of thumb for cooking a turkey is 15 minutes a pound. Remember, however, oven temps vary, birds vary and if you stuff your bird that can take longer as well. The best way to know is when your meat thermometer reads 165 degrees (inserted in the thigh, not touching the bone).
You may need to cover your turkey with foil if it looks like it's getting too brown. I think I covered mine at 2 hours.
Make sure you salt the outside well with kosher salt. Don't let me catch you using that table salt crap. Seriously.
If you can't find duck fat at your local grocery store, you can purchase it here on Amazon.
I got the idea to use the cheesecloth from my latest edition of Food and Wine.
Don't stress too much about roasting your turkey! I always stress out but it always turns out great. You will make a beautiful bird, I believe in you!:)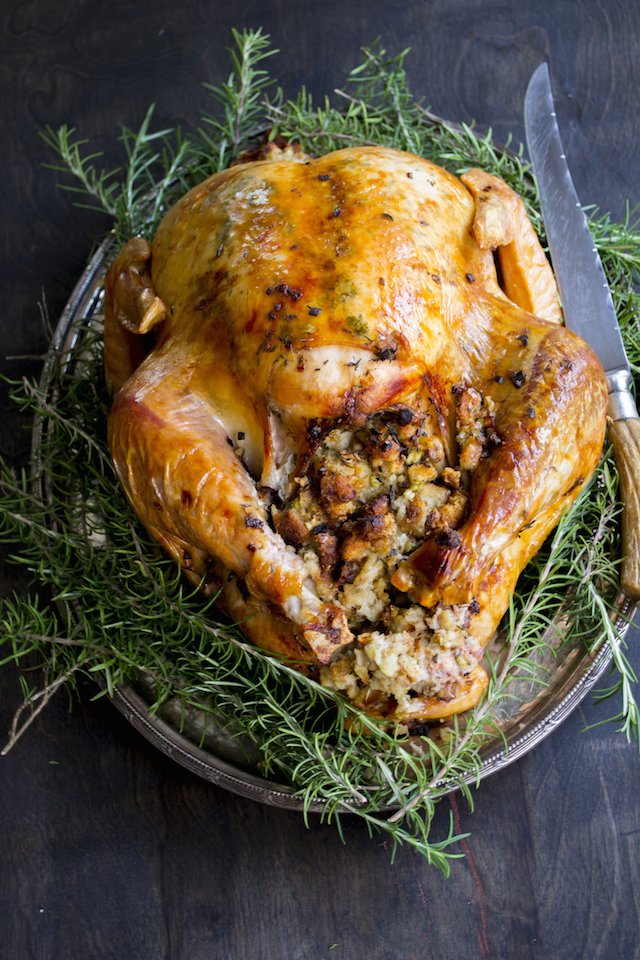 A Thanksgiving Turkey Cooked in Duck Fat
Ingredients
1 10 lb turkey
2 tablespoons of chopped time
6 sage leaves chopped
¾ cup of melted duck fat
½ stick of butter, melted
3 cups of chicken stock
olive oil
kosher salt
cheesecloth, folded so it covers the entire top of the bird
Instructions
Combine fat and butter. Mix herbs into fat, refrigerate half of it until almost solid.
Run hands underneath the skin on the breast to loosen it.
Make sure turkey is dry as a bone. Rub olive oil all over and then salt it well. Stuff it.
Taking the refrigerated butter and duck fat, with your hands spread it all over in between the breast and skin.
Dampen the cheesecloth with water and then soak it in the remaining melted fat mixture, lay on over top of the turkey.
Roast for 30 minutes.
Add chicken stock.
Roast an additional 2 hours, or until meat thermometer registers 165 degrees.