It's Stupendous Salad Week Day 3! Last December my entire (9 of us at the time) family were all together for the first time in over a year. To celebrate I made a six course meal highlighting some of the locations we had each been over the past year. One of my sisters spent a month in Thailand (thai flavors), and Joe and I had spent some time in California (avocado). Voila, Thai Crab Salad with Avocado and Mango.
The original recipe from Food and Wine suggests adding a drizzled fried egg on this. I didn't think it really did anything for the dish, on top of which it went from being a simple, quick recipe to a semi-complicated one. Also I added cilantro and arugula, cause yum.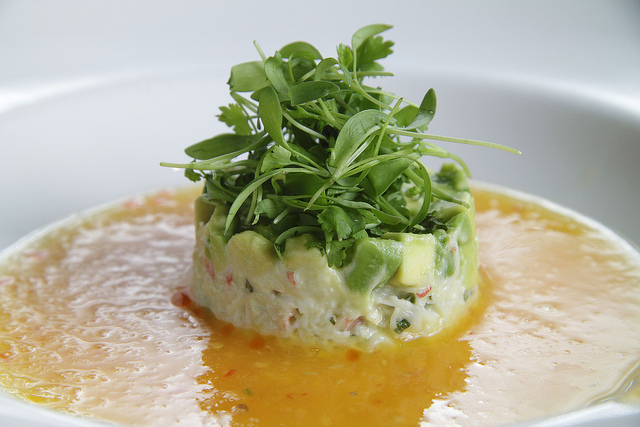 Photo Credit: California Avocados (Creative Commons)
Ingredients
1 large mango
1 Haas avocado
16 ounces of jumbo lump crab meat
1 medium shallot minced
1 tablespoon of chopped cilantro
1 tablespoon of ginger minced
3 tablespoons of lime juice
2 teaspoons of fish sauce
1/4 cup of vegetable oil
arugula for garnish
Combine shallot, ginger, lime juice, and fish sauce in a small bowl. Using a hand blender, blend together. As you blend, drizzle in oil and emulsify.
Dice mango and avocado. Combine mango, avocado, cilantro and crab in bowl. Fold in dressing.
Pack in four inch ring (or any kind of mold apparatus you have). Garnish with arugula.