Originally I planned on posting this sandwich later in the week. But then I worried you were getting your last minute shopping in today and tomorrow and I wanted you to have all the information you needed for the most important meal on Friday: turkey leftovers. (Which if you're a Barnes is breakfast. If you wait till lunch it's all gone).
I love it almost as much as I love Thanksgiving dinner. I won't lie to you, I make a lot of cranberry sauce so that I can eat these sandwiches for a week. (If I run out of turkey sometimes I pick up a rotisserie chicken). The combination of sour, tart, sweet and crunch is just too good.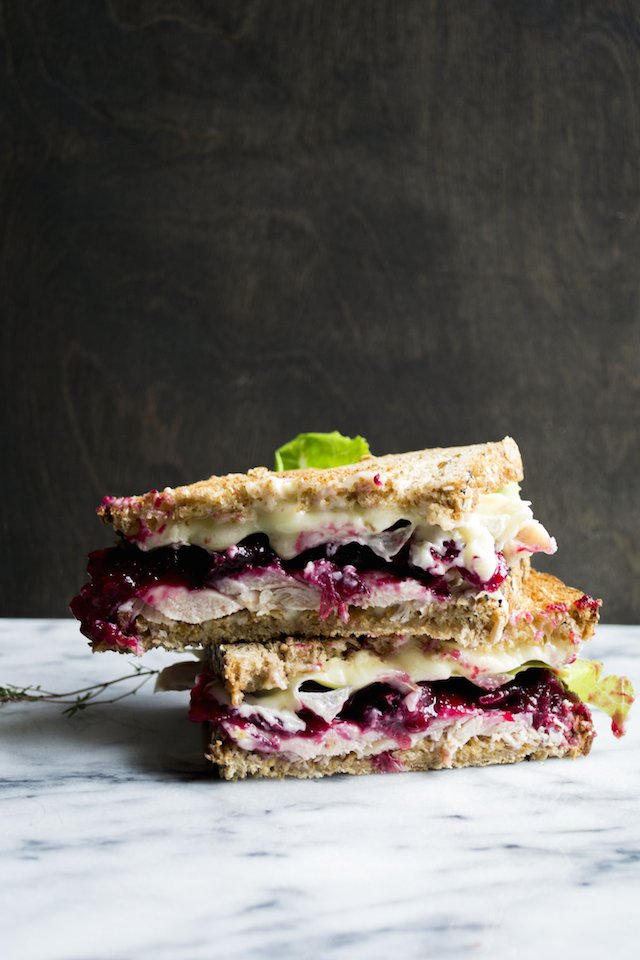 My Notes on Using Turkey Leftovers
I don't have exact measurements listed because everyone likes different proportions. I'm also going to assume you know how to assemble a sandwich. If my assumption is wrong, probably you should start reading this book from Gloria Goddard from 1930: How to Make Sandwiches and Box Lunches. Oh and be sure to read the lone review, cause it's hilarious.
I vacillate on whether to warm the turkey before I assemble the sandwich. Sometimes I do, sometimes I don't. It helps the brie melt a little, and brie is the key to this sandwich. I love brie.
I recommend making your own mayonnaise if possible. Homemade condiments are where its at!
If you have a tomato add that too. I don't know where you find a ripe tomato in the United States this time of year. Under no circumstances should you be purchasing greenhouse tomatoes. THEY HAVE NO FLAVOR AND WILL RUIN THE SANDWICH.

Turkey, Brie and Cranberry Sauce Sandwich: Turkey Leftovers
Ingredients
brie
turkey
mayonaise
lettuce
cranberry sauce
two slices of sandwich bread
Instructions
Toast the bread
Nuke the brie for 10 seconds in the microwave (it should be slightly soft and will melt more on the hot bread)
Slather on desired amount of mayo on both slices of bread
Slather on cranberry sauce on one side
Lay sliced brie on the other side
Pile on turkey on cranberry side
Put on piece of lettuce so it's healthy
Put both pieces of bread together and immediately devour
How do you use your turkey leftovers?