Have you started searching new recipes in your quest for health this New Year ? I wrote yesterday about my 2016 goals, if you're a ship in water trying to change direction it can be hard. So I'm here to help with the warm farro salad with butternut squash and pomegranate seeds I'm sharing today.
Farro is an heirloom grain of wheat chock full of nutrients. It is a great alternative to the monotony that is quinoa and brown rice. And it's versatile, easily going well with sauces, added to soups or being tossed in to a salad like this one.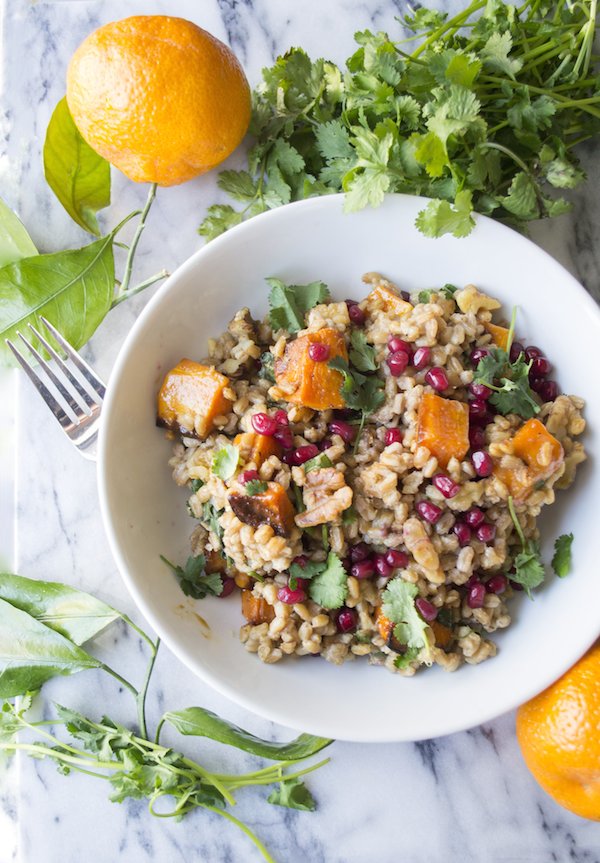 My Notes about Warm Farro Salad with Butternut Squash and Pomegranate
I originally doubled this and made it as a side salad, but everyone liked it so much and it was filling so we didn't even get to the leftover macaroni and cheese I had saved.
There are so many variations of this you could do if you don't have any of the ingredients on hand. I was inspired by this recipe and then just changed everything except for the farro.
When you simmer the farro leave it uncovered.
Don't worry about buying toasted walnuts, just toast them in the oven or on the stove. Or if you're lazy, throw them in raw.

Warm Farro Salad with Butternut Squash and Pomegranate
Ingredients
¼ cup of olive oil
1 shallot minced
2 garlic cloves minced
2 cups of chicken stock
1 cup of faro
1 small butternut squash cut into 1 inch large pieces (about 1 lb)
¼ cup of apple cider vinegar
½ cup of pomegranate seeds
½ cup of toasted walnuts
⅓ cup of chopped cilantro
salt
Instructions
Preheat oven to 375 degrees.
Heat two tablespoons of oil in saucepan. Add shallot and garlic and sautee until softened.
Add farro and stock and bring to a boil. Reduce heat and simmer, stirring occasionally unit the stock has evaporated entirely. This should take about 30 minutes or so.
Meanwhile, toss squash in olive oil and season. Spread out evenly on jelly roll pan and drizzle apple cider vinegar over top. Roast for about 30 minutes, until golden and soft.
Toss cooked farro with squash, pomegranate seeds, walnuts and cilantro and serve
Have you tried the recipe? Did you like it? I'd love to hear your thoughts. Comment and rate it below!