Marston and I are learning to like beets this week (and probably next week too). Joe and Remy already like beets. If you're in the Joe and Remy camp, you'll love the roasted beet salad I'm sharing today. If you're in the Mars and Talia camp, you'll love this arugula, kumquat and goat cheese salad with a smoky orange vinaigrette! There are some pesky beets, but the antioxidants are so good for you! (This is what Mars and I keep telling ourselves.)
To make up for the beets we had pizza for dinner last night. It's about balance people.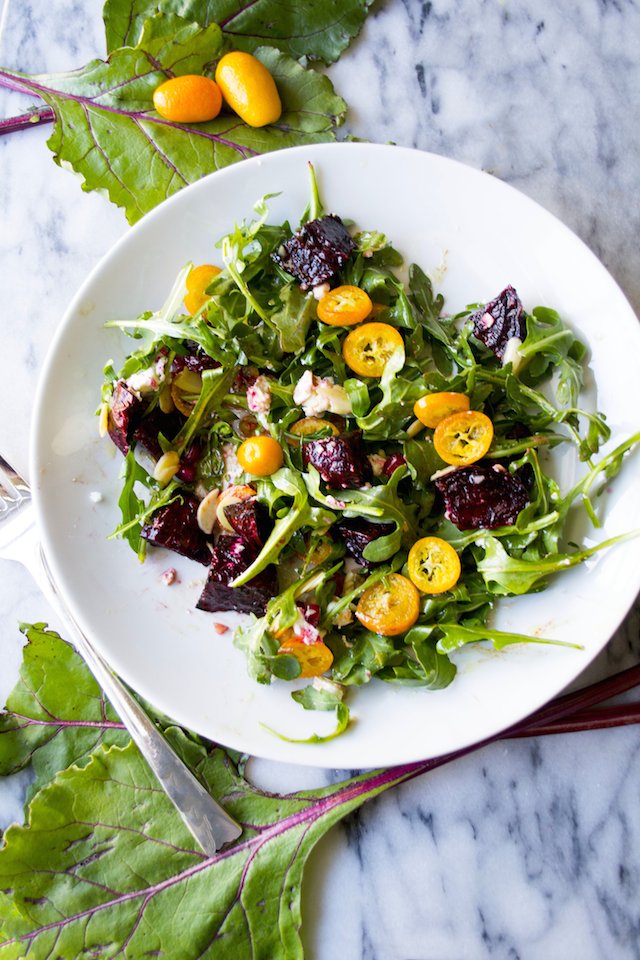 My Notes on This Roasted Beet Salad with Goat Cheese
I suppose you could do a raw beet carpaccio if you didn't want to cook the beets, but if you're into that you could also just eat spoonfuls of dirt.
Do not peel the kumquats. The rind is the sweet part of the kumquat and it is quite tasty. If you peel the kumquat you will really not like this salad.
I used liquid smoke for the smokiness factor. It's also pretty easy to find at the grocery store.
I added pomegranate seeds at the last minute because I thought the salad needed a more pop. Also I apparently add pomegranate seeds to everything these days, so take it all with a grain of salt.

Roasted Beet Salad with Goat Cheese and Smoky Orange Vinaigrette
Ingredients
⅓ cup of kumquats sliced
4 large beets cut into 1 inch chunks
½ cup of sliced almonds
3 ounces of goat cheese
6 ounces of arugula
¼ cup of pomegranate seeds (optional)
½ cup of olive oil (plus extra for roasting the beets)
1 small shallot minced
2 tablespoons of balsamic vinegar
½ teaspoon of dijon mustard
1 tablespoon of orange juice
½ teaspoon of orange zest
4 drops of liquid smoke
Instructions
Preheat oven to 375.
Place beets in mixing bowl and toss in olive oil and season with kosher salt. Roast until tender, about 30-45 minutes.
In mason jar combine shallot, mustard, olive oil, vinegar, orange juice, zest and liquid smoke. Shake until emulsified.
Once beets are finished, toss arugula, beets, kumquats, pomegranates, almond slices. Then add cheese and toss. Dress salad and serve
Worried your kids won't eat this salad?
Read about why I think they (eventually) will!
Which beet camp do you fall into?