Today I'm sharing a white pepper goat cheese and asparagus quiche. It's perfect for breakfast, brunch or brinner. It reminds me of new life, happiness and all things spring. It's what I'll be making for Easter brunch (lamb and Jerusalem artichoke puree for dinner) and also what I ate for dinner last night. And it's what you should try as soon as you are able. Spring asparagus are hitting the market stand and they are yummy!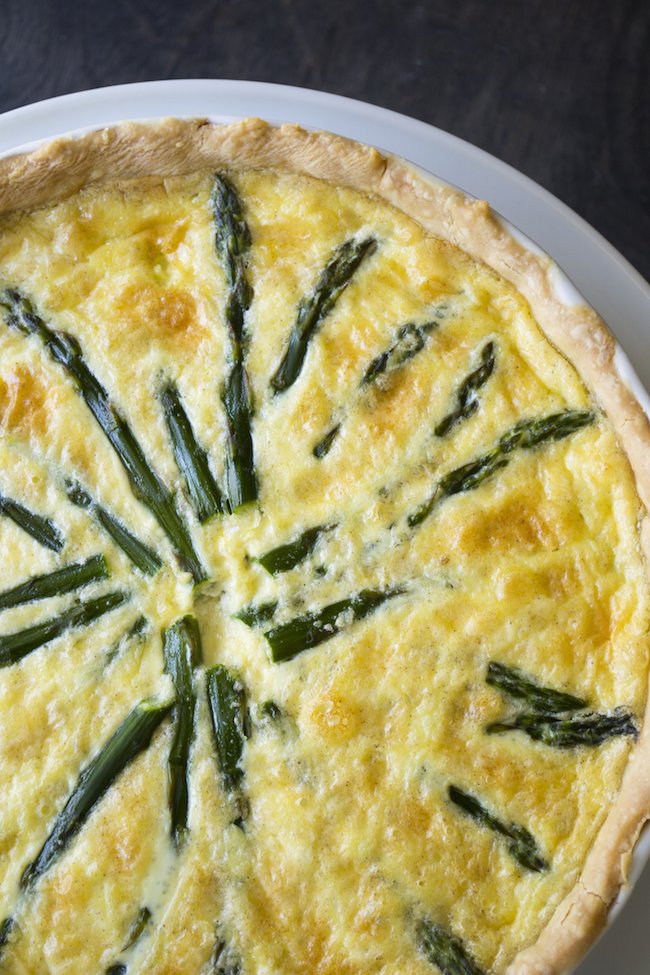 My Notes on this White Pepper Goat Cheese and Asparagus Quiche
For this recipe you just use the top 4 inches of the asparagus. After throwing away the bottom wooded piece make sure to reserve the middle part of the asparagus for soup or roasting or you could throw it in a salad. Asparagus is so versatile. I love it.
I didn't include a recipe for a quiche crust because a) I haven't taken the time to develop one that is significant enough to share and b) there are a gazillion crust recipes out there and they are all delicious. Here is one that is good.
If you are tempted to throw the asparagus in the oven without cooking them prior, I would advise against that. When vegetables cook they release liquid, which is why you parboil it first. Otherwise, the custard will get very watery and never set properly.
Quiche is basically a savory custard with different toppings. It's fun to play around with seasonings, vegetables, meats and cheeses. We eat quiche not infrequently and I plan on trying out many new concoctions as spring ingredients hit the market stands!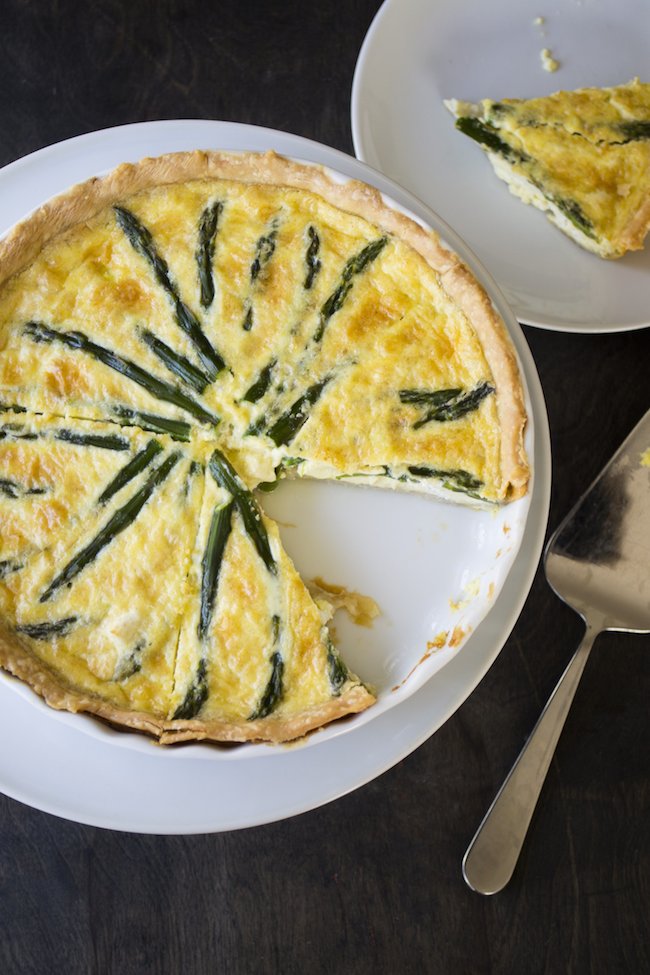 White Pepper Goat Cheese and Asparagus Quiche
Ingredients
1 lb of asparagus, trimmed to 4 inch tips
4 ounces of goat cheese
2 eggs
2 egg yolks
1 cup of whipping cream
1 cup of whole milk
½ teaspoon of white pepper
1 teaspoon of salt
1 quiche crust
Instructions
Preheat oven to 400 degrees.
Parboil the asparagus in boiling water for four minutes. Drain and shock in ice cold water.
Put dough crust in to quiche pan or pie plate. Take a four and prick unbaked crust all over. Cover in foil and place pie weights or dried beans over the foil to weigh it down. Bake crust for about 10 minutes, remove foil and bake another five minutes, until golden. Remove and set aside. Reduce heat to 350 degrees.
In mixing bowl combine eggs, egg yolks, cream and milk. Whisk together. Whisk in pepper and salt.
Crumble goat cheese all over bottom of quiche crust. Arrange asparagus in circular pattern over top (or whatever pattern you prefer). Pour custard over top.
Place quiche in oven (which should now be at 350 degrees). Bake for 45-50 minutes until custard is set and golden brown.
Have you tried this White Pepper Goat Cheese Asparagus Quiche recipe? Did you like it? I'd love to hear your thoughts. Comment and rate it below!