A couple of weeks ago Joe and I went to  The Optimist. Joe ordered the kale salad with chorizo. It was so delicious that I've been dreaming of my own version ever since. If you're going to have a charcuterie and cheese plate, you might as well throw in some kale and call it healthy. Also leeks, come on! This thing is teeming with vegetables!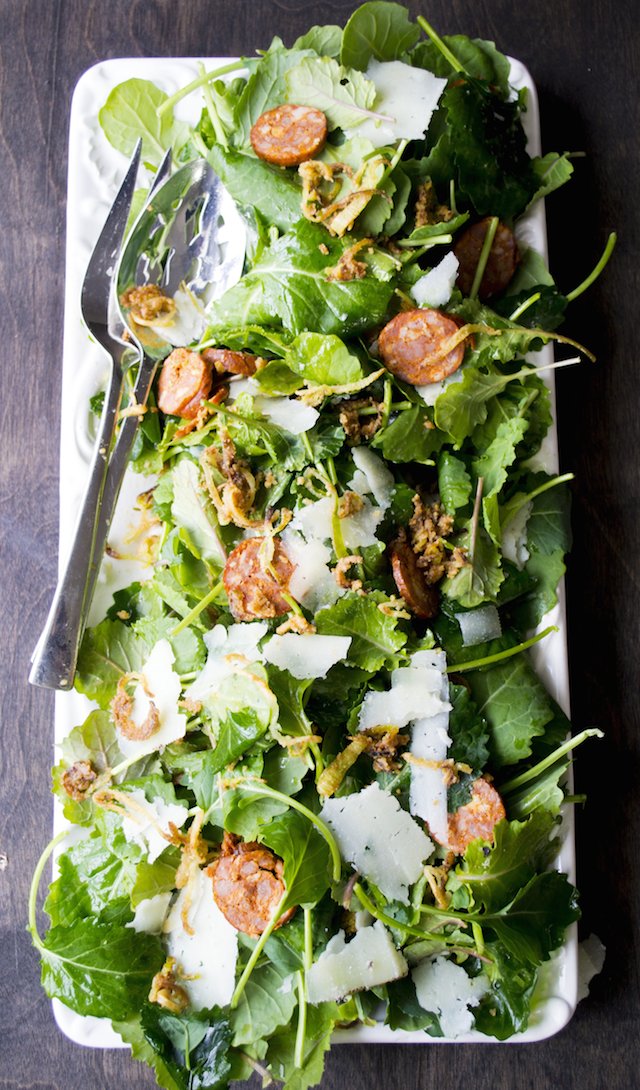 To Note about Baby Kale Salad with Chorizo, Manchego and Crispy Leeks
There are different varieties of chorizo. When selecting a sausage, make sure you choose a Spanish chorizo that is dry aged, preferably without nitrates. It should be firm and not soft. If you get a Mexican chorizo (like for jambalaya) it will taste like a fancy hot dog salad (which maybe you like, you do you).
Make sure to buy baby kale and not regular kale. Regular kale will not work with this salad.
I fried the leeks twelve different ways trying to find the method that worked best. The method I landed on was messy and they didn't come out the prettiest, but they tasted delicious. If you come up with a different way that tastes good and isn't messy, let me know!
In addition, make sure you use a large skillet when frying the leeks. I used a small one and ended up having to rinse it out and reheat the pan after every batch because of the flour cooking in the pan.
If some of the leeks burn, throw them out. They aren't worth salvaging and the bitterness will ruin the salad (I speak from experience).

Baby Kale Salad with Chorizo, Manchego and Crispy Leeks
Ingredients
1 small shallot minced
⅓ cup of olive oil (plus more for cooking leeks)
2 teaspoons of dijon mustard
3 tablespoons of champagne vinegar
1 leek thinly sliced
5 ounces of baby kale
1 Spanish chorizo sausage sliced
4 ounces of shaved manchego cheese
1 stick of butter (you may not use it all)
couple of handfuls of flour
salt
pepper
Instructions
In mason jar combine shallot, olive oil, mustard and vinegar. Shake until emulsified and set aside
Toss the flour with some salt and pepper
Start by melting a few tablespoons of butter and toss the leeks in them. If the leeks don't get fully covered melt more butter and toss over. Transfer leeks to flour and toss till coated.
Heat large skillet over medium heat. Once heated add a tablespoon or so of butter and a little olive oil. Swirl the pan and add the leeks and sauté until crisp. Drain on paper towel lined plate.
Toss baby kale, chorizo and cheese together with dressing. Sprinkle crispy leeks over top and serve.