Today I'm sharing my go-to Pad Thai Recipe. I instagrammed a picture of when I cooked it for dinner a month or so ago. After that, I got a barrage of emails and comments requesting my recipe. Until now I have not wanted to share it because I don't have a recipe for the sauce, I use store bought. And I'm ashamed, because everything I believe in about food is not store bought processed food. But I also believe in family time, investing in one another and I believe in good food (duh). And this is good food.
When you don't have a lot of time (or energy) to cook dinner this is a tasty meal that can be prepared in under 30 minutes (20 minutes if you're a fast chopper). And then you have time for enjoying one another's company, which is what food is really all about.

In 2007 I spent a month in Thailand. My first day in Bangkok, I saw a baby elephant walking down the street and I ate barbecued crickets. I spent close to four months in Thailand, Cambodia, Vietnam, China and Hong Kong. Those countries enthralled me. What truly captivated me about Southeast Asia though was how incredibly unique (to me) their culture is. As a child, I spent my summers in third world countries in the Western hemisphere, so when I got to Southeast Asia the newness of it all captivated my imagination. I love that area of the world. And their food in particular captivated my stomach.
In Bangkok I ate street pad thai at least once a day, this pad thai recipe is as close as I've found (outside of a proper Thai restaurant) to the food I ate there.
My Notes on My Pad Thai Recipe
There are a lot of different pad thai sauces you can use. I've tried all of the standard ones that the grocery stores offer and the only one I like is Annie Chun's. What I don't like is that it's four dollars for enough pad thai sauce for one meal. If you have an asian market near you, this is the bottle I use. It's $1.50 and I can get about four to five meals from it.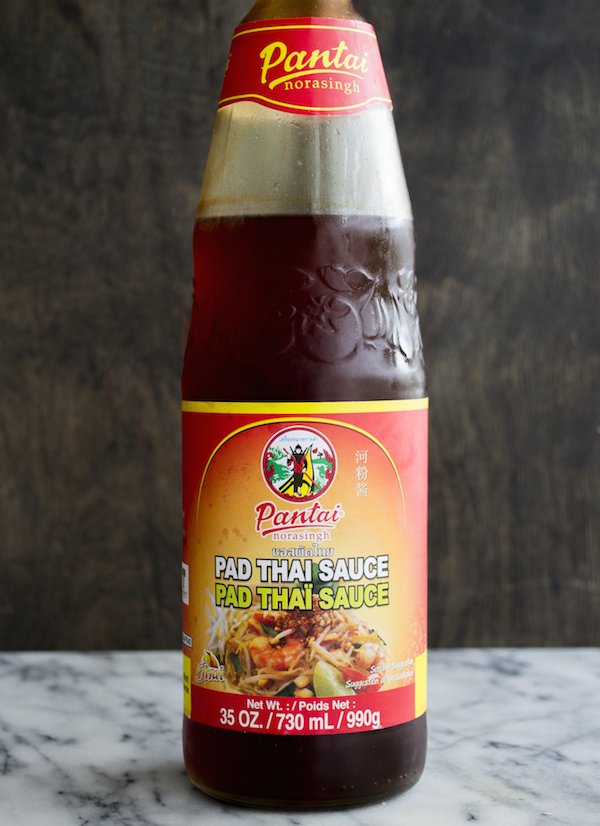 I use noodles I purchase from the Asian market or Kroger in the international section. It's a bigger package so I only need half. If you purchase a package that's in an Asian language, they tend to be a bit larger so you'll probably only need half. If you use noodles that are in English you probably need the whole package (USE YOUR BEST JUDGEMENT).
The proportions are not hard and fast, so feel free to adjust to your own liking.
You can do shrimp instead of chicken or in addition also. I'm not crazy about shrimp in my pad thai so I usually leave it out.

Pad Thai
Ingredients
½ package of pad thai noodles
½ cup of pad thai sauce
½ bunch of cilantro, chopped
1 small can of bean sprouts
1 lime
three eggs
2 chicken breasts
two bunches of green onions, sliced
sunflower or vegetable oil
kosher salt
Instructions
Season chicken breast with salt and pepper. Preheat oven to 350 degrees. Heat oven proof skillet on stove. Once hot, sear each breast two minute per side. Place in oven for about 5 minutes. Remove immediately from oven, slice thinly against the grain and set aside.
Place rice noodles in a large bowl. Bring a pot of water to boil. Once it boils, pour over rice noodles. Let sit for 7 minutes (or until tender) and then drain into a colander.
In pan on stove heat a couple tablespoons of oil. Sautee green onions until soft. Push onions to the side of the pan, toss in eggs and scramble. Once cooked combine with onions. Add in bean sprouts and toss. Add in chicken.
Add in rice noodles and combine with tongs. Pour sauce over top and toss noodle mixture and sauce.
Add in cilantro, toss and serve immediately with lime wedges.