If you're a parent, then inevitably your freezer is full of frozen bananas. All you single people are laughing wondering why as a parent, a freezer full of bananas is inevitable. Well I'll tell you. It's because bananas are cheap, so you buy bananas for your kids to eat for breakfast. But then he doesn't want a banana for breakfast. So the bananas sit on the counter until they have big dark spots all over them. And since the thought of throwing away perfectly good bananas is repulsive, you freeze it. And since it would be entirely too logical to start buying fewer bananas—you have a freezer fully stocked with bananas. Problem is, what are you going to do with all those bananas?
There's only so much banana bread you can make before your neighbors are all, alright already, enough with the banana bread. And the freezer just keeps *magically* filling up with bananas, it's time to find a way to use them.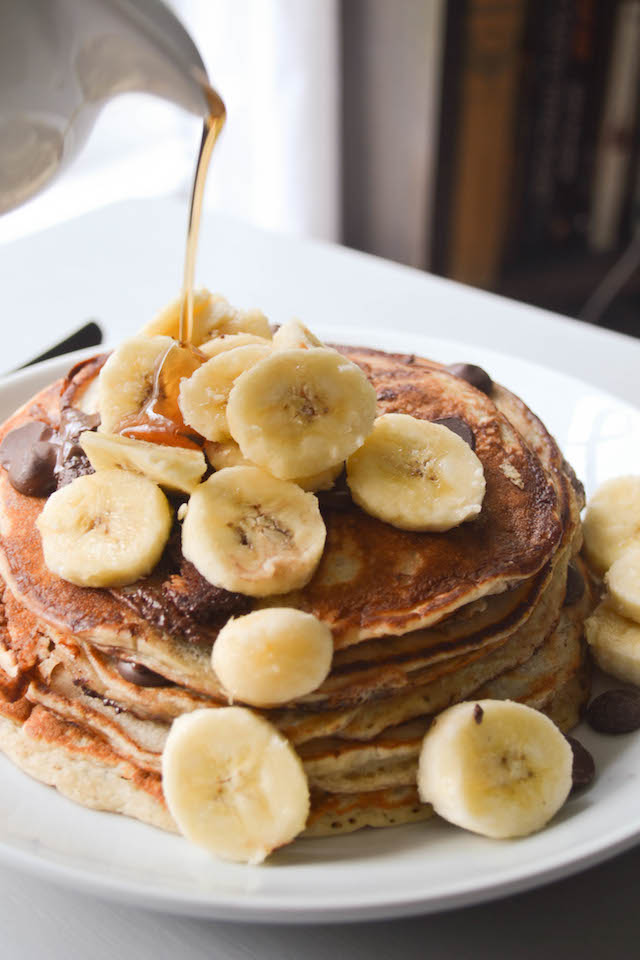 Behold, banana bread pancakes (with chocolate chips, because when given the option I will always add chocolate chips).
My Notes about Banana Bread Pancakes
I first had banana pancakes cooked this way in Thailand. I always loved bananas with my pancakes but I never thought of pureeing the banana into my batter, but it's just so much yummier that way.
If you like thinner pancakes add more milk, if you like them thicker, use less.
For me, the key is almost frying the pancakes in butter. Don't be shy with the butter. Fats where it's at ya'll.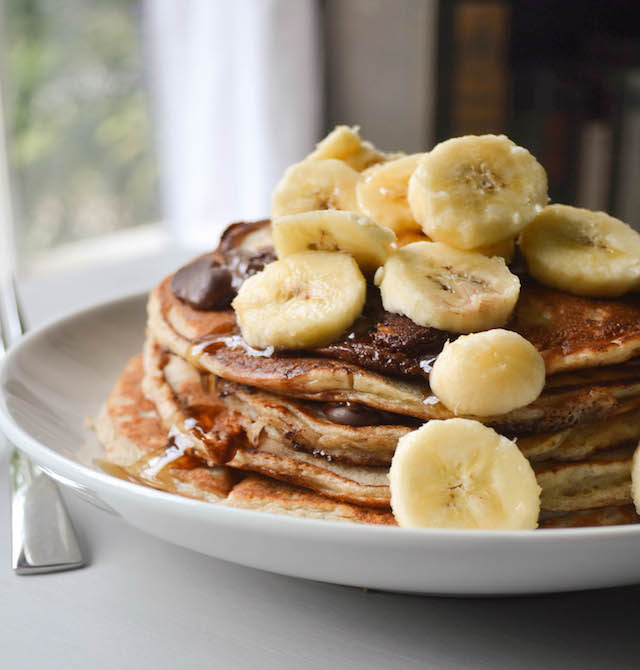 Banana Chocolate Chip Pancakes
Serves:
a bunch of pancakes
Ingredients
2 cups of all purpose flour
2 tablespoons of brown sugar
½ teaspoon baking soda
½ teaspoon of cinnamon
¼ teaspoon of allspice
pinch of nutmeg
2 eggs
2 tablespoons of oil
1 teaspoon of vanilla
2 cups of buttermilk
¼ cup of milk
1½ large frozen bananas
chocolate chips
butter
Instructions
Defrost banana in separate small bowl and mash when soft enough.
In blender combine dry ingredients and pulse.
In separate bowl whisk together wet ingredients.
Add wet ingredients to blender and puree until smooth. You may need to scrap it down midway through.
Add banana to blender and puree.
On hot pan/griddle add a pat of butter, swirl to cover pan as it melts. Once the pan is hot enough using a measuring cup add pancake batter. Sprinkle chocolate chips over (12 chips if you're me, 2 if your my kid who isn't allowed to eat much sugar). When pancake bubbles flip it over and cook until cooked through.
Tell me, how do you use up your frozen bananas?