Raise your hand if you've ever been to the store in October, bought twelve cans of pumpkin puree only to get home and realize dang, that's a lot of pumpkin. There are only so many pumpkin pies people will tolerate before Thanksgiving. Don't worry, I have your solution: tangy pumpkin bars.
These bars are pumpkiny enough to meet your seasonal cravings, and pedestrian enough to eat on a Tuesday night (which is what we did last night).
My Notes about Tangy Pumpkin Bars
Good luck not eating all that crust dough before you cook it. It is delicious. And no raw eggs, so you're not going to die (it's a wonder any of us are alive with all the raw egg cookie dough we ate as kids).
You can adjust the level of buttermilk to suit your tang taste. My first run I only used 3/4 up of buttermilk and there was barely a perceptible level of tang. I increased it to a full cup to give a little more flavor pop. You can adjust by increasing or decreasing the buttermilk/evaporate milk ratio. Just make sure 1 1/2 cups of liquid remains.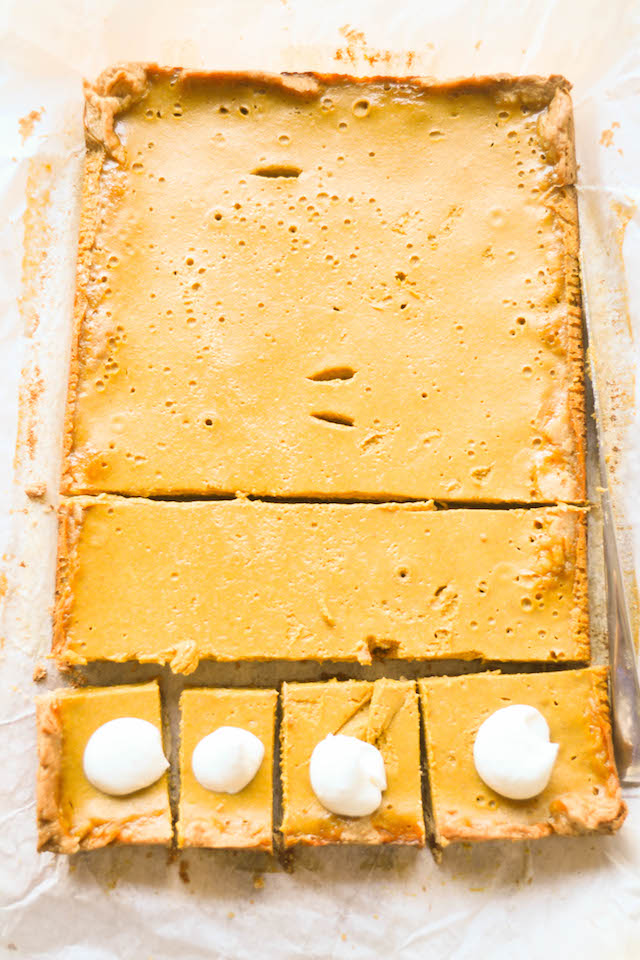 Pumpkin bars will keep for a couple of days in the fridge, but if you want to freeze them for a week or two, cool to room temperature, refrigerate and wrap in plastic wrap and foil and freeze. After a couple weeks though the flavor starts to deteriorate.
I serve these with crème fraîche, you should too.
I found this recipe originally on Food and Wine. I changed most of the flavor ingredients but the cooking method is the same.

Tangy Pumpkin Bars
Ingredients
2½ sticks of cold salted butter cut into pieces
¾ cup of light brown sugar (divided)
1 cup of granulated sugar (divided)
½ teaspoon of vanilla
2½ cups of all purpose flour
¼ teaspoon of salt + a pinch
1 teaspoon of cinnamon
¼ teaspoon of allspice
¼ teaspoon of nutmeg
2 large eggs
15 ounces of pumpkin puree
1 cup of buttermilk
½ cup of evaporated milk
crème fraîche for serving
Instructions
In stand mixer beat butter with ¼ cup + 2 tablespoons of brown sugar and ¼ of + 2 tablespoons of sugar on medium speed for two minutes. Add in vanilla.
In small bowl mix flour and generous pinch of salt. Turn mixer to low and slowly add in flour mixture.
Line a 13x9 pan with parchment paper, so there's a good inch or so sticking out of the sides. Press dough into the bottom and up the sides as far as you can. It can be very thick in the corners, so try and spread it out as evenly as possible. You will probably want to use your hands. Put in the fridge for about 30 minutes, or until firm.
Preheat oven to 350 degrees. Once dough is firm, bake for 30-35 minutes until golden brown. Let cool in pan on wire rack.
Raise oven temperature to 425 degrees.
Mix together remaining sugars and spices and salt. In medium sized bowl lightly beat eggs. Combine sugar mixture and eggs. Whisk in pumpkin puree, then whisk in buttermilk and evaporated milk until smooth.
Pour filling into cooled crust and bake for ten minutes at 425. Then lower temperature to 350 and bake an additional 25 minutes longer, until the custard is set.
Let cool in pan and then lift the bars out with the parchment paper and slice.
Serve with creme fraiche
What do you like to make with all the pumpkin you buy?