During Thanksgiving and Christmas, when I was in college, our cafeteria would serve tollhouse pie.
Apparently, the cafeteria frowned on giving out whole pies-to-go, so my besties and I would hide them under our jackets and sneak them out. How the heck we hid an entire pie (with whipped cream) under our jackets is beyond me. And why in the world I felt the need to take an entire pie instead of just a slice is also beyond me. Here's hoping the statute of limitations for pie stealing is less than ten years.
If there was one pie that should become a staple during the holiday season, this is it. And seriously, it's even easier than yesterday's pie. Which also had bourbon in it. (NEVER JUDGE ME.)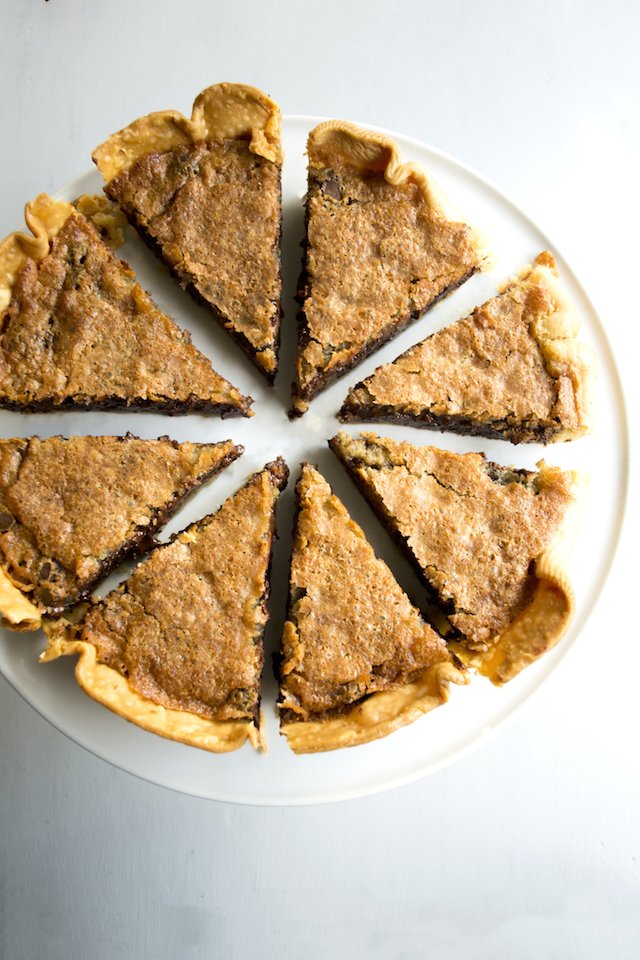 My Notes about Tollhouse Pie
Use Ghiradelli bittersweet chips, not Nestlé. The chocolate is higher quality, it makes a considerable difference.
That being said, it also is very rich. Prepare yourself! You might even pair it with unsweetened whipped cream to help cut it.
This is my last dish (for awhile) that has bourbon in the ingredients. Probably. Maybe. I make no promises.
I added 1/2 teaspoon of cardamom in my first test run. I couldn't decide if I loved it or not, so I left it out. If you like cardamom you should try it, add a little ground ginger too.
Many iterations of this recipe call for nuts. I do not, but if you like nuts in your brownies you'll probably like nuts in this pie.
Serve with Haagen Daas vanilla ice cream (or Rori's vanilla if you live in southern California).
I adapted this recipe from this one on Food.com.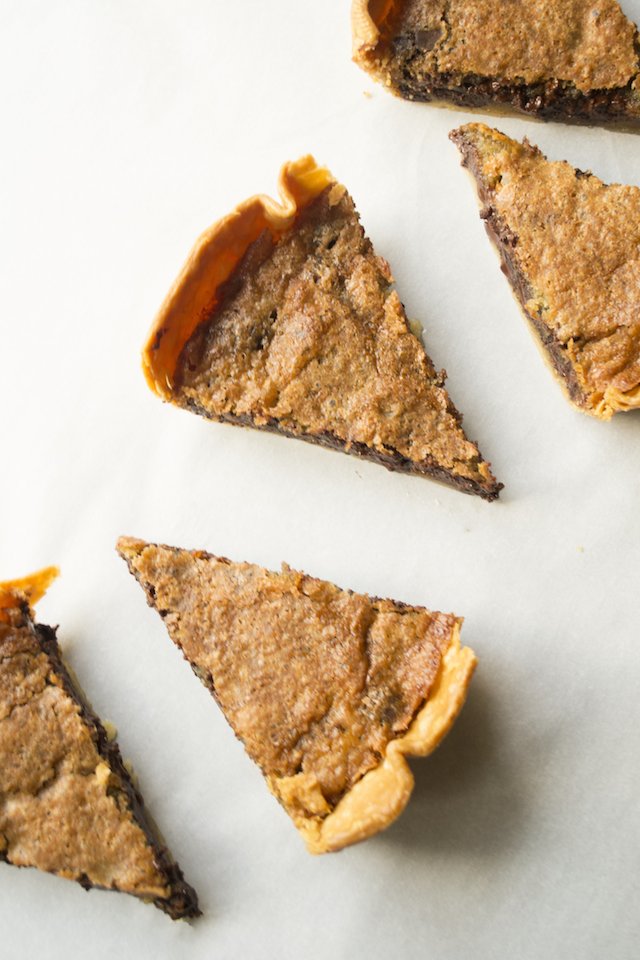 Bourbon Tollhouse Pie
Ingredients
3 tablespoons of bourbon
1 teaspoon of vanilla
½ cup of brown sugar
½ cup of white sugar
½ cup of all purpose flour
1 cup of chocolate chips
¾ cup of salted butter
2 eggs
1 pie crust
Instructions
Preheat oven to 350 for glass or ceramic pie plate (325 if you're using a metal one).
Cream butter and sugars together.
Add eggs, vanilla and bourbon
Mix in flour
Stir in chocolate chips (and nuts if you're including those)
Pour into unbaked pie crust
Bake for 45 minutes to an hour or until a knife comes out clean when inserted in the middle.