I've spent the last few weeks going over different items for your Thanksgiving table. But have you decided on your desserts yet?
I've never been a big fan of Thanksgiving desserts, except for maybe my Grandma's cheesecake, which my mom says I'm not allowed to publish. Probably this is because very few Thanksgiving desserts tend to be centered around chocolate, and mostly I just want more chocolate in my life.
I read somewhere once about someone who did a chocolate bourbon take on the pecan pie, so I thought, "Hey, that's a pretty good idea. I'll try that."
It turns out that person knew what they were doing. Not only is it easy, but come on, chocolate, bourbon and sugar? What more do you want in life?
So if you're looking to mix up your holiday table this year, look no further than this chocolate bourbon pecan pie recipe.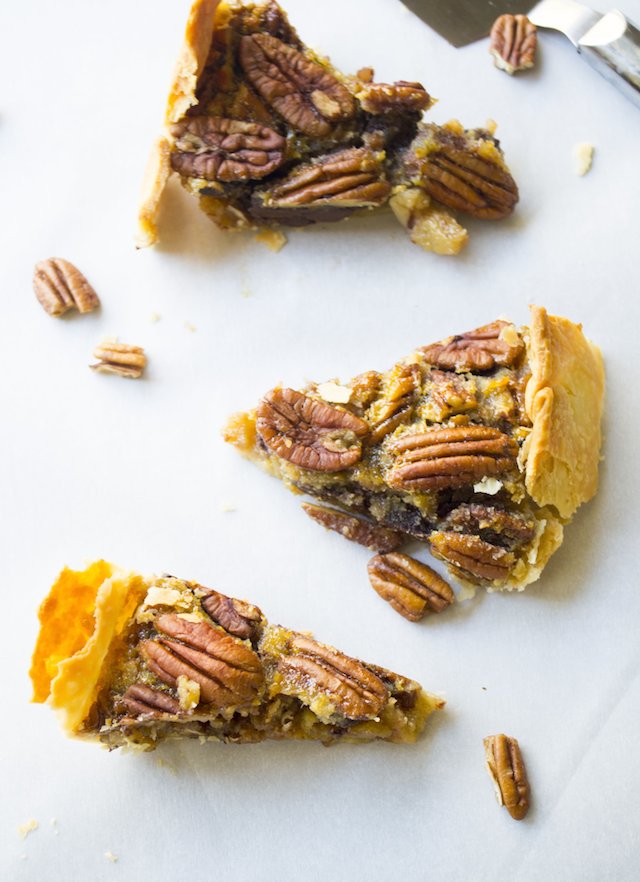 My Notes about Chocolate Bourbon Pecan Pie
Let cool completely before slicing. If you don't let it cool then the chocolate and filling will spill out and be messy.
If you put it in the fridge to help it cool, make sure you let it come to room temp before cutting it, otherwise you'll have chunks of chocolate to bite through. This sounds yummy but ends up feeling weird in your mouth.
It's hard to mess this up (unless you burn it, I guess that's pretty easy). If you have time, I would make your own pie crust. You can find a recipe for pie crust here. If you don't have time just buy one from the store, but get Pillsbury or something comparable. Don't get the store brand, even if it's Publix and usually good. It's not.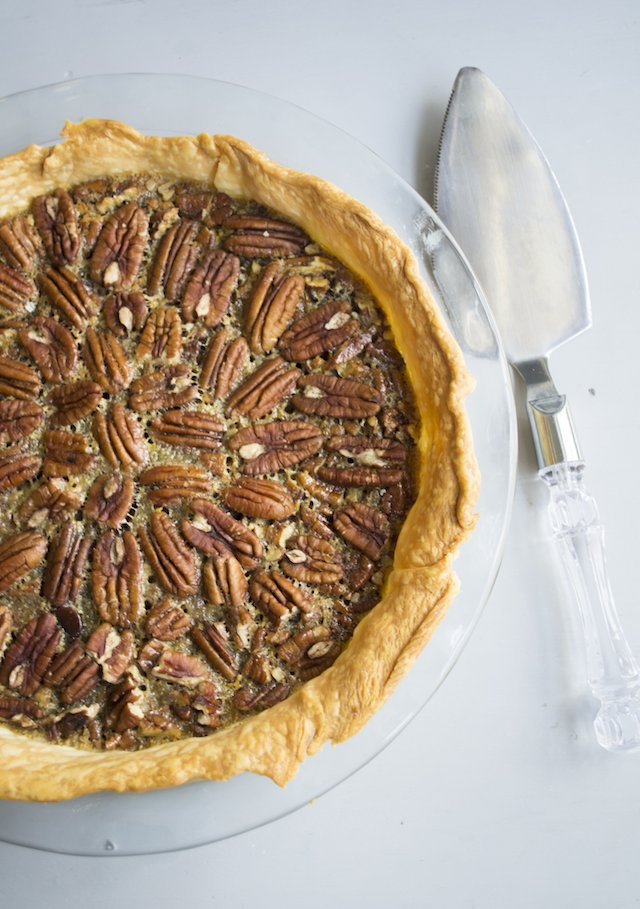 Chocolate Bourbon Pecan Pie
Ingredients
3 eggs
½ cup of brown sugar
¼ cup of sugar
¼ cup of light corn syrup
¼ cup of dark corn syrup
1 teaspoon of vanilla
3 tablespoons of bourbon
3 tablespoons of melted butter
⅔ cup of pecans chopped
1 cup of whole pecans
1 cup of bittersweet chocolate chips
1 pie crust
Instructions
Preheat oven to 375
Whisk together eggs with sugars and corn syrups. Add in vanilla, bourbon and melted butter. Stir in chopped pecans and chocolate chips.
Press pie crust into pie pan. Pour batter into pie crust.
Place remaining pecans decoratively on top of pie.
Place in center of oven for 30 minutes until filling is cooked but still jiggly in the center.
Cool completely before cutting.