Remy turned one on Monday. It feels like just yesterday we were in the hospital and it doesn't at the same time. Mostly it doesn't because that was the last time I slept. I dream of going back to the hospital because then I could sleep.
I first knew this hospital craving was a problem when watching a TV show about a cop who got wounded in the line of duty and put into the hospital. Watching her reclining in that luxurious hospital bed, her hospital gown as cozy as a fur lined Victoria Secrets robe, I realized I was feeling true envy.
And then I started thinking of ways I could get put in the hospital so I could sleep.
I realize this is crazy. This is how I feel. Never judge my feelings.
For this reason I'm seriously considering having a third child. I figure a good nights sleep every two years, totally worth the $30,000 price tag. Maybe this is not a good reason to have another kid, but quite frankly I'm too tired to think.
Additionally, I hear that sleeping through the night never comes back. I believe them. If it's not my one year old waking up it's my three year old waking up with one arm out of his shirt and his pants on his head (HOW DOES THIS HAPPEN IN YOUR SLEEP CHILD???). It's a real pickle.
Speaking of pickles, I made this chocolate crème fraîche cake to celebrate Remy's birthday. It was his first taste of chocolate. He seemed ambivalent about it which is fine by me. More chocolate for me kid.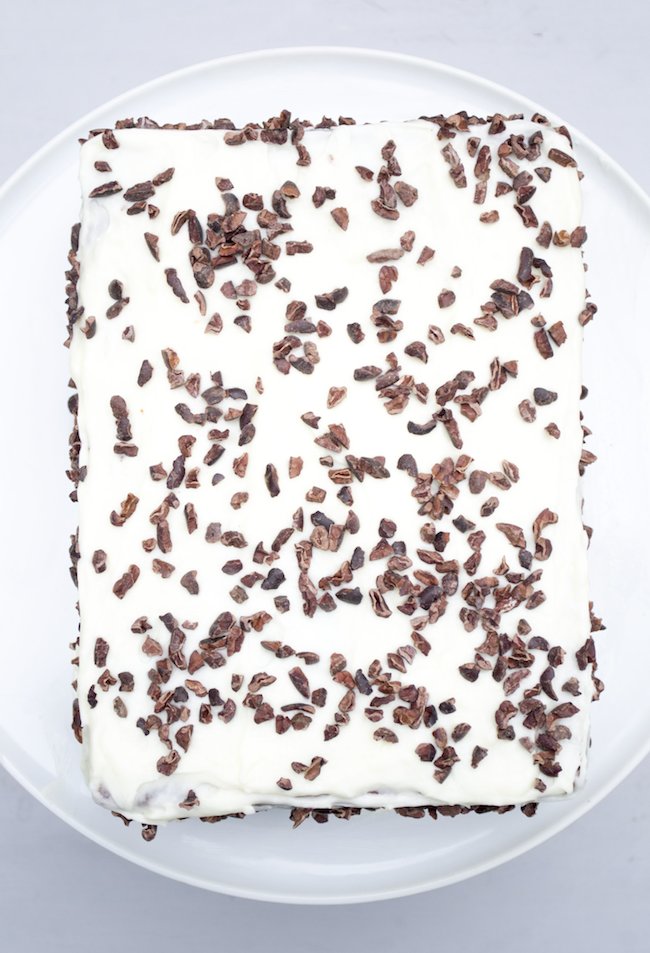 My Notes on this Chocolate Crème Fraîche Cake
I'm still learning a lot about the chemistry of baking. Use baking soda instead of baking powder if there's more acidic ingredients. Egg yolks make a moister cake (although to be frank, I didn't notice much of a difference), egg whites dry out a cake.  For the record, my ideal cake is dense, moist, and decadent. All of my cakes will aspire to this. I don't do fluffy airy cakes.
Make sure you beat the mixture long enough. This pushes air into the mixture making for a more delicious cake (something about the eggs coating the flour proteins). Like I said, I'm still learning.
I did try adding an avocado to my first rendition of this cake. It didn't alter the flavor, but I don't think it did anything worthwhile to the cake either. And Chocolate Avocado Crème Fraîche Cake just does not have the same ring to it.
I added the buttermilk at the last minute because the batter seemed too thick. I love the tang and coupled with the already tangy crème fraîche, it was delicious.
Don't use a toothpick to check doneness on your cake. Toothpicks are too small. You could check it after 10 minutes of baking and poke an air pocket, see a clean toothpick, and think it was done. Instead, use a knife.
I priced out the cost of making the cake below. It may cost more upfront for ingredients you don't use every day (like crème fraîche or buttermilk). When this happens I just work more dishes in to the month that include those ingredients, like Coq au Vin and Banana Bread Pancakes.
Cost of Chocolate Crème Fraîche Cake
I'm going to be honest with you. Pricing out the cost of making this cake took forever. You better read this section.
Butter: I buy my butter at Costco for about $2.5 a pound. So 3 sticks total would be $1.87.
Sugar: Two cups to a pound, so that's about  $.62.
Eggs: I buy organic eggs at Costco for $3.50 a dozen. So three eggs (I did not save the white) would be $.90
Vanilla: I have an 8 ounce bottle that I paid $9 for. Six teaspoons to an ounce, so about $.27?
Crème Fraîche: I make my own. Heavy whipping cream is $4.5 a quart at Costco. One cup to make the crème fraîche would be $1.12 plus $.03 for the buttermilk. Total crème fraîche cost: $1.15.
Flour: I use King Arthurs exclusively. It costs about $3.5 for a five pound bag. They have a higher protein content. You get about 18 cups to a five pound bag. So that means flour for this cost $.40
Cocoa Powder: I buy a wholesale type kind at Dekalb Farmers Market. It's too confusing to say how I decided how much this cost but suffice it to say: $.75
Baking Soda: There are 94 teaspoons to a one pound box. My box cost me $2.00. Cost for this cake: $.02
Buttermilk: One quart cost me $2.5. Total buttermilk cost: $.62
Chocolate Chips: I buy these on Amazon for $3.00 a bag. I used half a bag. Cost: $1.5
Cream Cheese:  I buy a package for $1.00 at Publix.
Powdered Sugar: About $2.00 for a package. Seven and a half cups to a package, that's $.26 a cup, so $.53 for this cake.
Cocoa Nibs: I buy them for $6.00 a pound. I used about 1/4 cup which weighs about an ounce. That's $.37 for this cake.
Total cost for this chocolate crème fraîche cake is an even $10.00 (I did not plan that).  I can get 16 decent size pieces out of this cake working out to about $.62 a person. Or $10.00 for one person if you make it for yourself on a Friday night, which is still a pretty cheap Friday night.

Chocolate Creme Fraiche Cake
Ingredients
1 cup of butter
1¾ cup of sugar
2 eggs + 1 egg yolk
1½ teaspoon of vanilla
½ cup of crème fraîche
2 cups of all purpose flour
¾ cup of cocoa powder
1¼ teaspoon of baking soda
½ cup of buttermilk
5 ounces of chocolate chips
Creme Fraiche Frosting
8 ounces of cream cheese
1 stick of butter
2 cups of powdered sugar
½ cup of crème fraîche
½ cup of buttermilk
cocoa nibs for garnish
Instructions
Preheat oven to 350 degrees.
Beat sugar and butter on high for 4 minutes until pale yellow and fluffy
Add in eggs and egg yolk, beating in between. Add in vanilla and beat on high for two more minutes
Add in crème fraîche, beat until smooth
In separate bowl whisk together flour, cocoa powder, and baking soda.
Working in batches, mix in dry ingredients.
Stir in buttermilk.
Stir in chocolate chips.
Pour batter into pan. Bake for 20-30 minutes until knife comes out clean when inserted.
Let cool for 30 minutes in pan. Run a knife along the sides and then invert the cake onto a cooling rack. Let stand until completely cooled.
Crème Fraîche Frosting
Beat cream cheese and butter together. Add in powder sugar and beat until smooth. Add in crème fraîche and butter milk. Beat until combined.
Cut cake in half. Ice one half liberally. Place the other half on top. Ice entire cake.
Sprinkle cocoa nibs all over.
Have you tried this chocolate crème fraîche cake with crème fraîche cocoa nib frosting? Did you like it? I'd love to hear your thoughts. Comment and rate it below!