My whole family came to town for Easter weekend. We celebrated and feasted, it is always fun having them around. Half way through Saturday we ran out of oranges and bourbon (we'd been drinking old fashioneds, obvi). We did not run out of gin and I had a stubborn grapefruit still sticking around in the fruit basket, a remnant of winter citrus recipes. Gin and tonics, while a classic, can be very vanilla and we wanted something slightly more interesting. So, Joe peeled off a section of the grapefruit, lit the oils on fire and added some bitters to his gin and tonic and voila to make a new favorite drink: grapefruit gin cocktail.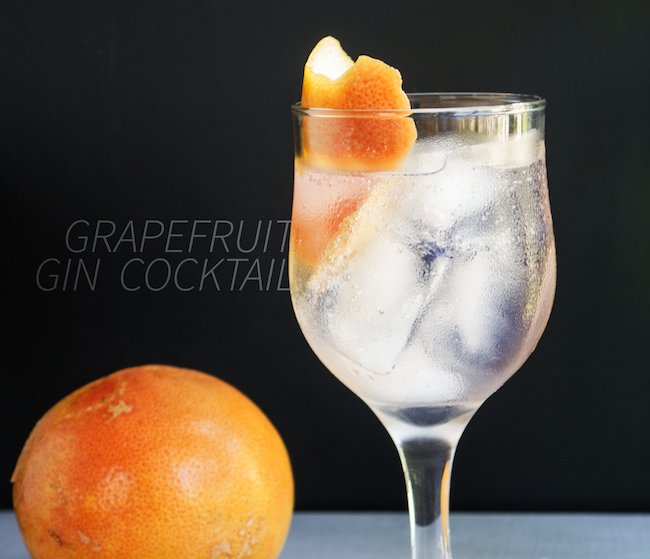 My Notes on the Grapefruit Gin Cocktail
Make sure you heat the outside of the grapefruit peel first, this allows the oils to release when you squeeze it. I will try and post an instagram and periscope video later today of the process. The heated oils intensify the flavor and also are a fun little party trick!:)
Bitters have become very trendy lately and for good reason. They pack a big punch into just a couple of drops. If you don't have grapefruit lavender bitters, regular bitters also taste delicious. This blog shows you how to make your own grapefruit lavender bitters too.

A Grapefruit Bitter Gin Cocktail
Instructions
Add ice, gin, bitters and tonic to cocktail glass and stir.
Taking grapefruit peel bend and with lighter, hold a flame about an inch from the peel, heating the peel. After ten-20 seconds, squeeze the peel sharply releasing oils and zest and lighting them on fire.
Rub grapefruit peel around rim of glass and curl into drink.
Enjoy!
Have you tried this grapefruit gin cocktail? Did you like it? I'd love to hear your thoughts. Comment and rate it below!