A few weeks ago, I made this blood orange curd and tried to find a way to add it to a cookie, because I was craving cookies. (Mostly that's how these recipes come about.) Ever the lover of the chocolate and orange combination, I paired it with a chocolate ganache and a salted short bread cookie for a bar that tastes almost more like a candy bar than it does a cookie.
I first fell in love with blood oranges in Rome with Grandma for her 85th birthday. The hotel we were staying at had a beautiful breakfast array including a juicer for fresh juice. Every morning I made a glass of blood orange, tomato, apple juice. I've loved working with blood oranges ever since. If you've never cooked with blood oranges, you should change that immediately!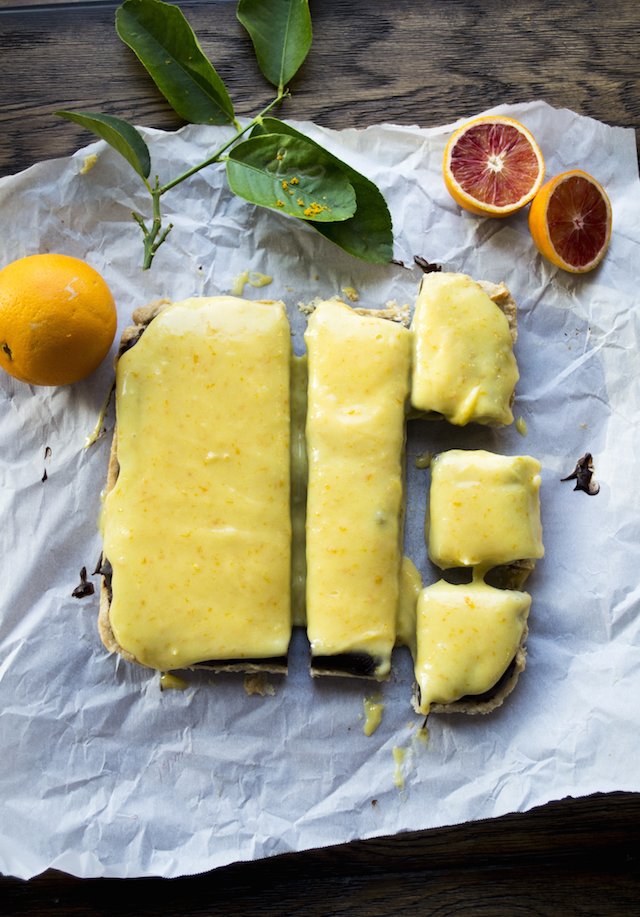 My Notes on Salted Shortbread Chocolate Ganache Blood Orange Curd Bars
The first time I made this recipe I doubled the chocolate ganache and it was just too rich. If you like rich, then you should double it also.
You will need to make the blood orange curd recipe first. I link to it in the recipe.
It can be a little messy so probably you should serve it in a bowl topped with a scoop of vanilla ice cream and then it's like a chocolate creamsicle!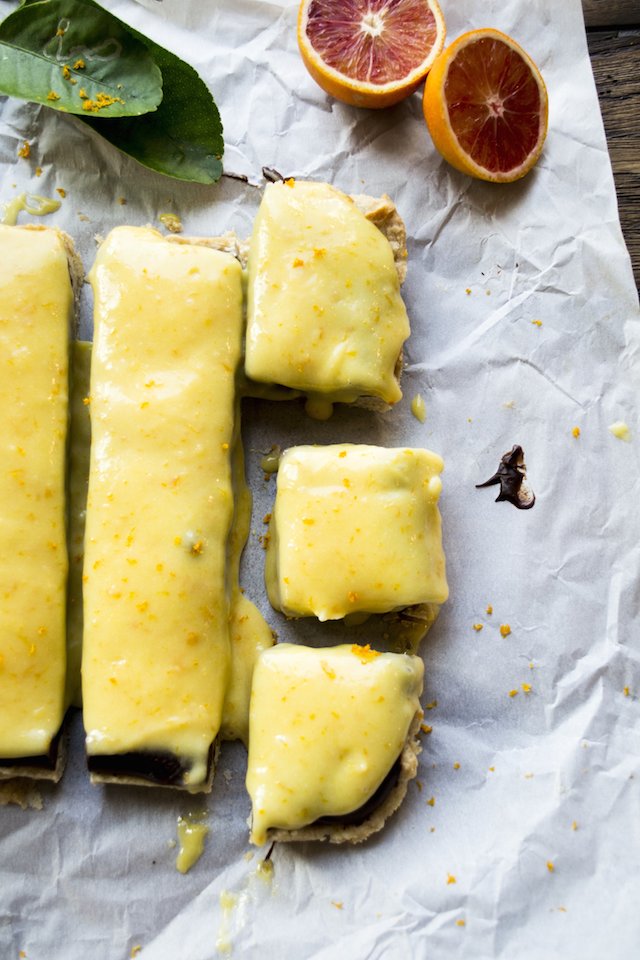 Dark Chocolate, Blood Orange Curd Bars
Ingredients
1¼ sticks of cold salted butter cut into pieces
3 tablespoons of light brown sugar
3 tablespoons of granulated sugar
¼ teaspoon of vanilla
5 ounces of bittersweet chocolate, finely chopped
⅓ cup + 1 tablespoon of heavy whipping cream
Instructions
In stand mixer beat butter with ¼ cup + 2 tablespoons of brown sugar and ¼ of + 2 tablespoons of sugar on medium speed for two minutes. Add in vanilla.
In small bowl mix flour and generous pinch of salt. Turn mixer to low and slowly add in flour mixture.
Line a 8x8 pan with parchment paper, so there's a good inch or so sticking out of the sides. Press dough into the bottom and up the sides as far as you can. It can be very thick in the corners, so try and spread it out as evenly as possible. You will probably want to use your hands. Put in the fridge for about 30 minutes, or until firm.
Preheat oven to 350 degrees. Once dough is firm, bake for 30-35 minutes until golden brown. Let cool in pan on wire rack.
Set chocolate in bowl and bring cream to a simmer on medium heat. Once simmering, remove from heat and pour over chocolate. Let sit for 2 minutes and stir until smooth.
Pour chocolate over cooled shortbread. Refrigerate until firm.
Top with curd, you may not need all of it. Refrigerate for at least an hour.
Have you tried the recipe? Did you like it? I'd love to hear your thoughts. Comment and rate it below!