What do you do when you want to add a little French refinement to your family dinner but don't have time to make a classic French dish like bœuf bourguignon or coq au vin? Tonight, I cooked a dish that tastes nearly as good as classic coq au vin but was finished in just an hour.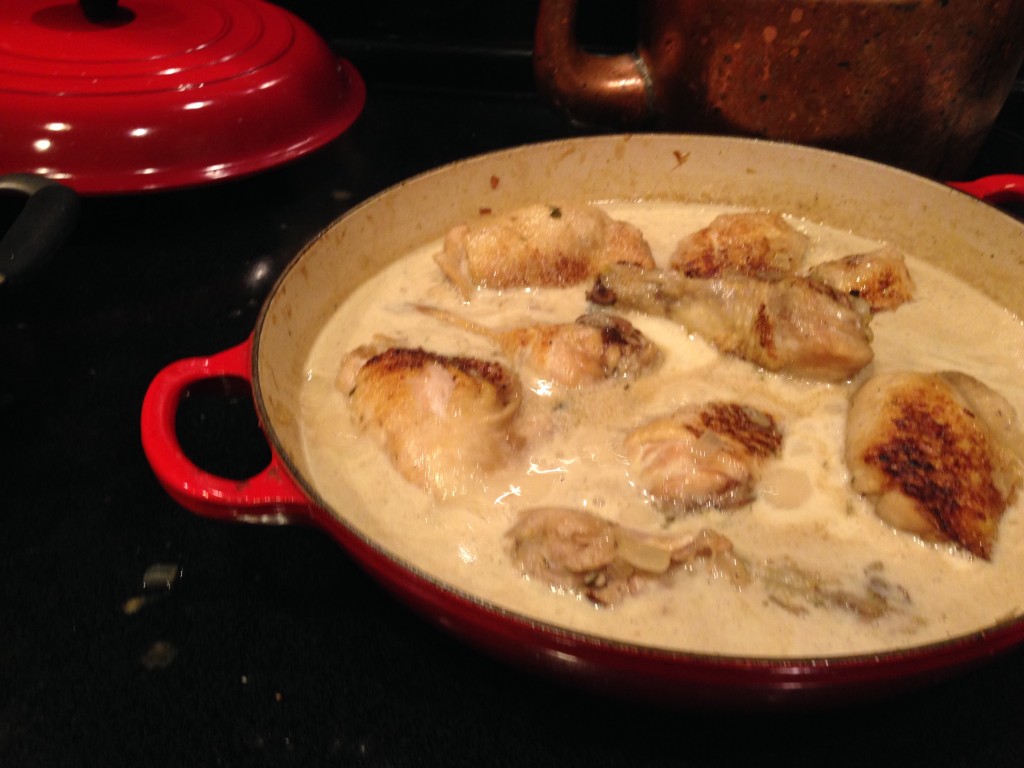 Why Coq Au Vin?
We leave for Paris in five days, at the time I write this, and so tonight I'm making a French meal for dinner. I've always idealized French cooking, but I had never had coq au vin until just a few years ago.
It was my honeymoon, and when our flight to Mexico got cancelled, we were stuck in L.A. for a day with my in-laws. Most people might have groaned about spending their honeymoon with their in-laws instead of some beach resort, but I won the lottery when it came to in-laws.
We found a little French bistro in Santa Monica, my father-in-law ordered a fantastic bottle of champagne (that we still buy for special occasions), and I had escargot. My snails were delicious (let's be honest, I just love butter) and my husband ordered a chicken dish I'd never heard of before.
It was amazing. I've always wanted to remake it, but never had the space.
Tonight in honor of going to France in five days and in honor of my loving husband who is taking me to Paris for two months, I'm doing a take on coq au vin.
The History of Coq Au Vin
Coq au vin was originally peasant food in the countryside of France. Tough old roosters (Coq which is where we get the word cock) can be rubbery, so cooking the bird in wine helped break the muscle tissue down and made it tender. I didn't have a rooster, and you need a cut of meat that will stand up to cooking for a long time. I'm using thighs and drumsticks.
This dish seems to be made typically made with egg noodles, but I'm not keen on egg noodles, so I made roasted potatoes to go with, as well as kale.
Also, if you don't have mushrooms on hand, that's fine. I didn't make it with mushrooms the first time, and I forgot them this time. 🙂
Coq au Vin: the Quick and Easy Way
I adapted a Coq au Reisling recipe from the Food and Wine website, but since I don't have a Riesling on hand and you can't find crème fraîche in the South to save your life—I made a few substitutions and voila, it becomes coq au chardonnay. But if you'd like, you can still find the original recipe in the link above.
The proper way to make coq au vin is a bit more complicated, but this one tastes delicious and you can make it in just over an hour.
Ingredients
4 lbs. of chicken pieces (bone in, very important)
1 yellow onion chopped
1 carrot
1 celery rib
2 shallots (about 1/2 cupish chopped)
1 1/2 cups of Chardonnay
1 1/2 cups of chicken stock
4 sprigs of thyme
1/2 cup of sour cream
2 teaspoons of lemon juice
Instructions
Preheat oven to 300 degrees.
Liberally salt (kosher salt is best) chicken and brown the chicken pieces (medium high heat), skin still on. (The key to browning is not moving it around a lot, just let the chicken sit). You can do this in batches if need be.
Set chicken pieces on plate (do not need to be cooked all the way through). Leave fat in pan.
Add onions, shallots, celery and carrots to pan and brown till soft (still on medium high).
Add wine and thyme, make sure to scrape up brown bits (they're the best part) and simmer for a bit (maybe a minute).
Add chicken stock.
Add chicken back in and bring back to boil.
Put chicken pan, with lid on, in preheated oven for about one hour.
Have a glass of that chardonnay (you've earned it).
Pull chicken out, put pieces on plate and strain liquid through a fine sieve. Discard onion/celery/carrot bits (unless you're like my dad, in which case you should put them as a garnish on your plate).
Bring sauce back to a boil and reduce to about 1 1/2 cups.
Whisk in sour cream and lemon juice (very important to whisk in, otherwise it looks clumpy and like the cream has curdled).
Re-add chicken and serve.
*Again, the original recipe calls for mushrooms, I forgot to make them the first time and the second time I sautéed them and didn't realize I didn't add them till we'd finished dinner. But typically, they can be added when you re-add the chicken.
What about you? When did you first experience a French meal?