Shopping in open air markets, especially in Europe, can be overwhelming. How do you know what's fresh? How do you know what to order at the fish stall? And what are those orange things on the scallops?! In this post, I'll share six helpful tips I've learned about shopping in fresh markets in Paris.
Want to Go Shopping in Paris? Go Before 1:30!
We landed in Paris four days ago and have been recovering from jet lag. Of course, the pain au chocolat and café au laits certainly help make up for it.
One of my goals for this trip was to spend a lot of time shopping the fresh, open air markets of Paris. Unfortunately, it took me a little while to be able to go to the market when we first arrived. On our first day in Paris, we skipped the market and just ate crepes (jambon et fromage, if you're wondering) on account of all the jet lag. On the second day, I tried to go to the market but didn't realize that they all close by 1:30pm on Sunday. All that's to say, we ate a lot of crepes that weekend.
It wasn't until Monday that we finally made it to the market. I took Marston with me. My goodness is he ever the flirt! About ten women gave me their numbers offering to babysit. Apart from all the attention we get though, he isn't a great shopping buddy. He chewed on everything in the cart and kept trying to play, "make mommy pick that up." By the time I got home I told Joe if he loved me at all he would never make me take Marston shopping again.
Touring the French Open Air Markets
The highlight of the week, though, was the French Market Tour and Cooking Class that I took on Tuesday through La Cuisine Paris. I'd been looking forward to it for months, and it was an amazing experience.
The class had three parts. First, we spent two hours with Chef Camille meandering through the market and picking out meal components. Next, we cooked our French lunch for an hour and a half. Finally, we spent the last hour doing the best part: eating!
After taking stock of the fresh ingredients the market had to offer and discussing amongst our class (there were six of us), we opted to cook a scallop dish, little fried fishes, romanesco, black radish, mushrooms, a small pumpkin thingy, fennel and a citron tart. Oh and our chef picked out three cheeses to finish the meal with.
How to Shop in Fresh Markets in France
For someone who's never been to culinary school but loves all things food, I learned a lot and thoroughly enjoyed myself. Below are six tips about shopping at fresh markets in Paris that I learned.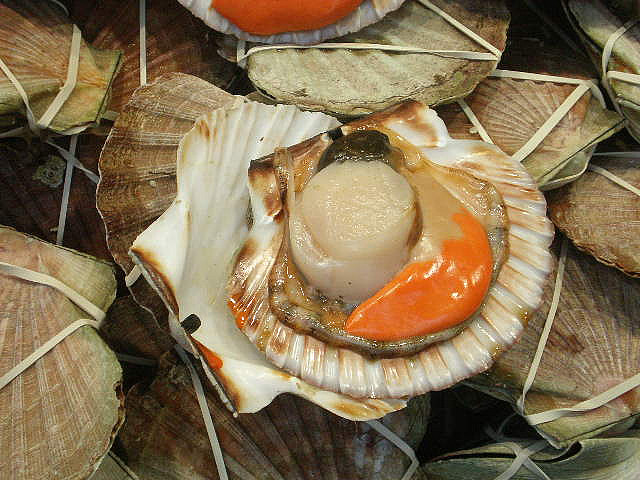 Photo by Stephanie Watson (Creative Commons)
The French government requires all vendors to list the country of origin for individual produce. As a foreigner this is nice because it helps me figure out what to buy. And it's always better to buy closer to home. This means fresher, tastier ingredients.
Avoid produce from Spain, and here's why: a) Spanish farmers douse everything (unless it's organic) in chemicals and pesticides, and b) they grow different produce during the off-season and so the fruits and vegetables are often flavorless and mostly just water.
The best mushrooms have the roots still attached and have a little dirt on the bottom. This shows they are grown properly. Although, you'll be hard pressed to find these in grocery stores in the States.
With fresh button mushrooms, the gap between the stem and the cap should still be closed. This indicates a fresh mushroom – the mores pace showing, the older the mushroom.
The French eat to what is in season, which makes for healthier ingredients. Guess how much asparagus cost right now per kilo in the off season!? (Whoever guesses correctly first or gets closest wins a prize from Paris). March is a tricky time to buy fresh produce because winter ingredients are slowing down and the spring ingredients haven't been harvested yet.

In France, the scallop aside from having the muscle still attached, also has the corral attached to it—the reproductive organs which includes the roe. Apparently in America this gets removed before being sold in our markets. But the French consider it the most delicate and delicious part of the scallop. It may be gross to think about, but it's very yummy!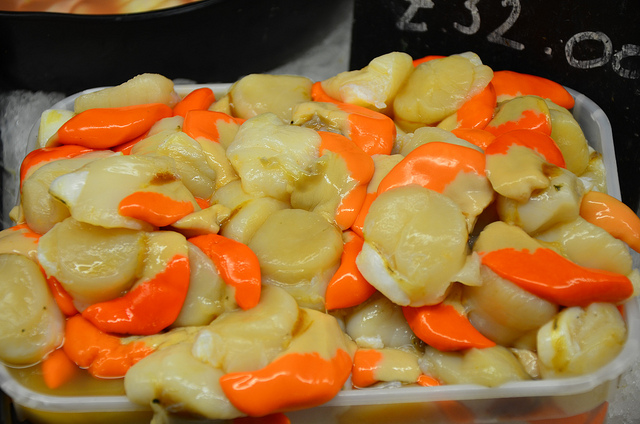 Photo by Ben Sutherland (Creative Commons)
In the next post, I'll tell you how we cooked everything up!
How about you? What other tips do you have about shopping in fresh markets?