The cultured butter recipe I am sharing today  is rich in flavor. It can be used in cooking, baking, spread on toast, pancakes or if you're me, eaten with french bread in lieu of cheese. I first discovered cultured butter when we lived in Paris. Bordier butter, crafted from the cream of the cows of Normandy was like a religious experience. I have been ruined for regular butter ever since. Upon returning to American I've been on a hunt for something coming remotely close. (Vermont creamery has the closest I've found). I continue my quest and am sharing my version today (although it doesn't hold a candle to Bordier butter of whom I am a cult follower).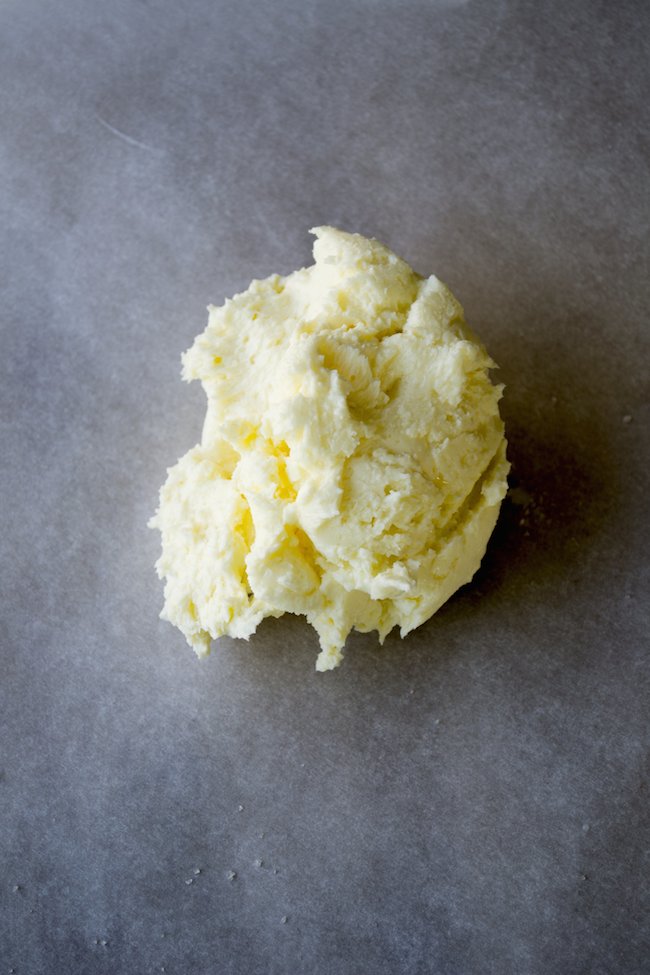 Somehow in the last 20 years olive oil replaced butter as the fat of choice for home cooks, wrongfully so in my book. I like olive oil, I think it's important for many recipes. But, it should not be your go to fat for cooking. That placeholder is reserved for butter. At some point in the future I plan on doing the proper research and sharing why butter is superior to olive oil. In the meantime, you should consider making your own butter because it's delicious. You can know exactly what is in your butter (which you probably don't know about the olive oil you buy. And I can't imagine you have an olive press at home with which to make your own olive oil).
My Notes on How to Make Cultured Butter
The most crucial element is finding the right cream. First, try to find cream from grass fed cows. In addition, the higher fat content the better. European butter (the ones who originally did cultured butter) is generally 82% fat while American butter is only 80% fat. This may seem like an insignificant amount, but that 2% makes a significant difference. The flavor of good cultured cream is tangy and sweet, almost cheese like.
Be sure to wash away as much liquid as possible when washing the butter. The buttermilk liquid is what will make your butter turn rancid. The less liquid, the longer your butter will last.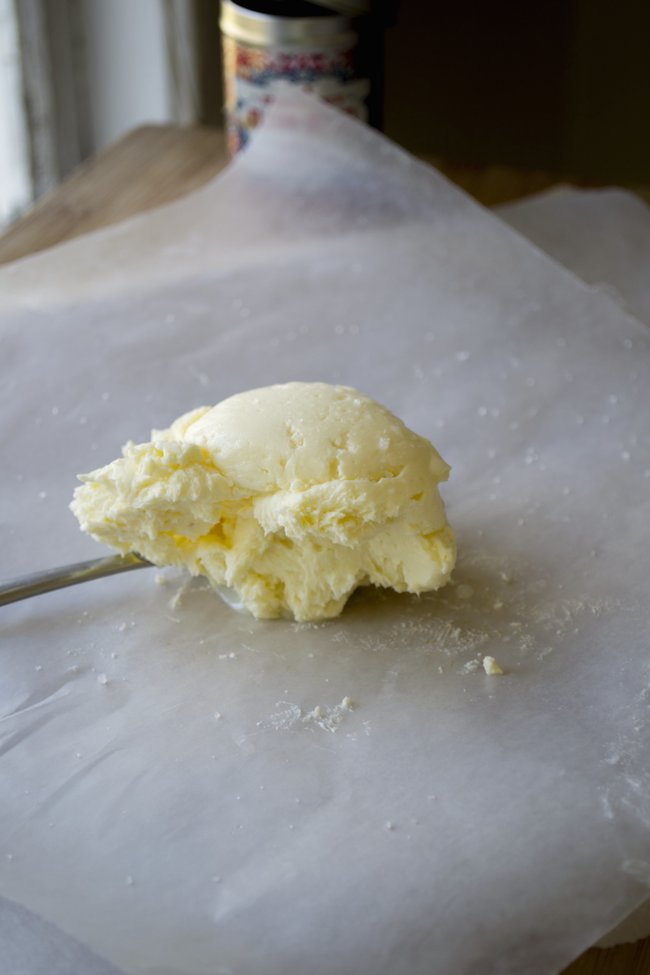 Cultured Butter (European Style Butter)
Ingredients
1 cup of heavy whipping cream
1 tablespoon of buttermilk
½ teaspoon of fleur de sel
Instructions
In a clean mason jar combine whipping cream and buttermilk.
Put on counter (in even temperature location, not right beside the stove).
Walk away.
Come back 24 hours later when cream has cultured.
Scrape cultured creme into food processor or stand mixer with whisk.
Turn on and mix until cream breaks.
Pour butter into strainer over bowl. Reserve buttermilk mixture for pancakes.
Run cold water over butter until water runs clear, pressing butter to squeeze out buttermilk.
Once water runs clear place butter in bowl and mix in fleur del sel.
Shape and refrigerate.
Buy bread and eat butter all in one sitting.
Have you tried this cultured butter recipe? Did you like it? I'd love to hear your thoughts. Rate it and Comment below!