A lot of fun food events happening this month: St. Patrick's Day, Easter, and my personal favorite, March Madness! Today I'm sharing how to make a double patty burger for when you start camping out in front of the TV come March 17 (or Wednesday night dinner if you're more into gardening than the holistic competition of good old American basketball).
In recent years there's been a shift in burger trends, returning to the flat top burgers of the fifties and sixties. At most of the trendy restaurants in Atlanta, the traditional pub style burger has moved to the shadows. This has made space for the In-N-Out style burger of two smashed down patties, melted American cheese, dripping sauce, and topped with tomato and iceberg lettuce.
I love a good half pound burger as much as the next carnivore, but I also love these delicious thin patty burgers smashed down flat, sauce dripping out the edges. The great thing about being a carnivore is you don't have to choose, you can have both! So make these today, yum.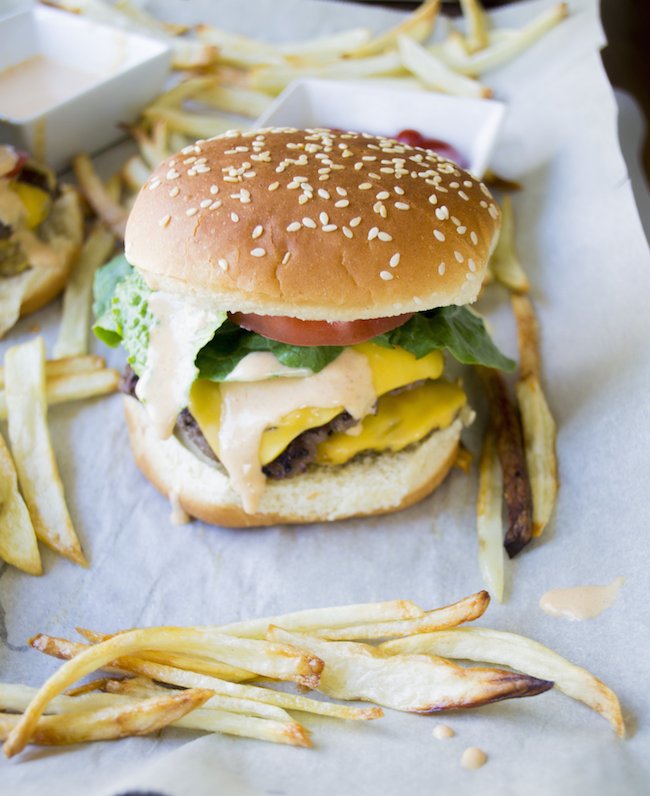 My Notes on How to Make a Double Patty Burger
I adapted my sauce recipe from what else but the Food Lab. Never judge me, I sleep with it under my pillow. I love that book.
The key to the double patty burger is smashing the patty as soon as you put it in the skillet. This will help it form a good crust which is the key to good flavor.
The most important element in this dish is to use at least one heavy duty, sturdy spatula. The first time I made them, I broke my plastic spatula. Now, I use a heavy stainless steel spatula (with no slots in it) and a large wooden spoon to help press down on it.
If all you have is a spatula with slots in it, spray it with pam before smashing and flipping. It will keep the beef from getting stuck in the slots.
When selecting your ground beef, try to get 80% beef/20% fat. If you get a lower fat percentage you may just need to add a little extra oil or butter to the pan prior to putting in the patties. I've tested patties anywhere from 75%/25% to 88%/12%. I've found that the 80%/20% ratio is the best for flavor and ease of cooking.
If you're lazy or don't care that much about the double patty burger, but still like the flavor of a thin patty, you could do a smashed four ounce burger. It's plenty big enough for the bun and still delicious.
If you have a flat top grill that's the best option as you can do all the burgers at once.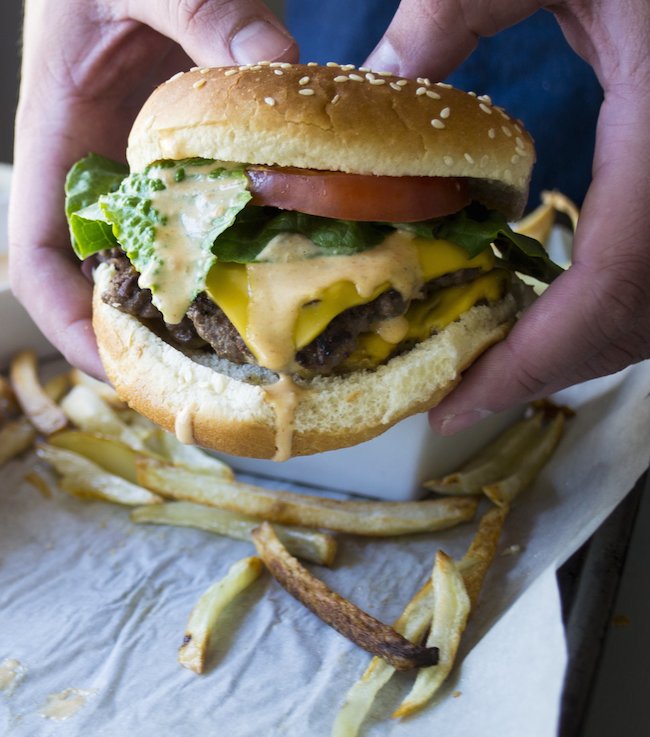 The Double Patty Burger (In-N-Out Style) with a Special Sauce
Ingredients
Burger Patties
1 lb of ground beef
8 slices of American cheese
garlic powder
white pepper
kosher salt
4 buns
Sauce
½ cup of mayonnaise
2 tablespoons of ketchup
1 tablespoon of pickle juice
1 tablespoon of dijon mustard
1 teaspoon of onion powder
½ teaspoon of garlic powder
1 teaspoon of sugar
Instructions
Make the sauce first, whisking all the ingredients together in a bowl. Set aside.
Divide meat into 2 ounce meatballs. Dust well with garlic powder. Sprinkle lightly with white pepper. Right before placing them in the skillet season well with kosher salt.
Heat skillet on high heat. Once it's very hot, place 2 patties (or more if your skillet is large enough) into skillet and smash down immediately. Cook for 1 minute and 30 seconds. Flip patty and top with American cheese. Once the cheese has melted (15-30 seconds) transfer patties to plate. Finish the rest of the patties.
Serve on toasted buns with tomato, lettuce and slathered in sauce.
Have you tried the Double Patty Burger? Did you like it? I'd love to hear your thoughts. Rate it and comment below!