Are you looking for a fall soup recipe that isn't butternut squash? There are so many delicious fall squashes to be enjoyed and butternut squash has been hogging all the attention! Or at the very least, trying sharing it with the pumpkin. The acorn squash isn't the most neglected of the squashes, but it definitely isn't getting the attention it should. So, here is my attempt at highlighting one of fall's delicious squashes, a curry roasted acorn squash soup.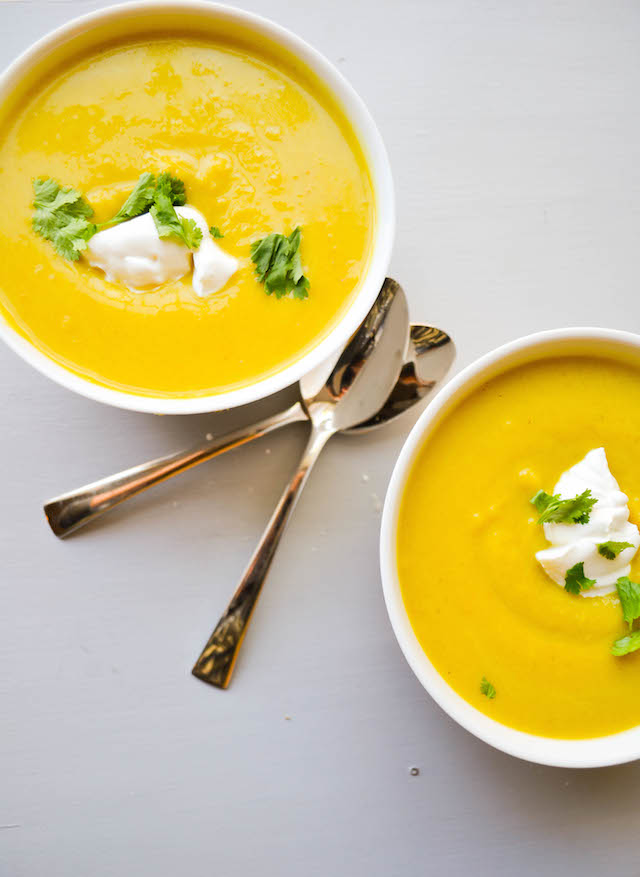 My Notes about Curry Roasted Acorn Squash Soup
I don't have many notes. This soup is pretty straightforward. The curry flavor is mild but will intensify as it sits, which is why I like to make this soup a day in advance. I think the flavor develops.
Don't forget to sweat those onions!
You can leave the wine out if you want, I love the flavor and add it to everything, as should you.
I also add garnish to everything. I'm always adding a dollop of cream, or a handful of cheese. If you have a particular aversion to garnish then you can refrain. But you should really reflect on why you don't like garnish. And then maybe you should reflect on how you're wrong. I can help if you reflect over hot chocolate if you want (I'm always looking for an excuse for hot chocolate).

Curry Roasted Acorn Squash Soup
Ingredients
3 acorn squashes
2 yellow onions, diced
½ cup of white wine
2 teaspoons of yellow curry powder
½ teaspoon of ground ginger
2 cans of coconut milk
7 cups of chicken stock
olive oil
cilantro for garnish
plain yogurt or sour cream for garnish (optional)
Instructions
Cut the acorn squashes in half and roast in the oven for 20-30 minutes at 375 on convection heat (or until fork tender)
Scoop squash meat out and set in bowl until ready to add
Meanwhile, sweat onions on medium low heat for 15-20 minutes.
Add seasonings and cook until fragrant
Add squash and chicken stock. Cook for 10 minutes on low boil, puree till smooth
Add coconut milk and reduce until desired thickness.
This is best prepared a day in advance, or at least a number of hours ahead of time. Garnish with plain yogurt or sour cream and cilantro.