Have you seen the big beautifully plump marshmallows in Williams Sonoma? They're so pretty and festive. And they were the first clue that marshmallows didn't have to taste sickeningly sweet. Even as a kid, they were too sweet.
It's always very sad around campfires. I love roasting marshmallows, but I never eat them. That is until I discovered I could make homemade marshmallows. Homemade marshmallows are delicious without being overly sweet. When I realized you could flavor these tasty little treats, game over. Homemade marshmallows are my jam now, when I made these I barely had any left to take pictures of.
The possibilities with these homemade marshmallows are endless too. Aside from your traditional uses of s'mores and hot chocolate there's pies, ice cream, tarts, cookies, bars, cereals (or at least that's what my kid wanted in his cereal this morning for breakfast. Sure Mars, let me get you a big bowl of sugar and milk, that's a great idea).
My Notes on How to Make Homemade Marshmallows
When I'm learning to make a new food (i.e. marshmallows) I usually research the common way to do it and then I make adjustments as I go to suit my tastes. So with homemade marshmallows you need to make a sugar mixture, an egg mixture and a gelatin. The order with which you do it and the amount for each, along with the flavors (bourbon and vanilla) is what makes my recipe unique.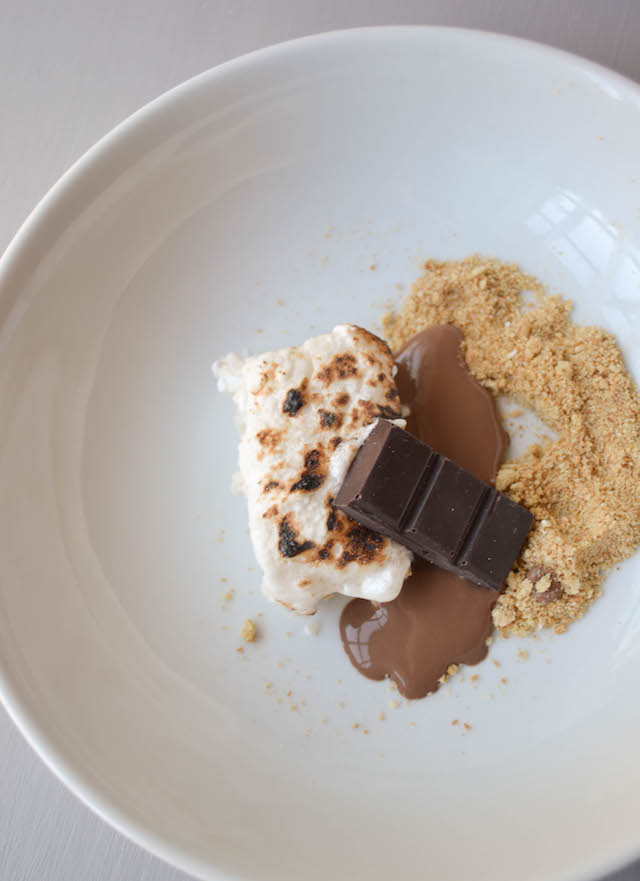 If your marshmallows come out wet on the bottom then you probably didn't beat the egg whites until they were cooled (I did this the first time). Just flip them over, pat them dry and allow them to dry a few more hours.
Don't worry about over whipping the egg whites. You probably won't. And don't worry about over heating the sugar, as long as its within a couple degrees you're fine. Do worry about under heating it, make sure it hits the 250 range.
If you want different shaped marshmallows you can spoon out round dollops onto a cookie sheet, you can spread them on a jelly roll pan and they will be thin. Or my personal favorite, use a cookie cutter. (In December I make snowflake marshmallows, I NEED hot chocolate with peppermint marshmallows. And if you're honest with yourself, you do too.)

Bourbon Marshmallows
Ingredients
½ cup of water + ⅓ cup of water
2 packets of gelatin
1 cup of granulated sugar
2 tablespoons of corn syrup
4 egg whites at room temp
2 tablespoons of bourbon
1 teaspoon of vanilla
½ cup of powdered sugar
1 cup of cornstarch
Instructions
In a bowl mix gelatin and ½ cup of water, set aside.
In stand mixer whisk egg whites on medium speed until soft peaks form. Once peaks form and candy mixture is getting hot, turn speed to high.
Meanwhile, mix granulated sugar and ½ cup of water together on stove. With a candy thermometer, heat mixture to 200 degrees, add corn syrup and continue heating until sugar gets to 250 degrees.
Once the egg whites are are thick and fluffy slowly pour a steady stream of sugar mixture into the egg whites while speed is on high, until combined.
Return pot to stove, add the gelatin mixture, but do not turn heat back on. The pan should still be hot enough from the sugar mixture to liquify the gelatin. Slowly pour the liquid gelatin in a steady stream into egg whites.
Add bourbon and vanilla
Continue mixing on high speeds until the egg whites are completely cool.
Combine corn starch and powdered sugar and sift onto greased 13x9 pan. Make sure to cover the entire pan.
Spread marshmallow mixture onto pan and leave out to dry for 4-10 hours.
Dust top of dried marshmallows with more of the powdered sugar/corn starch mixture. Pop out of pan and cut into squares. Store in airtight container.
What kind of marshmallows do you like?