Have you ever gone to the grocery store hoping to be inspired only to leave without any food and just some dog food that you bought because it was on sale (and maybe you don't even have a dog—DON'T JUDGE ME)? Well, that's how I feel most of the time, especially when I'm at the open air markets in Paris.
That's why it's nice to come armed with some great recipes. In this post, I'll recap three of the recipes we learned at my French cooking class last week, all easy recipes that can be prepared in one hour or less.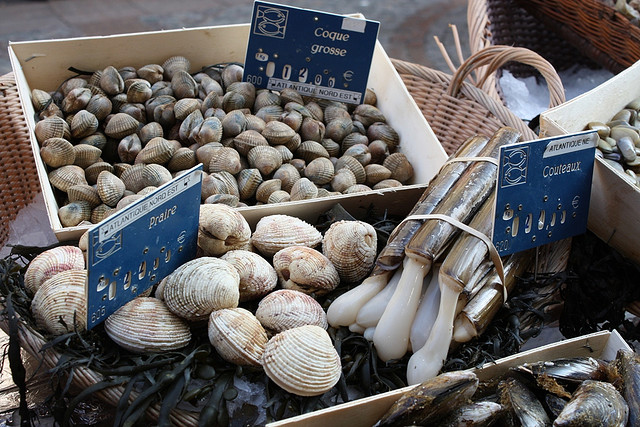 Photo by Javier Lastras (Creative Commons)
But first, How Do You Find Shampoo in France?
When we first got to Paris, our host had been kind of enough to stock our bathroom with soap, shampoo and conditioner. This was especially great because along with forgetting my phone charger, I also forgot: my toothbrush, all of Marston's toys, and our shampoo and conditioner. And the very first thing you want to do after getting off a plane is take a shower. But when I got out of the shower my hair felt funky – it was clean, as in, no oil slicks in my hair. But all my hair strands felt like they were dipped in dirt and water and dried in a wind tunnel. It was not the silky feel my stick straight hair feels like. And for some reason, it took me three days to figure out that the "shampoo" I was using was actually body gel. And the "conditioner" was body lotion.
So obviously one of the first things I asked Chef Camille when we got to the kitchen was, "how do you say shampoo in French?" She gave me a look like, "Really, that's what you want to ask me?" But instead replied, "Shampoo. It is the same." (I had tried figuring it out myself at my local Monoprix, but apparently I can't read the word shampoo surrounded by all those accented vowels).
After we sorted out the shampoo debacle we got to work cooking our meal.
Fennel Salad
Since we opted for seafood, Chef Camille decided we would serve them with a fennel mushroom salad, roasted vegetables and a warm citrus sauce. And for dessert we made Citron Tartelettes – which I will share in a different post.
1 bulb of fennel
8 ounces mushrooms
Both should be thinly sliced. Using a mandoline if you have one will give you the most consistent thin slices. Alternatively, you can use a food processor. Toss with olive oil, salt, pepper and juice from a lemon. Adjust seasoning as needed. You want the salad to be slightly coated, not a soupy mess of liquid.  Garnish with fleur de sel.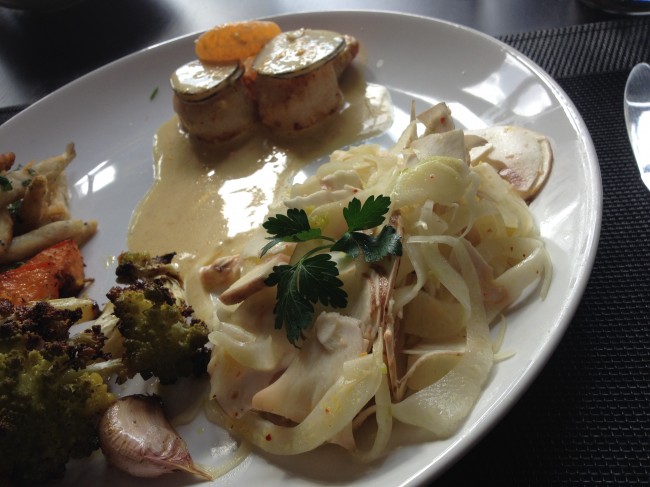 Roasted Vegetables
These are actually some of my favorite things to make; we eat roasted vegetables 2-3 times a week in the Bunting house. And, you can do almost any kind of vegetable –cauliflower is my favorite. We used romanesco, a small pumpkin, and garlic. Toss in olive oil, salt, pepper, dried thyme and bay leaves, and don't skimp on the salt. The key to any successful dish is proper seasoning.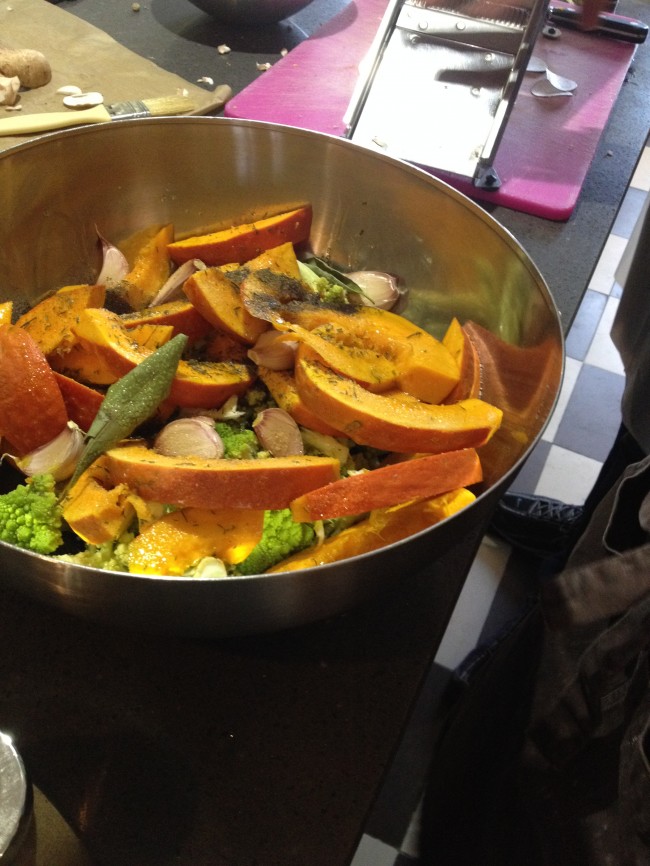 Chop vegetables in small chunks. Leave garlic cloves whole in skin, but not in the bulb still.
Spread out on jellyroll pan, pieces can be touching, but try not to overcrowd. Overcrowding will end up steaming the vegetables instead of roasting.
Pop in to preheated oven at 400 degrees.
Depending on the type of vegetables you use is how long you cook it for – (cauliflower typically takes 30-45 minutes), but you're looking for golden brown vegetables. A little crisp is tastiest.
Citrus Wine Scallops
And for the main event, technically I think it's called Scallops St. Jacques, however I called it Scallops in a citrus wine sauce. I've created an adaptation of this recipe from Bon Appetit.
Ingredients
6-8 scallops
1/4 cup of white wine
1/4 cup of heavy whipping cream
zest of 1/2 orange
juice of 1 orange
2 tablespoons of lemon juice (or half a lemon)
1/2 teaspoon of thyme
black radish (optional garnish)
Picking out your scallops
Scallops are categorized according to their size. So, if a scallop is called a U-10 scallop that means that 10 or less scallops of that size will equal a pound. The letter u denotes under, so U-12, 12 scallops or less will equal a pound. For a dish like this you're looking for U-12 scallops or larger, and you want to plan for about 3-4 a person.
When possible always purchase dry-packed scallops. Dry packed scallops are harvested, packed and shipped without the addition of chemicals. The opposite of dry packed are wet packed.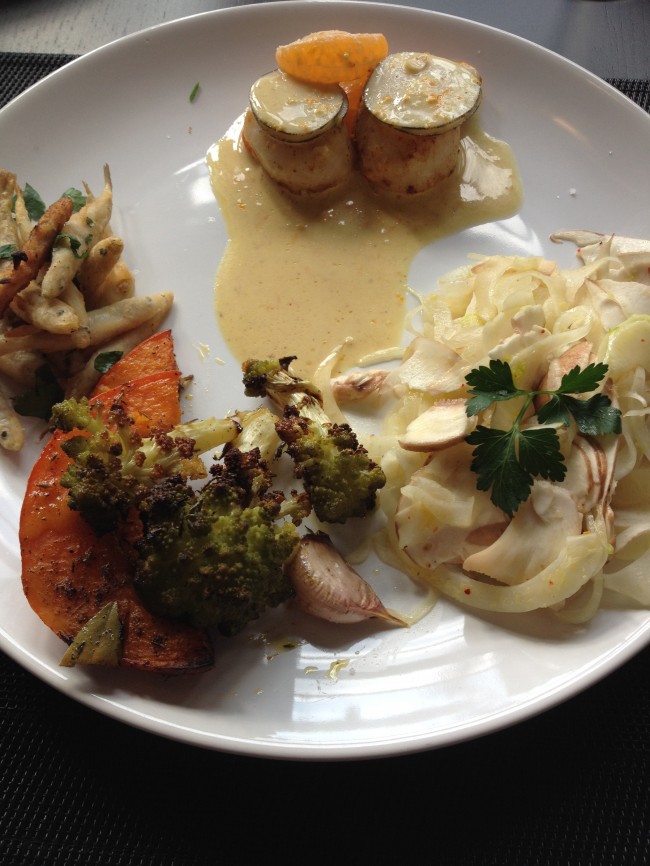 Cooking
Scallops should be kept cold and very dry until the last minute. Keep them in the fridge, and when you're ready pat them down with a paper towel.
Season with salt and pepper (kosher salt is best).
Heat two tablespoons of oil in heavy bottomed skillet. A heavy bottomed skillet helps your food cook evenly and since it's non reactive the food retains it's own flavor instead of taking on the flavor of the pan.
Cook over high heat 1.5-2.5 minutes or so per side. Scallops are like red meat in that they should not be cooked "well done".  Scallops will cook best as long when you only touch them to flip them. Transfer scallops to plate once they've finished cooking.
Add white wine and citruses to pan, deglaze and reduce. Add zest and cream and reduce further. Sauce should be thick at this point.
Serve with a garnish of thinly sliced black radish and sauce.
Winner from last post
Congrats to Ashley Motes! You were closest in your asparagus guess. Correct answer: 17.99 Euro! And white asparagus is even higher. Let me know if you have a favorite Paris landmark and I'll try to find a print of that.
What are some of your favorite recipes that you arm yourself with before you go to the grocery store?