Is anyone else's three year old acting like you a pre-teen lately? Seriously, if I have to tell Marston one more time to pick himself up off the floor and stop crying (no, you cannot drink milk out of a candle with a pencil straw. THAT'S NOT EVEN A THING.) I'm going to lose my ever loving mind. When he does this, I remind myself that Saturday is coming and with Saturday comes my favorite meal: brunch. We've been eating a lot of bagels and lox with roasted heirloom tomatoes and these are a few of my favorite things.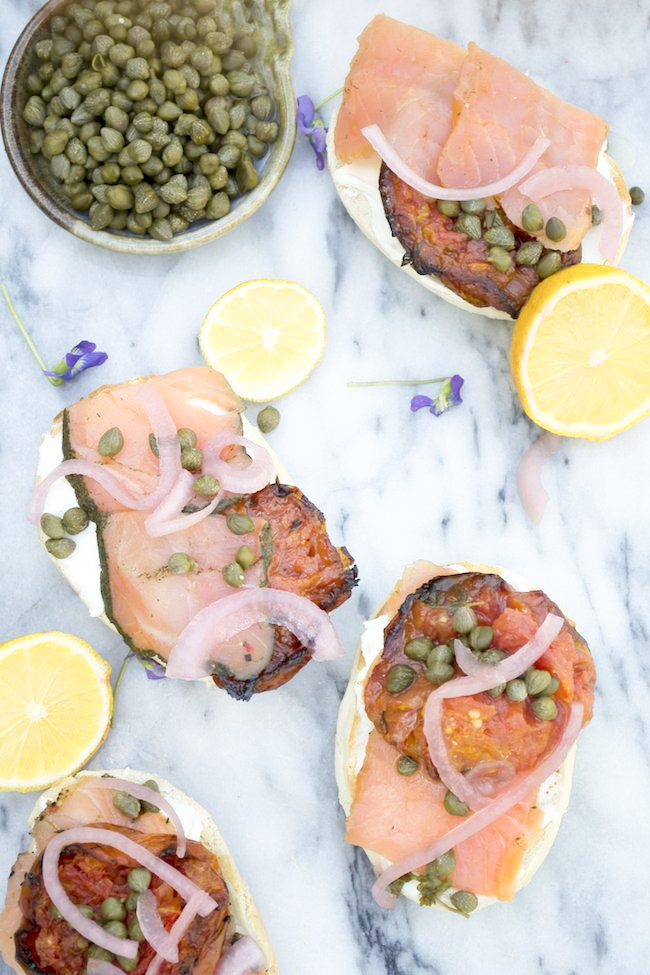 My Notes on Bagels and Lox with Roasted Tomatoes and Pickled Onions
Heirloom tomatoes start coming online in the spring, but without the warm heat of summer they lack the delicious sweet intense flavor of summer tomatoes. This is why you roast them. Roasting intensifies the flavor, sucking out the water and leaving behind rich tomatoey goodness.
Before you go all crazy on me for including pickled onions, just try it. They are a sweet tangy contrast to the creaminess richness of cream cheese and smoked salmon. If you still hate it, just use plain red onions instead.
You may not have ready access to lox. That's okay, you can just use smoked salmon. Read about the difference here.
I have left out proportions for most of the toppings because tastes differ. For me, if bagels are your vehicle, cream cheese is your gas. LOAD UP. Joe however, likes to scrape it on lightly (this I don't understand). I feel the same way about the lox. Given my druthers I'll put the whole 6 ounces on one bagel. People get mad when I do that though, so I pare it down. For the rest of the toppings I usually put one half of a tomato per bagel half, a spoonful of capers and three or four pickled onion slices. It's all about what tastes good to you though.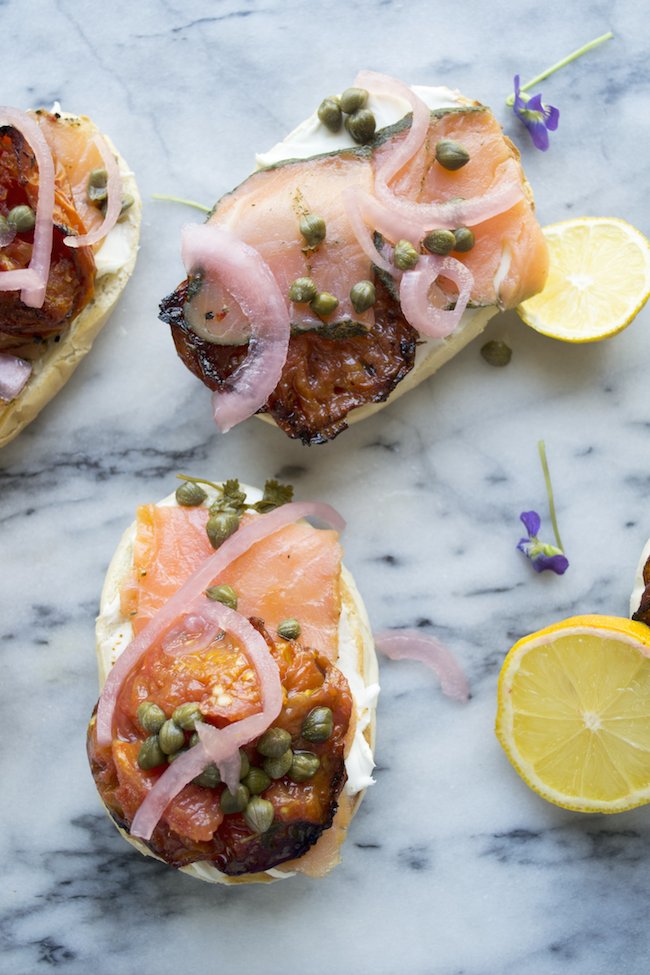 Cost of Bagels with Lox and Roasted Tomatoes with Pickled Onions
This is a portion I am going to try and start including per my husband's suggestion in order to help you plan.
Bagels: I can usually find these on sale for around $2 for a package. I can get organic ones on sale at Deklab Farmers Market for $2.5 on some Mondays. I throw them in the freezer and save them for the weekends usually.
Cream Cheese: $1 a package.
Smoked Salmon or Lox: I buy 16 ounces at Costco for about $15. I use it for multiple meals. You can also buy a smaller package at your local grocery store for about $7 for 4 ounces.
Capers: I buy a huge 32 ounce jar for $6 at Costco.
Pickled Onions: I make these myself for about $1. We eat them on sandwiches, burgers, bagels and lox and I use the pickle juice in my special burger sauce. They keep and are great to have on hand. If you're not feeling the pickled onion though, just use raw.
Lemon wedges: $.30 at the local market
Heirloom tomatoes: $3.99 a pound.
Kosher salt and olive oil are staple items I always have on hand. Maybe
Rough total cost for 6 people: $17.50, give or take some pennies. Three bucks a person in your pajamas sure beats $15 a person in uncomfortable pants that you can't unzip.

Bagels and Lox with Roasted Tomatoes and Pickled Onions
Cost for 6 people around $17.50.
Ingredients
6 bagels
6 small heirloom tomatoes
6 ounces of lox or smoked salmon
1 package of cream cheese
capers
lemon wedges
olive oil
kosher salt
4 thyme sprigs
Instructions
Preheat oven to 400 degrees. Slice tomatoes in half. Toss in olive oil, kosher salt and thyme. Place cut side down in a glass baking pan, being careful not to overcrowd the pan.
Bake for 45 minutes-1 hour until tomatoes have condensed significantly.
Toast bagels. Top with cream cheese, roasted tomatoes, salmon, capers, pickled onions. Finish with a squirt of lemon.
Have you tried these bagels and lox with roasted heirloom tomatoes? Did you like it? I'd love to hear your thoughts. Comment and rate it below!